April 29 - May 6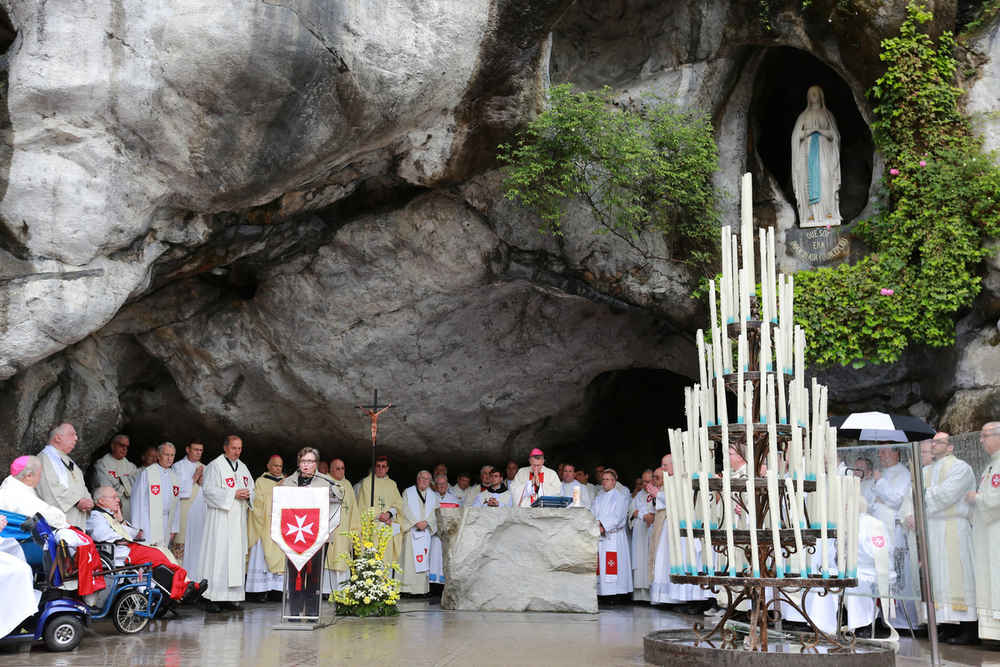 Once again in 2020, the Federal Association will participate in the Order Of Malta's international pilgrimage to the Marian Shrine at Lourdes, France.
The Federal Association group consists of Knights, Dames, candidates, Auxiliary members, family members, clergy and volunteers from around the country. Also included in the group are 48 sick people (referred to as "Malades" in French) and their companions. The Knights, Dames, and other able bodied people – accompany the Malades at mealtimes and at the Masses and other activities throughout the week.
The group travels on a nonstop charter flight from Baltimore to Lourdes. All our pilgrims ( including Malades) stay in three hotels very near the Domaine. The Malades are transported in voitures, a rickshaw – like cart pulled and pushed by Knights, Dames, and others.
For more information about Lourdes please go to The Lourdes Pilgrimage page.
Pilgrimage Schedule
April 29 - May 6
April 29
6:50 PM EST Depart Baltimore Washington Airport (BWI)
Go to Concourse E. Pilgrims should be there before 3:30PM. Eastbound flight (BWI - LDE) number: OR7870. Aircraft: Boeing 787, Nominated Carrier is TUI Fly Netherlands (Arke Fly).
April 30
Arrive Lourdes, France 8:10 AM
April 30 - May 6
Pilgrimage Activities, including: visit to the Grotto and the Baths, Pontifical Mass, procession of the Blessed Sacrament, candlelight Marian Procession, Rosary Service, visit to home of St. Bernadette, tour of French countryside and Farewell Dinner
May 6
Depart Lourdes 12:50 PM. Arrive Baltimore (BWI) Airport at 3:25 PM EST. Westbound flight (LDE - BWI) number: OR7871. Aircraft: Boeing 787, Nominated Carrier is TUI Fly Netherlands (Arke Fly). When booking a connecting flight home from BWI, please be sure to allow a minimum of 2 hours between international and domestic flights.
Frequently Asked Questions
What is the weather like in Lourdes?
The weather in Lourdes can vary. It can be warm some days, and cold and rainy the next. We participate in activities in good weather and bad. It is suggested that you check the weather before you leave to have an idea of what to expect. Click here to get a 10 day forecast. We will provide detailed suggestions about what clothes to bring as the date draws near.
Will I have any free time in Lourdes?
While the schedule for our time in Lourdes is quite full, there are times throughout each day that can be used as free time. We try to provide a little time each day for private reflection, rest, sightseeing, and souvenir shopping.