Bishops Decry HHS Rule; Urge Catholics to Speak Out on Religious Freedom
In December, the Federal Association Board approved a $50,000 Grant to the Ad Hoc Committee of the United States Conference of Catholic Bishops and joined with the other US Associations of the Order of Malta to support the Bishops' efforts to challenge the various attacks on religious liberty. More information will be provided on the work this Grant funds in next week's issue of OMM.
As you may have heard, last week the Obama administration announced it would make no changes to a rule proposed last summer by the U.S. Department of Health and Human Services (HHS) that presents an aggressive challenge to religious liberty – so much so that even The Washington Post editorial board disagreed with it.
The HHS rule in question requires that virtually all private health plans include coverage of female sterilization procedures, contraceptives and abortifacients as "preventive services" – regardless of whether or not the insurer, employer or insured individual has a moral objection to such drugs and procedures. The rule includes a requirement – unprecedented at the federal level – that to qualify for a "religious employer" exemption, the party in question must hire and serve primarily people of its own faith. As you are well aware, our Catholic charitable organizations, schools and hospitals serve all people – Catholics and non-Catholics alike. This rule essentially requires that we either stop hiring and serving non-Catholics or violate our own religious beliefs by providing insurance coverage for medications and procedures we believe are immoral.
Click here to find background information from the United States Conference of Catholic Bishops. We will continue to provide information to keep members of the Order well-informed about this critical issue.
Board Elects New Association Treasurer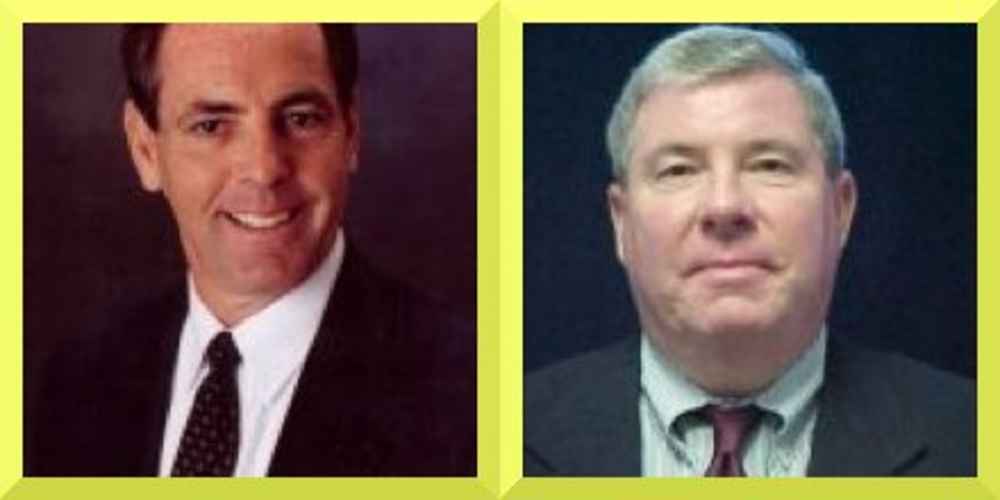 In December, the Board of Directors voted to approve Tom Weiford, KM of Kansas City as the Treasurer of the Federal Association. As Tom begins his three year term, he succeeds Robert Easby-Smith, KM, who has served two consecutive 3 year terms (that's a total of six years!)
Tom was invested in the Order in 2003. He's participated in the New Orleans Home Rebuilding program and the Kansas City Souper Bowl; he has served twice as the chair of the Kansas City Anointing Mass, and is scheduled to attend his 5th Pilgrimage to Lourdes this year. He's a member of the Board of Directors, the Finance Committee and of the Lourdes Long Range Planning Task Force. A retired Colonel in the U.S. Army and a former senior vice president with Commerce Trust Company, Tom will work to bring his financial expertise and strategic thinking to our Association.
Bob Easby-Smith was thanked by President J. Paul McNamara, KM and the Board for his tireless service.
Anglican Rite Vicar General Speaks to NoVA Chapter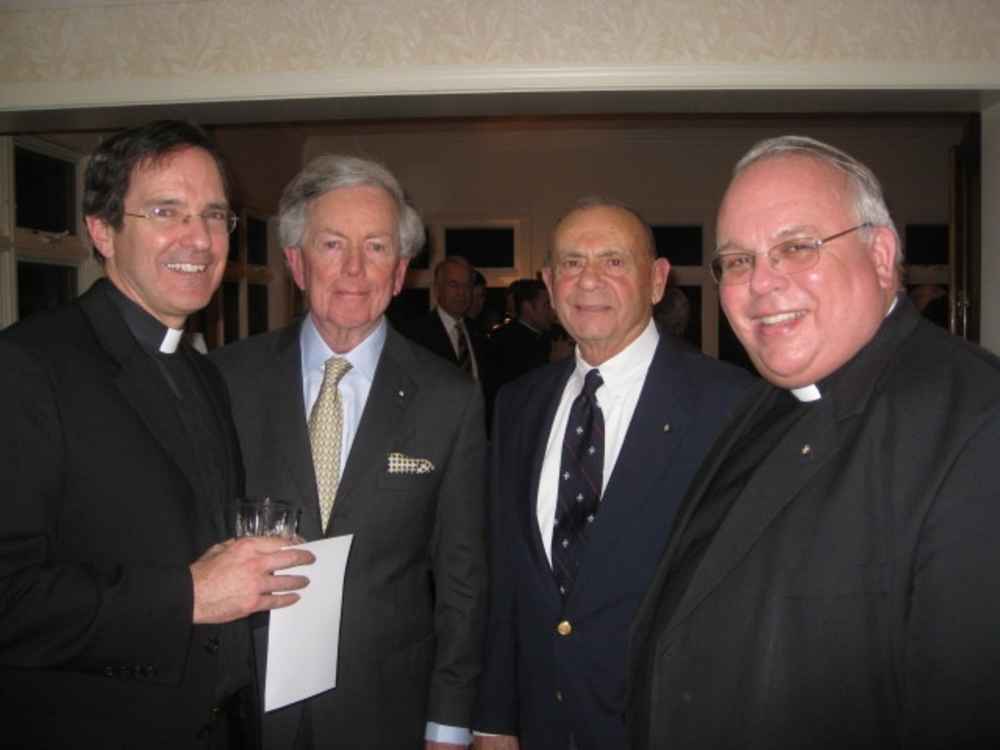 Fr. Scott Hurd, newly installed Vicar General for the new Personal Ordinariate of the Chair of St. Peter, spoke to the Northern Virginia Defense of the Faith meeting on January 18. The Ordinariate is nationwide, and was established by Pope Benedict XVI in response to the requests of Anglican churches in the United States who wish to join the Roman Catholic Church. Father Hurd was married when he was an Anglican priest, as are many, but not all of the Anglican priests who will be ordained as the Roman Catholic priests when they finish their training at St. Mary's in Houston, Texas in February.
Father Hurd spoke of the very cooperative way in which the Anglican Bishop and Catholic bishops have cooperated in this experience as congregations discern their way to the Catholic faith. Cardinal Wuerl has been put in charge of the program by the Pope.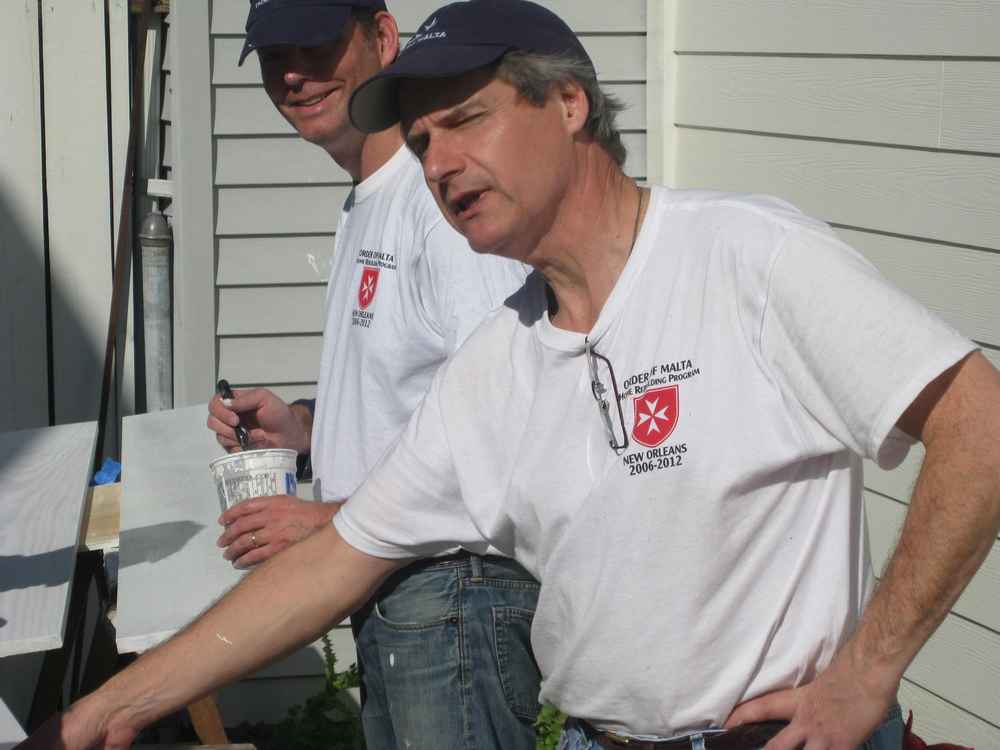 Gerry Ganse, KM from Lancaster, a seven-time veteran (front) and Andrew Madden, AUX a three-time veteran from San Francisco (Western Association) helped renovate a New Orleans home last week, as part of our ongoing New Orleans Home Rebuilding Program. Click here to sign up for upcoming work weeks.
Bylaws Vote Needed by Feb 3
This week, you should have received a new ballot for your vote on the Bylaws. This new ballot has a yellow envelope (with no signature, to ensure privacy) and an external white envelope with a return address. This is to ensure that each member's ballot is received, but that the vote is confidential. It is in accordance with the bylaws from Rome regarding elections.

Upcoming Events:
Feb 4 - Wash, DC - St. Ann's Valentine's Day Party, 4-6 PM at St. Ann's Infant and Maternity Home. Contact: Chrissy Page
Feb 6 - Charlotte - Room at the Inn at St. Peter's Catholic Church. Contact: Barbara Laughlin
Feb 11 - Houston - Anointing Mass, St. Michael's Church. Contact: Kate Signorelli
Feb 11 - Wash DC - Malta House - Senior-Junior Prom at 2:00 PM. Contact: Valencia Camp
Feb 11 - Lafayette, LA - Mass of Healing and Anointing of the Sick 10 AM Our Lady of Fatima Church, Abbot Placid Solari, Chacellor of Belmont Abbey College will be the principal celebrant. Contact: Dan Bouligny
Feb 11 - Atlanta - Mass of the Anointing of the Sick, 11 AM Holy Spirit Catholic Church; Msgr. Edward Dillon is principal celebrant. Contact: Mary Savarese
Feb 11 - Chicago - Mass and Annointing of the Sick, 11 AM Little Sisters of the Poor 2325 N. Lakewood Ave, followed by lunch. Contact: Mary Armato
Feb 11 - Chicago - Volunteers are needed to pack boxes of supplies at the Mission Outreach. Contact: Linda Kuzma
Feb 11 - Charlotte - Defense of the Faith program regarding the USCCB and the lawsuit filed against Belmont Abbey, addressing religious liberty and the Obama Administration's regulations on health care and contraceptives in employer sponsored health plans. Contact: Jerry Schmitt
Feb 21 - Baltimore - Order of Malta volunteers join in with the Mission Helpers to prepare a meal for 80 women. Contact: Margie Counselman
Feb 23 - Kansas City - Memorial Mass for deceased members of the Order, 4:30 PM Notre Dame de Sion Lower School. Contact: Georgia Lynch
Feb 26-Mar 2, 2012 - New Orleans Home Repair Program work week. Click here for info and sign up.
Mar 5 - Charlotte - Room at the Inn at St. Peter's Catholic Church. Contact: Barbara Laughlin
Mar 9 - Columbus, OH - Mass for the Anointing of the Sick, 6 PM. St. John the Baptist Church. Contact: Charles Mifsud
Mar 10 - Kansas City - Anointing of the Sick Cure of Ars Church, 9 AM with Archbishop Keleher. Contact: Georgia Lynch
Mar 13 - Wash DC - Lenten Evening of Reflection - 6:30 PM - Church of the Annunciation. Mass, followed by soup supper and Lenten reflection by Monsignor John Enzler. Click here for more information.
Mar 18-23, 2012 - New Orleans Home Repair Program work week. Click here for info and sign up.
Mar 24 - Northern VA - Mass for the Anointing of the Sick, 11 AM; Fr. Richard Mullins will be the Celebrant and Homilist. Volunteers are needed; last year the region had approximately 150 Malades attend. Respond to Elizabeth Scheuren or Valencia Camp