Our Lady of Champion Pilgrimage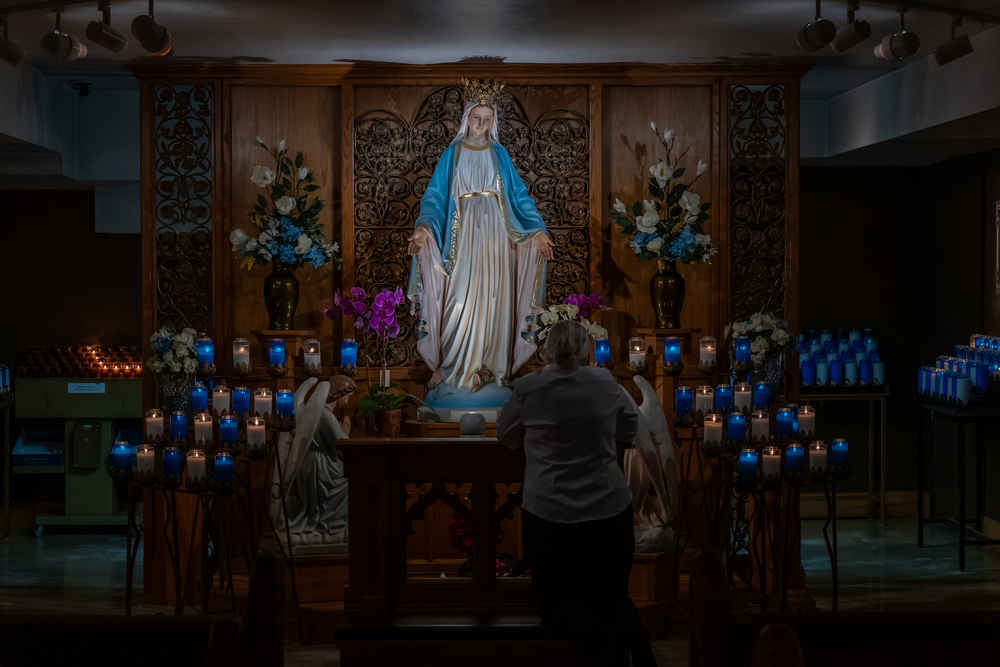 "I am the Queen of Heaven, who prays for the conversion of sinners, and I wish you to do the same."
Since 2014, the Federal Association has been making Pilgrimage to the National Shrine of Our Lady of Champion. Each summer since then, members, auxiliary, priests, and volunteers of our Order as well as our Special Pilgrims (those who are sick or in need of extra help) have visited the first approved Marian Apparition site in the United States. The days on Pilgrimage are filled with Mass, the sacrament of Confession, the sacrament of the Anointing of the Sick, a personal visit to the Apparition Site, a Rosary Procession, and daily Mass. Each day's full schedule is certainly rewarding and there is plenty of free time each evening for camaraderie and fellowship among the pilgrims.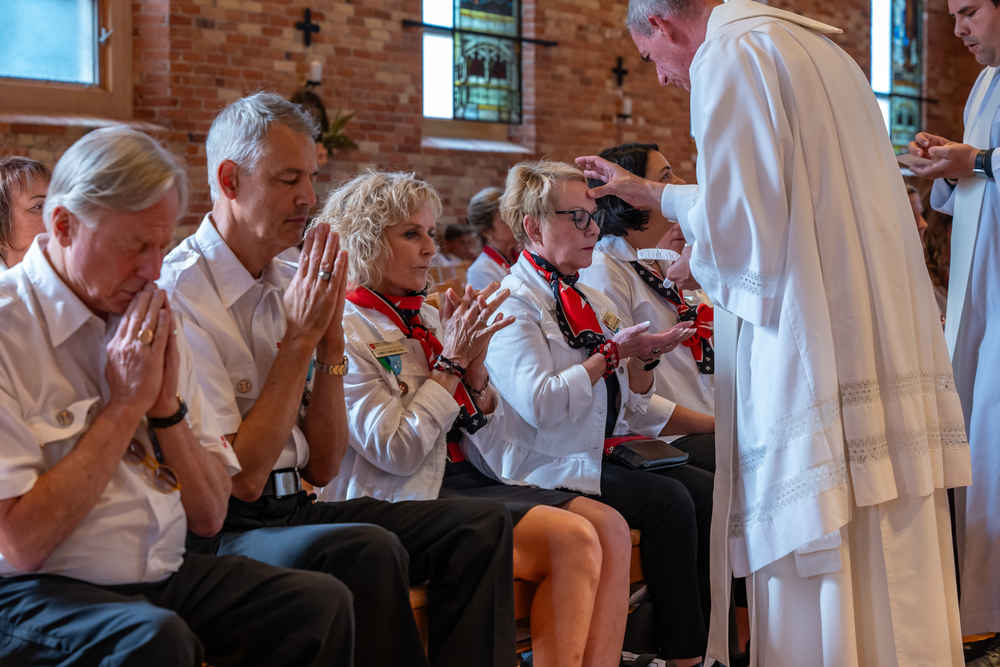 History of the National Shrine of Our Lady of Champion
On a trail in the woods of Champion, Wisconsin in October of 1859, a young woman, Adele, saw a woman clothed in white standing between a hemlock and maple tree. Surrounding this woman in white was a brilliant light. Adele was frightened and began to pray when the vision disappeared. A few days later on her way to Mass with her sister and friend, Adele saw the woman in white again. Neither her sister nor her friend could see the women though. Adele, asked her priest for advice and he told her to ask the woman "In the Name of God, who are you and what do you wish of me?"
That day on her way home, she saw the woman in white once again. She asked the question her Priest told her and the woman replied, "I am the Queen of Heaven, who prays for the conversion of sinners, and I wish you to do the same." Moreover, she told Adele to "gather the children in this wild country and teach them what they should know for salvation." Adele heeded the words of the Blessed Mother and there began her life devoted to teaching children.
Adele's father built the first chapel on the spot of the Marian apparition soon after, with larger chapels being built there over the years. In October of 1871 the Peshtigo Fire burned over 1.2 million acres of Wisconsin. When the firestorm began to burn towards the Chapel, Adele and others of the community gathered in procession to beg the Blessed Mother for her protection, the Chapel remained unharmed although the lands surrounding the area were destroyed.
In 2008 an investigation was ordered into the apparitions and on December 8, 2010 Bishop David Ricken as the twelfth Bishop of Green Bay officially approved the Marian apparition at the Shrine. Moreover, on August 15, 2016 the USCCB designated the shrine as a National Shrine.
Please click here to view the 2023 OLOC Pilgrimage photo gallery, by Peter Scudner, KM.
2024 OLOC Pilgrimage Schedule