Montgomery County MD Irish Dancers Perform for Wounded Warriors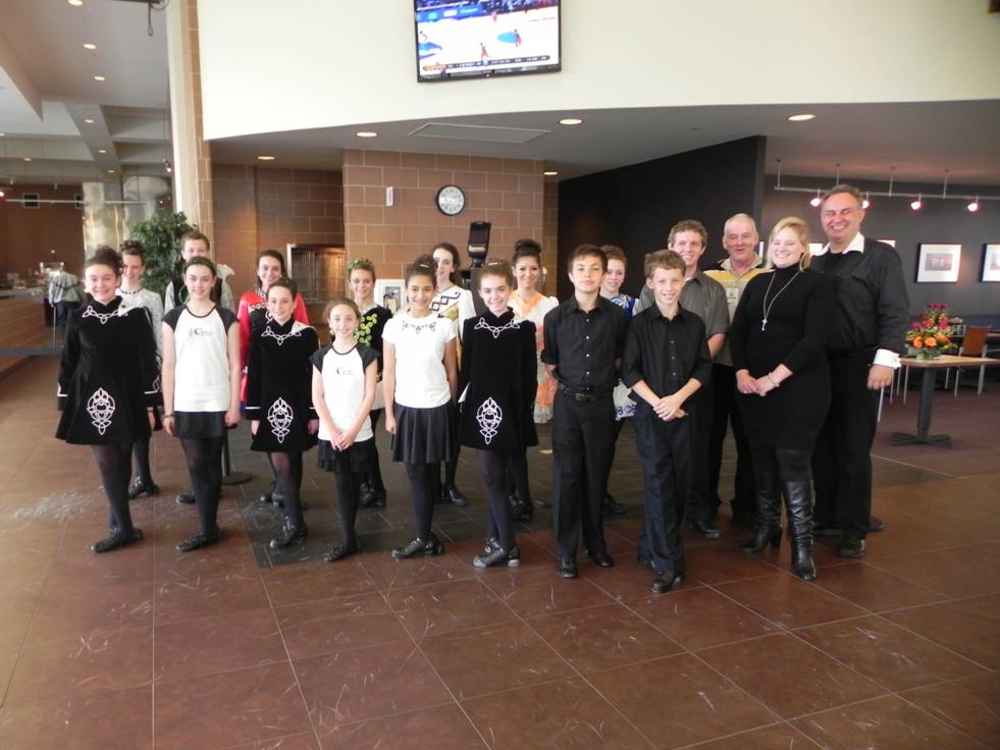 Members and friends of the Order in Montgomery County, MD have been working for some time with the staff for the Wounded Warriors since they moved to Bethesda Navy Medical Hospital in Bethesda. The priest assigned to the Chaplain Corps, Fr. O'Grady has been very helpful and allowed members of the Order to provide speakers for Prayer Luncheons for the staff serving the Wounded Warriors. These luncheons have developed into motivational talks designed to uplift the staff to enable them to better serve the wounded soldiers and sailors.
Louise Phipps Senft, DM as well as Dr. Jeff Martins of the St. Luke Institute and others have given talks on dealing with stress and depression. In addition we have supplied religious materials used by the clergy as leave behinds on their visits. We have been able to stretch the Federal Association Grant and provided a thousand copies of the Order of Malta pamphlet "Prayers In The Time of Sickness." Mary Ellen Gaspard has offered to provide plants to enjoy in their rooms and gardening talks for the Wounded Warriors and their caregivers. This therapeutic idea is being discussed within the chain of command.
For a pre St. Patrick's Day gathering on March 16th, the group arranged for performances by the School of Traditional Irish Dance and Elizabeth Demaree singing in the Wounded Warrior Cafe. The show lasted over an hour and everyone was delighted. Fr. O'Grady congratulated the young performers and gave medals to the dancers - Larry Demaree, KM, Montgomery County, MD

Association Lenten Evening of Reflection Message: Forgiveness and Mercy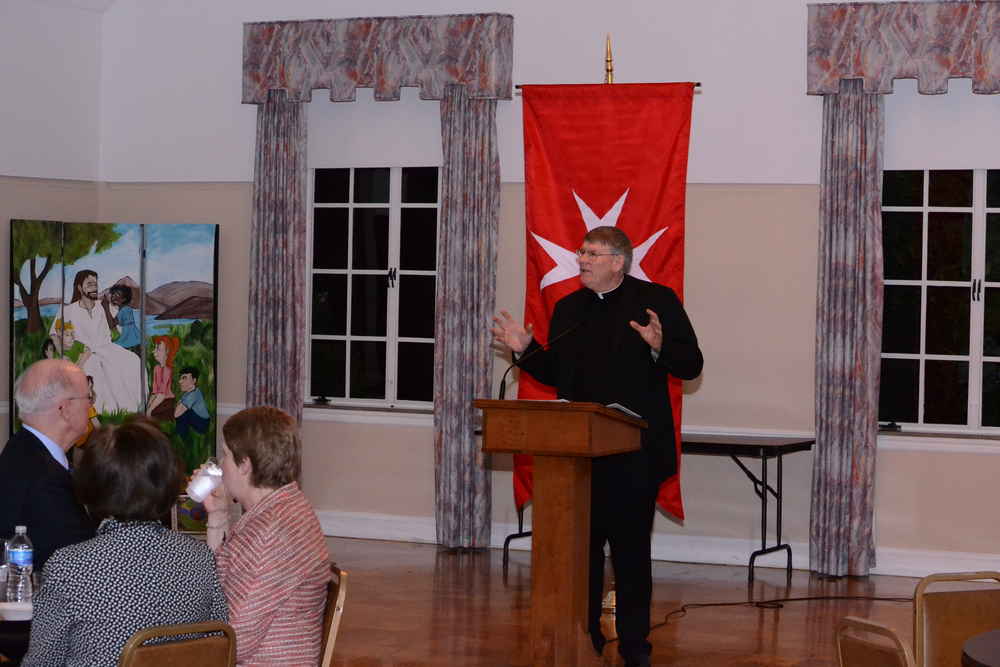 On March 13th, 67 members of the Federal Association gathered for the annual Lenten Evening of Reflection at the Church of the Annunciation in Washington. Msgr. John Enzler, Magistral Chaplain, was the celebrant, homilist and the guest speaker after the soup supper. In his homily, Msgr. Enzler said that though many of us live by the golden rule, treating others how we want to be treated, what makes us distinctive as Catholics is that we must forgive our enemies—those most unlike ourselves—as God forgives us. We will be judged on how well we granted the gifts of forgiveness and mercy. Holding a grudge is not acting like God.
In his after-supper reflection, Msgr. Enzler noted that everything he learned about God he learned during Lent. He learned that that Jesus came to him through the Eucharist by attending daily Mass with his father, and his mother taught him that some form of sacrifice is necessary and it is also necessary to do something extra for someone in need. - Gretchen Koch, Development Director

Petitions to Our Lady of Lourdes
To be placed at the altar at Our Lady's Grotto in Lourdes, France
Even if you can't go to Lourdes, you can have petitions placed at our Lady's shrine. Write your special intentions, fold it twice, and mail it before April 25, to the address at the attached link. Please do not email or fax your petitions.
Print your name and address clearly on the return section of your envelope. This will enable us to send an acknowledgment card from Lourdes the day that your petitions are delivered to the Grotto. You may fill out more than one form and place it in the same envelope. Your intentions will not be unfolded or read. Click here to access the form. - Wayne Ruth, KM, Baltimore

Novena to Our Lady of Lourdes: Week Five and Six
Prayer for the Fifth and Sixth Weeks

(See the March 2nd Order of Malta Moment for the Novena Prayer, and pray the prayers for weeks 5 and 6)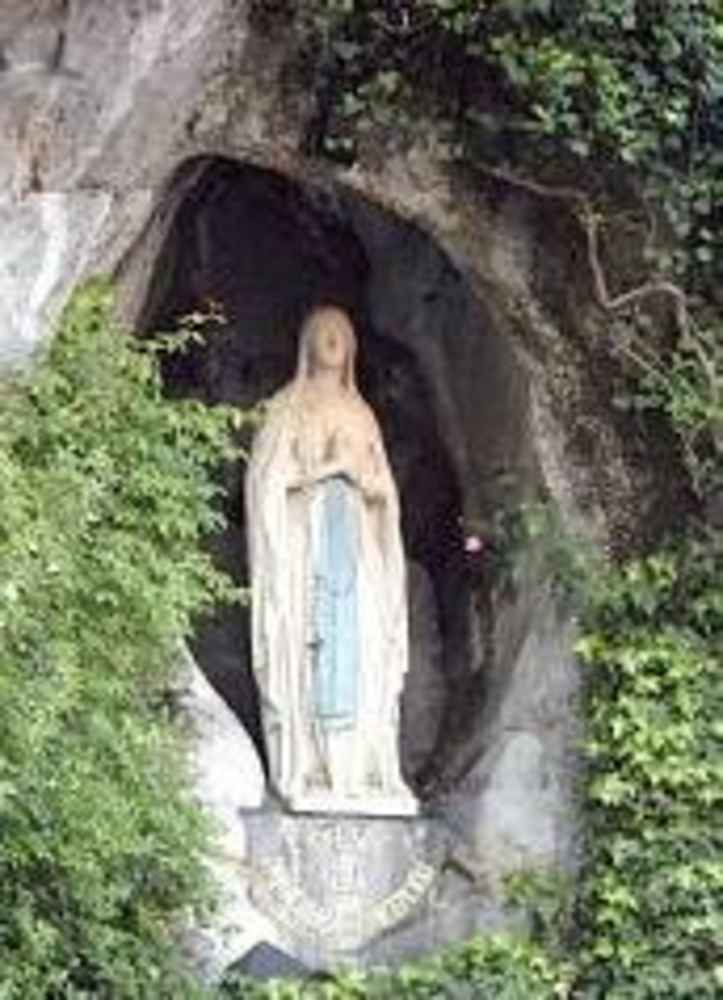 Week 5 Novena
Our Lady of Lourdes, whose name has never been invoked in vain, pray for us. It has never been known that anyone called on you in vain. Those in distress, the unhappy, all who suffer: broken-hearted, wounded souls, and sick bodies yearn for your loving care, most kind Virgin! If you so wish, no one will be left forsaken or leave without feeling the effect of your powerful intercession. If we imitate your virtues, you will intercede for us. Help of Christians, pray for us.
Week 6 Novena
Our Lady of Lourdes, you who cure the sick, pray for us. You who heal bodies and even more, heal souls, be favorable once again to our fervent prayers. Be the hope of our dear sick. May their confidence in you be rewarded. Merciful Virgin, whose very name recalls wonderful cures, show us that you are once again our hope. Intercede for us and for our dear ones, Our Lady of Lourdes. Help of the Sick, pray for us.

Upcoming Events:
Mar 31 - Wash DC - Second Annual Faith and Service lecture with Rev. Timothy Radcliffe, OP, theologian and former Master General of the Dominican Order. 7 PM Dahlgren Chapel, Georgetown University. A reception will follow. Prior to his talk, Fr. Radcliffe will celebrate the Saturday 5:30 Mass at Holy Trinity Church. Contact: Tom Hughes
Mar 31 - Baltimore - 8:30 AM, Baltimore First Saturday Mass and Spiritual Discussion at Mission Helpers Contact: Pat Monaghan
Apr 9-14 - New Orleans Home Repair Program work week. Click here for info and sign up.
Apr 14 - Montgomery County, MD - Volunteers needed for the Easter Party for the teen mothers, children and babies at St. Ann's Infant & Maternity Home, 4901 Eastern Avenue Hyattsville, MD. Contact: Chrissy Page
Apr 17 - Baltimore - Volunteers needed for My Sister's Place Women's Shelter 3rd Tuesday Dinner 4-6:30 PM. Contact: Margie Counselman
April 19-20 - Charlotte - Day of Formation for candidate class of 2013 and sponsors. Click here for details.
April 21 - Wash DC - Federal Association Day of Reflection - Washington Theological Union - 9:00 - 2:00. All members and candidates invited. Click here for RSVP form.
May 2-9 - Lourdes Pilgrimage.
May 17 - Baltimore - Volunteers needed for My Sister's Place Women's Shelter 3rd Tuesday Dinner 4-6:30 PM Contact: Margie Counselman
May 22 - Lancaster, PA - Defense of the Faith Series, "With Liberty and Justice for Some", featuring Marie Hilliard, Ph.D., DM. Dr. Hilliard is Director of Bioethics and Public Policy at The National Catholic Bioethics Center. Mass 6:30, with lecture following at St. John Neumann Church. Contact: Pat Whalen
Jun 11 - Kansas City, MO - The St. James Place Steak and T-shirt Dinner for the hungry; contact Georgia Lynch for details.
Jun 16-17 - Annual Spring Retreat of the Federal Association; St. Mary's Seminary, Baltimore; Rev. Thomas Hurst, S.S., retreat director. Click here for RSVP form.
Jun 19 - Wash DC - St. John the Baptist Mass & Reception; St. Matthew's Cathedral; 6:30 PM; His Eminence Donald Cardinal Wuerl, celebrant. Contact: Joe Dempsey
Jun 19 - Baltimore - Volunteers needed for My Sister's Place Women's Shelter 3rd Tuesday Dinner 4-6:30 PM Contact: Margie Counselman
Jun 22 - Lancaster, PA - Federal Association's primary observance of the Feast of St. John the Baptist; Mass - St. Mary's Church, 6:00 PM; dinner at the Hamilton Club. Contact: Pat Whalen
Jun 23 - Columbus - Mass for the Feast of St. John the Baptist - 5pm @ St. John the Baptist Church. Contact: Charles Mifsud
Jun 24 - Kansas City, MO - St. John the Baptist Mass and Dinner - is scheduled at the home of Chuck and Jackie Sullivan. Contact Georgia Lynch for details.
Jun 24 - Dallas - Feast of St. John the Baptist Mass and Dinner with Bishop Farrell as celebrant 4 PM St. Monica Church, followed by dinner. Contact: Theresa Martter
______________
Order of Malta Moment will not publish next week. The next issue will be emailed on April 13. Best wishes for a Happy and Holy Easter.