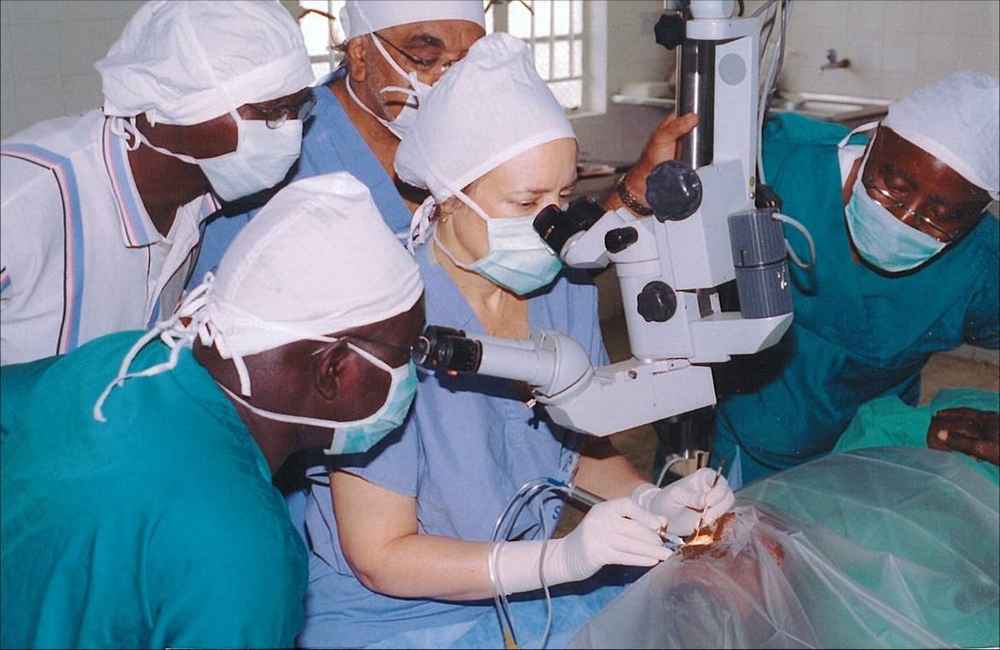 Memphis Dame receives Grant from Order of Malta To Expand Mission Eye Clinic in Africa
Dr. Cathy Schanzer, DM eye surgeon from Memphis, TN has received a fifty thousand euro grant from the Order of Malta in Rome to expand her mission clinic activities in Sierra Leone. This grant, which will be administered through Southern Eye Institute, provides for the development of a medicine laboratory, the purchase of additional diagnostic equipment for the clinic's outreach program and funding for most of the shipping expenses related to supplying the clinic with medical and surgical supplies through out the year.
Cathy, an accomplished eye surgeon and Medical Director of Southern Eye Associates in Memphis, and husband Tom Lewis, who serves as Executive Director of their mission work, began 21years ago to use their talents to help give sight to the blind in Africa. In 2005, at the invitation of African Archbishop Joseph Ganda, they agreed to open an eye surgery center on Catholic Church property in the little village of Serabu, Sierra Leone. Twice a year, Cathy and Tom travel from Memphis to Southern Eye Clinic of Serabu, treating thousands of patients and performing hundreds of eye surgeries, free of charge. The clinic remains open year round, providing non-surgical treatment when Cathy is away.

Cathy and Tom were instrumental in working with Sierra Leone officials to establish Diplomatic Relations between Sierra Leone and the Order of Malta. The Order has appointed an Italian, Stefano Palumbo, Director of the Peretti Foundation, as its Ambassador to Sierra Leone. Southern Eye Clinic of Serabu is the first charitable work of the Order undertaken in Sierra Leone and Ambassador Palumbo has worked diligently to help with financial and other support for the clinic, assisting Cathy and Tom to continue their hands-on work of giving sight to the blind in this poorest part of Africa. Three years ago the US Federal Association of the Order of Malta also provided a grant for the clinic to build a needed recovery room for children. Cathy hopes ultimately that the Order can help with recruiting additional surgeons to volunteer their talents in Serabu to help with more surgeries. For more information, contact - Southern Eye Institute, Robert Hutton, KM, Hospitaller, Memphis
Congratulations!
Today marks the 55th Anniversary of the Ordination of our chaplain and devoted member of the Order Bishop William Curlin, Bishop Emeritus of Charlotte.
Ad Multos Annos!
Northern Virginia Defense of the Faith Meets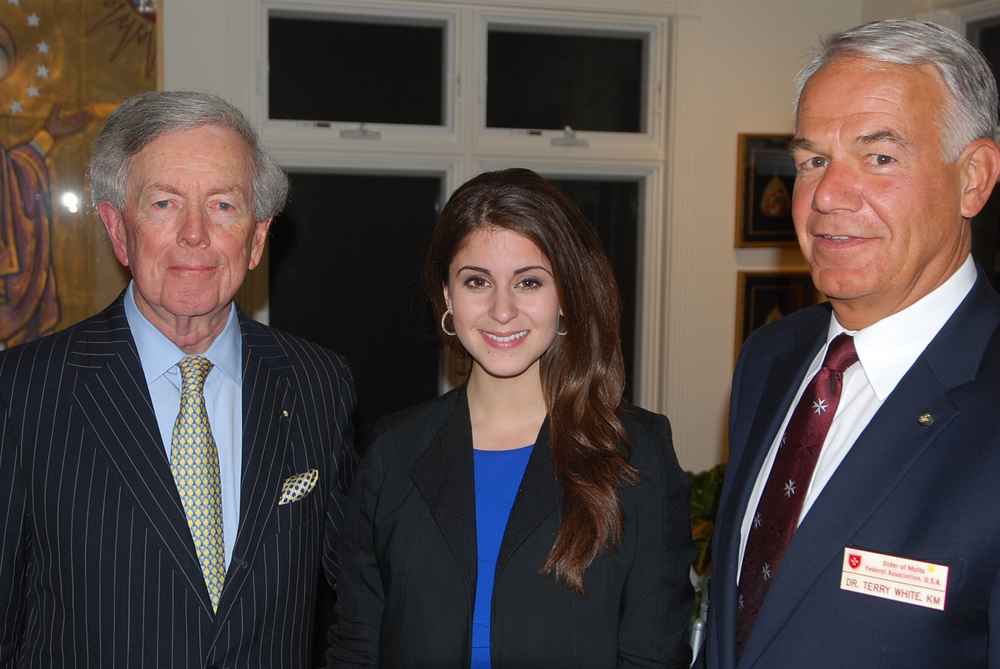 On May 16, Joe and Bertha Braddock, DM hosted Northern Virginia's Defense of Faith gathering. The speaker was Lila Rose, President and Founder of Live Action, a youth-led movement dedicated to building a culture of life and ending abortion.
Lila gave a riveting talk about how Live Action has used new media to expose the truth about abortion. Her talk was very well received by the nearly 50 members and candidates of the Order in attendance. - Brian Walsh, Candidate, Northern Virginia.

Lancaster
June 22, 2012
All are cordially invited to participate in
the Federal Association's primary observance of
The Feast of St. John the Baptist
Friday, June 22, 2012
Lancaster, PA
Mass at St. Mary's Church, 6 PM in Lancaster.
Dinner will follow at the Hamilton Club. Contact: Pat Whalen
Protecting our Catholic Conscience in the Public Square
Click here to read Principal Chaplain Donald Cardinal Wuerl's Op Ed article which will appear in this Sunday's Washington Post.
Upcoming Events:
May 28 - Syracuse - Malta House Birthday Party; arrive by 2:30 PM. Contact: Kathy Mezzalingua
Jun 11 - Kansas City - The St. James Place Steak and T-shirt Dinner for the hungry; contact Georgia Lynch for details.
Jun 15 - Syracuse - Day of Reflection - Abbey of the Genesee, Piffard, NY; 10:00 AM until the conclusion of Vespers at 4:00 PM; to be followed by semi-annual evening meeting. Contact: Sharon Cirincione
Jun 16-17 - Annual Spring Retreat of the Federal Association; St. Mary's Seminary, Baltimore; Rev. Thomas Hurst, S.S., retreat director. Click here for RSVP form.
Jun 19 - Wash DC - St. John the Baptist Mass & Reception; St. Matthew's Cathedral; 6:30 PM; His Eminence Donald Cardinal Wuerl, celebrant. Click here for RSVP form.
Jun 19 - Baltimore - Volunteers needed for My Sister's Place Women's Shelter 3rd Tuesday Dinner 4-6:30 PM Contact: Margie Counselman
June 21 - Pittsburgh - Feast of St. John the Baptist; Bishop David Zubik will celebrate mass at the Oratory at 6:30 PM; dinner will follow at the Pittsburgh Athletic Association. Contact: Dan McGrogan
June 21 - Baltimore - St. John's Day Mass and dinner; 5:30 PM at St. Ignatius Church with dinner following at the Maryland Club. Archbishop Lori is the invited celebrant. Contact: Loretto Kane
Jun 22 - Lancaster, PA - Federal Association's primary observance of the Feast of St. John the Baptist; Mass - St. Mary's Church, 6:00 PM; dinner at the Hamilton Club. Contact: Pat Whalen
Jun 22 - Chicago - Feast of St. John the Baptist, Mass will be celebrated by Francis Cardinal George, 6:00 PM Our Lady of Perpetual Help. Dinner at the Glen View Golf Club. Contact: Linda Kuczma
Jun 22 - Houston - Feast of St. John the Baptist Mass at St. Mary's Seminary Chapel at 6:00 PM. Dinner follows at the Lakeside Country Club. Contact: Stephen Sleezer