Task Force on Prison Ministry to be Introduced at Investiture Weekend
I was in prison and you visited me
Invoking Jesus' statement of one of the corporal works of mercy and calling the imprisoned "forgotten people," Grand Master Fra' Matthew Festing, is calling on the three US Associations to make prison ministry a signature project for which the Order in the US can be known nationwide.
With that in mind, a task force of Federal Association members is developing a multi-tiered program--- possibly consisting of options such as prayer, letter-writing, visiting, mentoring ex-offenders and special events. The task force believes that while most members might not be able to join in a face-to-face ministry, there are options, such as prayer and letter-writing in which all Federal members can participate. The task force is considering pilot programs in Federal regions where jails and prisons are located and is targeting the presently incarcerated and the newly released as those to whom the Order would reach.
During Investiture Weekend on Friday Oct. 19, at 2 PM at the Mayflower Hotel, members will hear a presentation outlining the spiritual underpinnings for prison ministry, the first-hand experiences of those working in this ministry, and the successful efforts of the American Association in the field. Questions and discussion will follow.
The program will mark the first release of the Spirituality Committee's new publication on Prison Ministry, I Was in Prison and You Visited Me. - Kathryn Abell, GCMOb, Chair, Defense of the Faith Committee

New Orleans Home Repair - Sign Up for Year Seven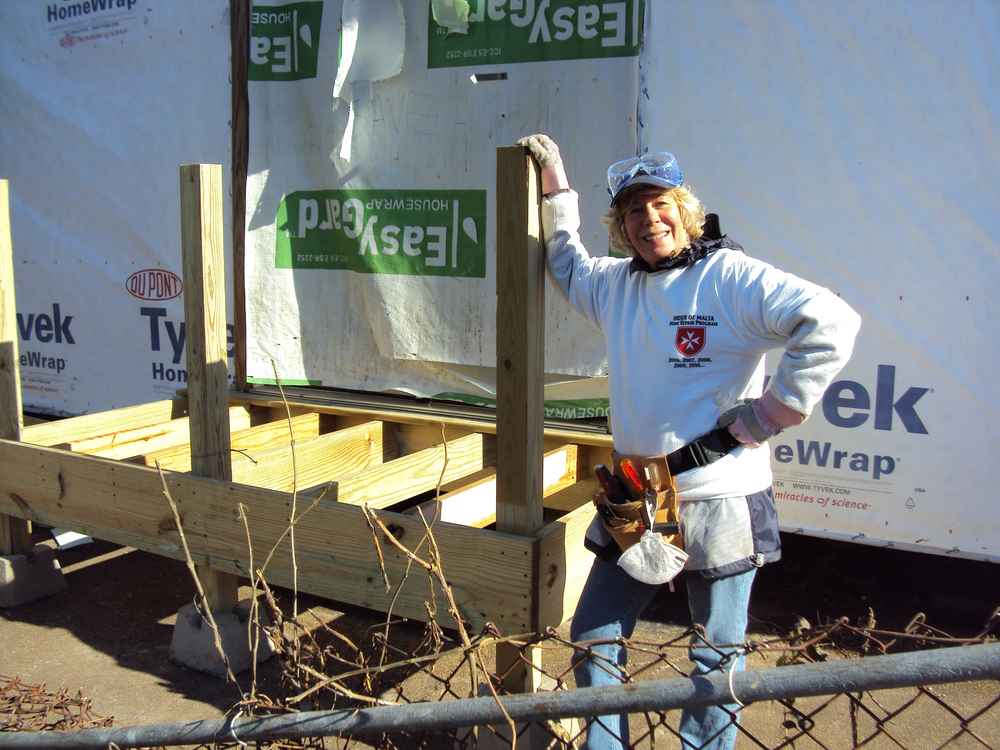 The Order of Malta New Orleans Home Repair Program will start its seventh year of repairing homes damaged by Hurricane Katrina in November. Four work weeks have been scheduled for the 2012 – 2013 session and our partners at Rebuilding Together – New Orleans will select hurricane damaged homes that are owned by people who are elderly, have health problems, and/or have limited financial resources and would not be able to afford these repairs.
Several hundred members of the Federal Association, their family members and friends have worked on over 40 homes in New Orleans since March 2006. Some of our volunteers have been skilled carpenters or craftsmen while others have never done work like this before. The jobsite coordinators (House Captains) are very good at finding a job for everyone. Volunteers stay at the New Orleans Marriott in the French Quarter and all meals are provided throughout the work week. The work is hard and meaningful and every day real progress is made and the homeowner is closer to having his or her home back to (almost) as good as new. Please click here for more information and to access the sign-up sheet. - Joe Dempsey, Executive Director

Nominations for Officers
At the October meeting, the Board of Directors will elect three executive officers for a 3-year term beginning in 2013: Vice President, Chancellor and Hospitaller. Members who wish to be considered for these positions must submit a self-nomination form to the Nominating Committee by October 1, 2012. Please click here for a copy of the form.
Annual Investiture Weekend
October 19-20, 2012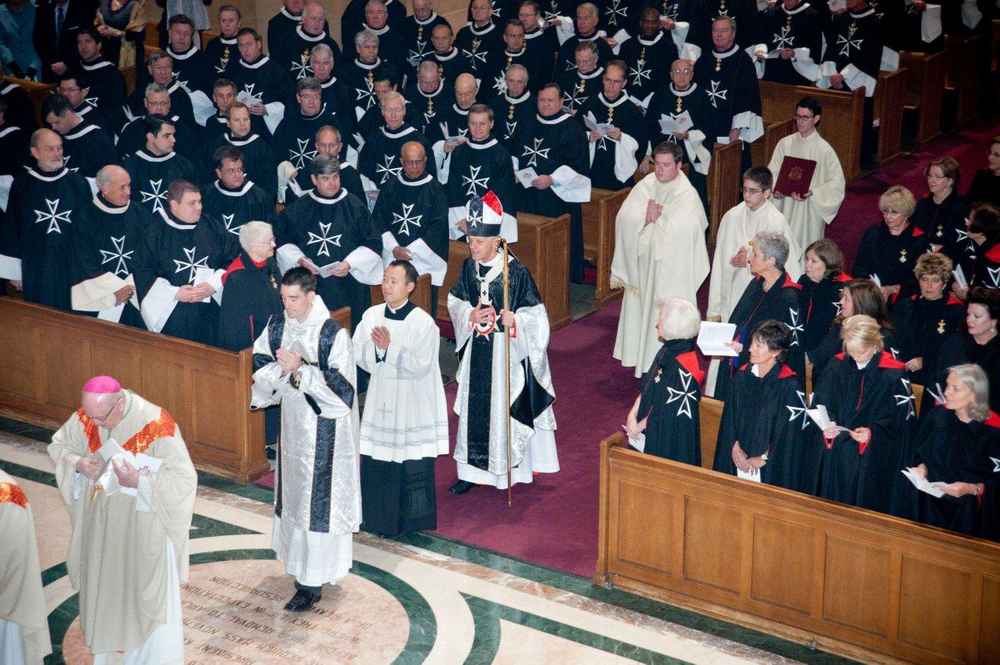 Many members have requested the opportunity to register electronically for the Annual Investiture Weekend events in Washington, DC. To register for the events and to pay on-line, please click here to access the on-line registration form. You'll also find hotel information and the calendar of events in the attachments. You may pay for the events you have selected to attend with your Pay Pal account or credit card. Please note: if you have already returned your RSVP in the mail you DO NOT have to register again.
We hope you like ease of registering on-line. Please feel free to contact the office (info@orderofmalta-federal.org, 202-331-2494) if you have any questions.

Upcoming Events:
Sep 22 - Wilmington - Mass and Annual Diocesan Marian Pilgrimage. Holy Spirit Parish, New Castle, DE. Contact: Geoff Gamble
Sept 24 - Syracuse - Malta House Birthday Party-Volunteers arrive at 2:30PM Contact: Mary Pat Northrop
Sept 29 - Syracuse - Pancake Breakfast at Assumption Church. Volunteers arrive at 7:30AM - Contact: John Clark
Oct 2 - Syracuse - Sanctity of Life Mass - 5:30 PM at Holy Cross Church, Dewitt, NY-Celebrant Fr. Yeazel - Contact: Noreen Falcone
Oct 16 - Chicago - Mass for the Sanctity of Life, will be held at Holy Family Church. Dinner follows at Rosal's, Taylor St. Contact: Sam Ciccarelli
Oct 19-20- Investiture Weekend, Washington, Click here for more details.
Oct 21 - Washington, DC - Fifth annual CRUDEM benefit for Hopital Sacre Coeur, at Georgetown Visitation School, 1524 35th Street, NW, Washington, DC at 10 AM followed by a champagne brunch from 11 to 1.
Oct 27 - MontCo, MD - Halloween Party 4-6PM at St. Ann's Center for Children, Youth and Families (www.stanns.org) in Hyattsville, MD. Contact: Chrissy Page
Oct 27 - Charlotte - Retreat 9 AM- 2 PM at Belmont Abbey. Retreat given by Abbot Placid. Contact: Jerry Schmitt
Oct 27 - Wash, DC - Day of Reflection and Healing for the sick and elderly at 9 AM at Visitation School. Contact: Ann Fox
Nov 2 - Columbus - Mass for the Deceased of the Order at 6 PM, St. John the Baptist Church, 720 Hamlet Street, followed by 7:15 PM Reception and Dinner at Cafe Del Mundo. Contact: Charles Mifsud
Nov 2-4 - Pittsburgh / Western PA Retreat at St. Vincent's Archabbey with retreat master Fr. Justin Matro. Contact: Dan McGrogan
Nov 6 - Chicago - Mass for deceased members of the Order will be held at St. Louise de Marrillac Chapel at Catholic Charities with dinner to follow. Contact: Sam Ciccarelli
Nov 8 - Washington, DC - Memorial Mass for Deceased Members. Georgetown Visitation Preparatory School; Rev. Msgr. John Enzler
Nov 9-11- Dallas - Retreat, featuring Fr. Brendan Gatt, from Malta. Contact: Theresa Martter
Nov 11-16 - New Orleans – Order of Malta Home Repair Program – work week # 1. Please click here for details and sign-up sheet.
Nov 14 - Atlanta - Defense of Faith in Side B of McDonough Hall. 6:30 PM. 7 PM Memorial Mass for Deceased Members, St. Mary's Chapel followed by dinner at the Rectory. Contact: Diane Festa
Nov 16-17 - Atlanta - Fall Retreat of the Federal Association. Jesuit Retreat Center at Ignatius House - Sandy Spring, GA; Rev. Niel Jarreau, SJ - retreat director - Click here for more information.
Dec 2 - Dallas - Mass and lunch for the residents at St. Joseph's Retirement home. Contact: Theresa Martter
Jan 11-13 - Memphis - Retreat at Our Lady Queen of Peace Retreat Center, Dancyville, TN. Contact: Robert Hutton
Jan 14 - Lancaster - Sanctity of Life Mass at 7:00 PM; St. John Neumann Church in Lancaster. Contact: Pat Whalen