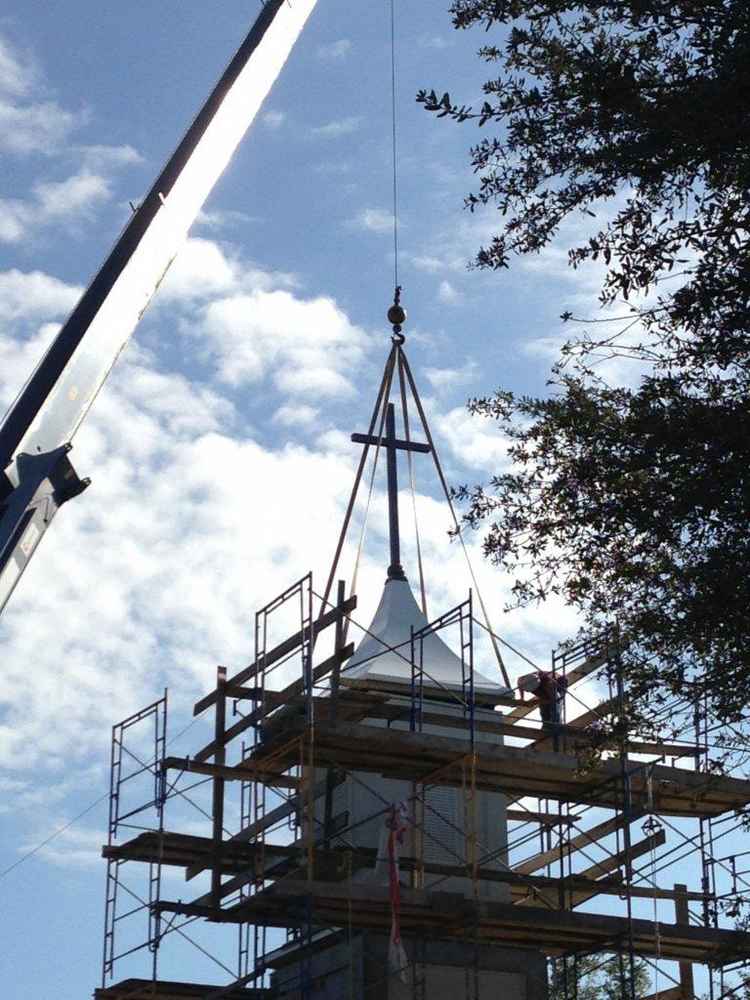 Rebuilding Church in Lafayette
In 2011 the Grants Committee made a $25,000 grant to Our Lady Queen of Peace Catholic Church (QOP) here in Lafayette. The pastor of QOP is Rev. F. Hampton Davis, who serves a chaplain of our Lafayette Region. QOP, which has been the focal point of the Lafayette members' service projects since the group's inception, suffered a devastating fire in 2011 and last year the Grants Committee funds were used to replace the church bells as the church is being rebuilt. Church construction is now nearing completion and and Fr. Davis reports tyhat the new church will be open for Christmas. The Lafayette members have been invited to process in the Mass of Thanksgiving to be celebrated on January 1st by the Most Rev. Michael Jarrell, Bishop of Lafayette. Please click here to see a video of the ceremony to dedicate the new steeple and church bells. - Paul David, Regional Hospitaller
New Regional Hospitallers
In the past two months the Board of Directors has approved the appointment of three new Regional Hospitallers. In Syracuse, Patricia Fallon will replace Kathy Mezzalingua; in Hartford, Dr. Pauline Olsen will replace J.P. van Rooy; in Lancaster, Peter Scudner will replace Patrick Whalen; and in Lafayette, Paul David will replace Dan Bouligny. The Association is grateful to Ms. Mezzalingua and Messrs. Bouligny, van Rooy, and Whalen; and we welcome our new Regional Hospitallers.
Wine Tasting to Benefit Lourdes Pilgrimage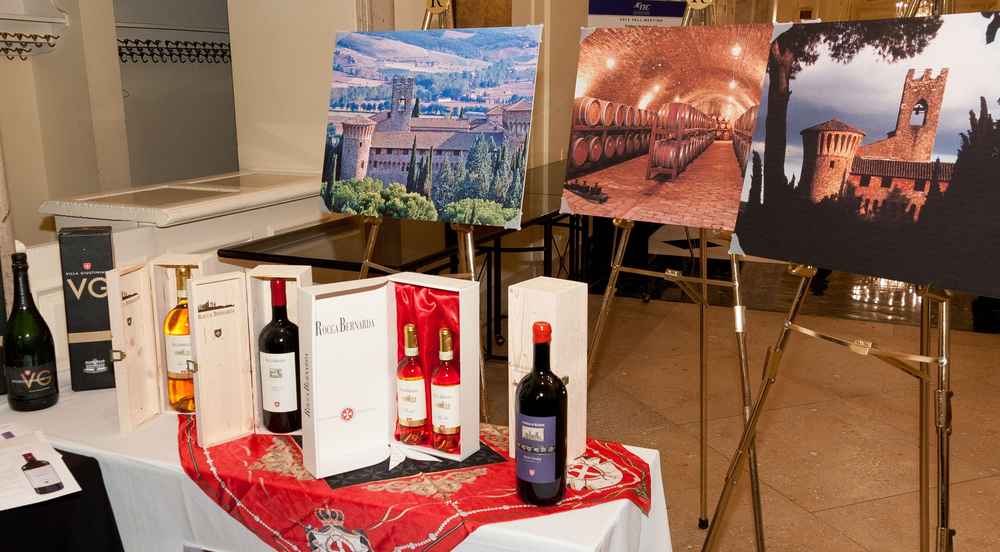 Federal Association members in Dallas are hosting a wine tasting reception to raise funds for the Lourdes Pilgrimage. The featured wines will be from the Order of Malta vineyards in Italy. Owned by the Order of Malta from the early medieval times, three ancient estates in Umbria, Veneto, and Friuli have recently made their wines available in the United States. Giulia Luccioli, the Sommelier of the Order of Malta, will present the wines and the rich history of the Knights of Malta in winemaking. Please click here for information and invitation.

Order of Malta in Korea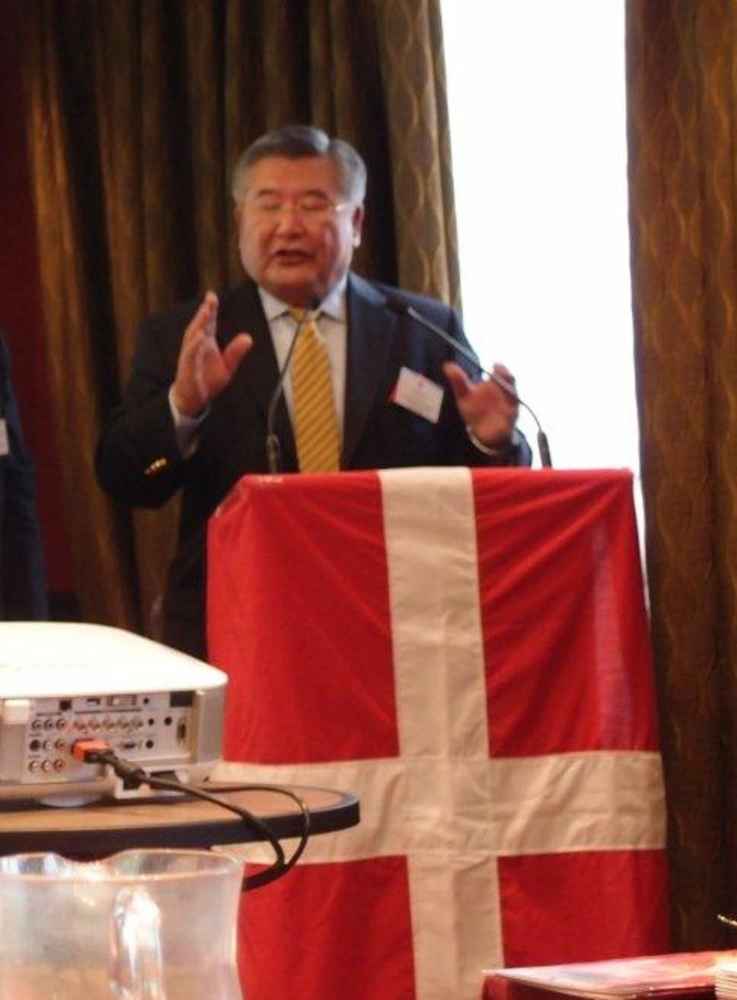 At the invitation of Albrecht Freiherr von Boeselager, the Grand Hospitaller of the Order, Federal Association member Matthew Lee traveled to Sydney, Australia to attend the SMOM Third Asia Pacific Regional Conference along with a delegation of church officials from Korea. "It was an excellent conference for me and the Korean delegation as we have learned so much about the Order and what the Order does and is all about," Lee said. Tony Macken, the President of the Australian Association who said of Mr. Lee's participation, "Your presentation along with the Korean delegation was one of the highlights of this conference. We will do whatever we can to get things moving in Korea." In addition to the Grand Hospitaller the conference was attended by representatives from the Grand Magistry and Malteser International and representatives from ten countries including France, Portugal and the United States. The 4th Conference will be held in Bangkok, Thailand.
Mr. Lee has traveled to Korea three times in 2012 to explore the possibility of establishing the Order of Malta in Korea. His Eminence, Cardinal Nicolas Jeong, then Archbishop of Seoul during his first trip told him, "I know the Order does so much good work around the world, we will definitely benefit by having the Order here in Korea." During the same trip, he met with the lay leaders, all of whom showed enthusiastic response. Lee also met with His Excellency, the Most Reverence Andrew Yeom, the new Archbishop of Seoul succeeding Cardinal Jeong in August, who also extended enthusiastic response when he updated the archbishop on the progress.
During his visit in March, He was also able to obtain the help of Fr. Johan Y. Pahk, President of the Catholic University of Korea who recommended James C.J. Kim and Gloria Young A. Lee for attending this conference. In addition, Mr. Lee has met with the minister and other top officials of the Korean Ministry of Foreign Affairs and Trade to explore the possibility of establishing diplomatic relations with the Order. He is continuing his efforts to pursue it further.
Korea has a very vibrant and flourishing church with a strong laity. With over 5.5 million Catholics or about 11% of the population of South Korea, the church's growth has been nothing less than phenomenal in the past 40 years. The Catholic Church in Korea continues to grow at a steady pace. Catholics as a group, specifically the clergies and the religious, are highly respected in Korea.
The unique aspect of the Catholic Church in Korea is that it was established, not by European missionaries, but by the spontaneous efforts of Korean people. Catholicism first was introduced into Korea in the 18th century. Some Korean literati got an idea of this new religion through reading and studying the books on Catholicism and tried to practice it by themselves. One of them, Yi Seung-hun, went to Beijing to be baptized and on his return to Korea he founded a Christian community. This was in October, 1784. 

The Catholic Church in Korea was suppressed from its early days because the government considered Catholicism to be opposed to the Neo-Confucianism which was the guiding ideal of the government at that time. About 10,000 of the faithful died martyrs in persecutions that lasted for more than one hundred years. Among them 103 martyrs including the first Korean priest Father Andrew Kim Tae-gon were canonized on May 6th, 1984 in Seoul, Korea, by the Pope John Paul II.


Trip to Rome for 900 Year Anniversary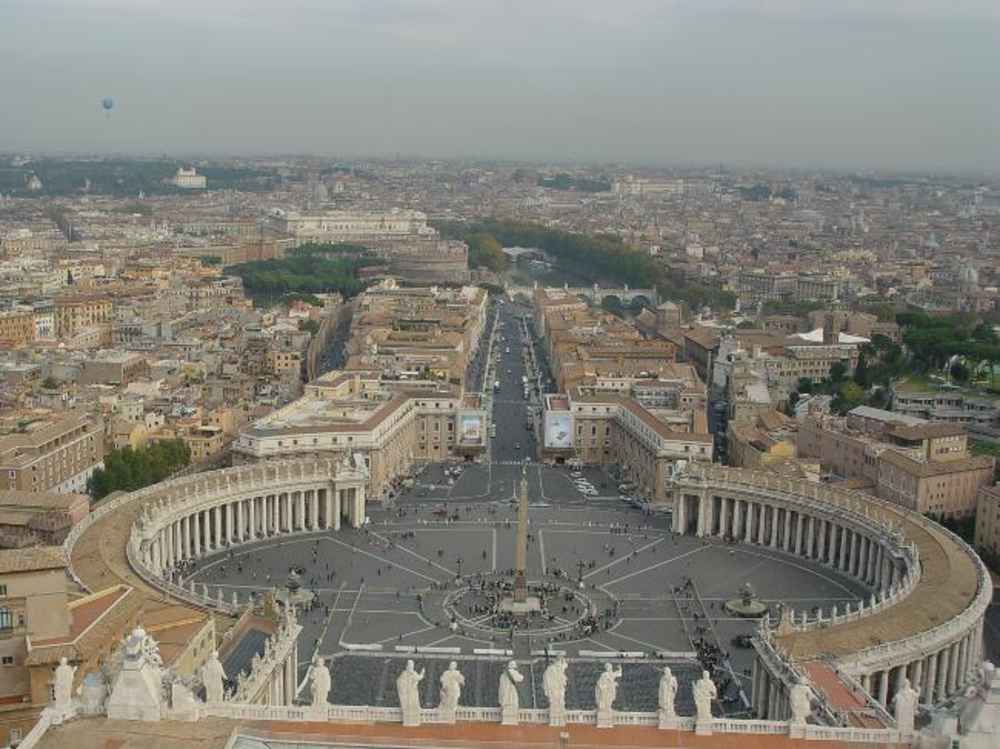 In commemoration of the 900 year anniversary of the signing of the Papal Bull that formally recognized the Order of Malta, all members of the Order (and spouses) will be invited to a special Mass and audience with the Holy Father on February 9, 2013. Please click here to see the tentative schedule and sign-up sheet.
Hurricane Sandy Relief Effort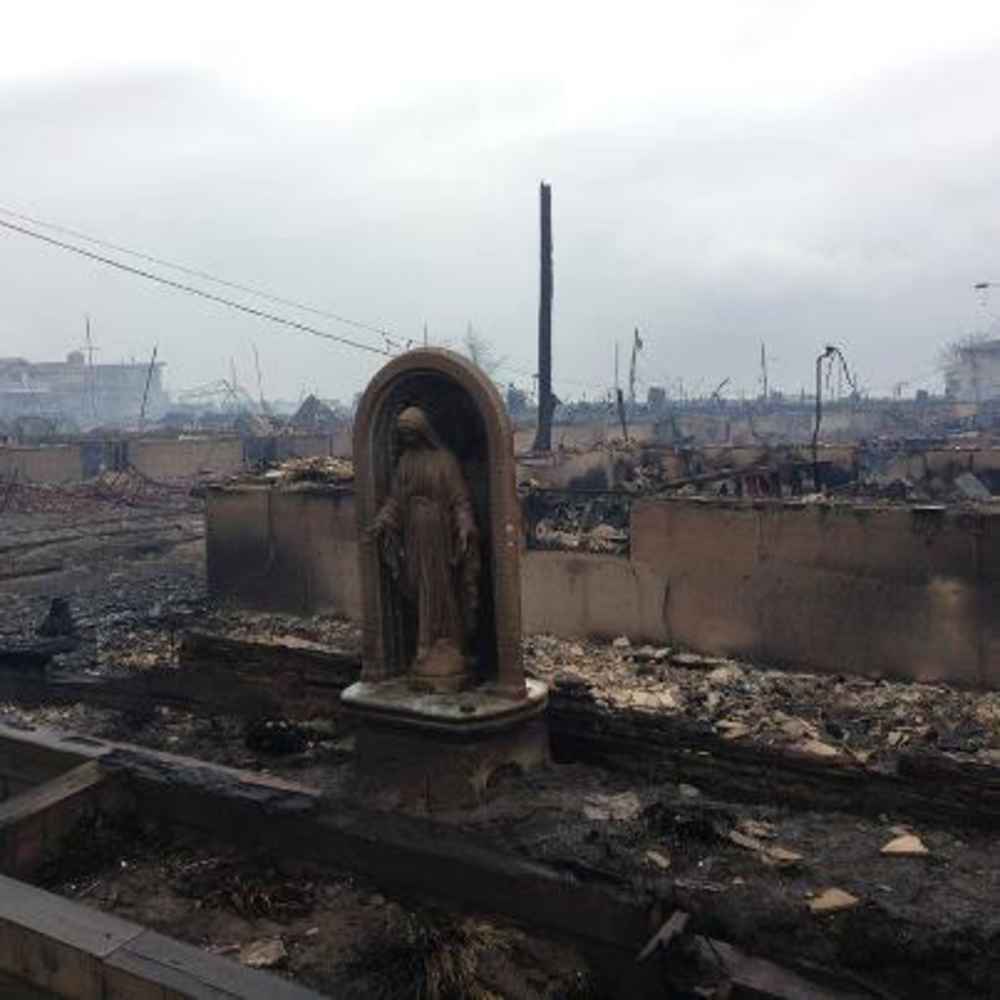 The Federal Association's newly formed Humanitarian Assistance and Disaster Relief (HADR) task force is working feverishly to find the most appropriate support we can make to victims of Hurricane Sandy. This was an enormous storm which affected areas all across the Northeast with some of the hardest hit in New York and New Jersey. We are in contact with the American Association leadership, Catholic Charities USA and Malteser International - Americas and are accumulating an extensive list of needs which we will share with you. Please keep in mind that we are in the first stage of disaster relief and feel we best serve these hard hit communities in a secondary or tertiary basis and will continue to communicate where we can help. In the meantime, we have heard the following immediate needs:
1. Prayers for victims.
2. Donations to Catholic Charities USA. www.catholiccharitiesusa.org
If you want to see how vast Sandy was go to www.google.org/crisismap/sandy-2012.
Also, check out www.noaa.gov for additional statistics. More details to follow.

Upcoming Events:
Nov 2 - Columbus - Mass for the Deceased of the Order at 6 PM, St. John the Baptist Church, 720 Hamlet Street, followed by 7:15 PM Reception and Dinner at Cafe Del Mundo. Contact: Charles Mifsud
Nov 2-4 - Pittsburgh / Western PA Retreat at St. Vincent's Archabbey with retreat master Fr. Justin Matro. Click here for more information.
Nov 6 - Chicago - Mass for deceased members of the Order will be held at St. Louise de Marrillac Chapel at Catholic Charities with dinner to follow. Contact: Sam Ciccarelli
Nov 8 - Washington, DC - Memorial Mass for Deceased Members. Georgetown Visitation Preparatory School; Rev. Msgr. John Enzler. Click here to register.
Nov 9-11- Dallas - Retreat, featuring Fr. Brendan Gatt, from Malta. Click here for details.
Nov 11-16 - New Orleans – Order of Malta Home Repair Program – work week # 1. Please click here for details and sign-up sheet.
Nov 14 - Atlanta - Defense of Faith in Side B of McDonough Hall. 6:30 PM. 7 PM Memorial Mass for Deceased Members, St. Mary's Chapel followed by dinner at the Rectory. Contact: Diane Festa
Nov 16 - Houston - The Houston Region Deceased Members Mass. 6:00 PM. St. Mary's Seminary. Dinner to follow at The Forest Club. Please RSVP to Marcus Menough if you plan to attend.
Nov 16-17 - Atlanta - Fall Retreat of the Federal Association. Jesuit Retreat Center at Ignatius House - Sandy Spring, GA; Rev. Jose Fetzer, SJ - retreat director - Click here to register.
Nov 17 - Assumption Pancake Breakfast - Volunteers arrive at 7:30AM. Contact: John Clark
Nov 18 - Malta House Thanksgiving Dinner - Volunteers arrive at
11:30 AM. Contact Pat Fallon
Dec 2 - Dallas - Mass and lunch for the residents at St. Joseph's Retirement home. Contact: Theresa Martter
Dec 3 - Charlotte - Room at the Inn, serving area homeless men with a meal and overnight shelter. Contact: Barbara Laughlin
Dec 7- Houston - Houston Region Christmas Mass and Dinner celebrated by Cardinal DiNardo: 6:00 PM. St. Mary's Seminary. Dinner to follow at Lakeside Country Club. Please RSVP to Marcus Menough if you plan to attend.
Jan 7 - Charlotte - Room at the Inn, service project for homeless men. Contact: Barbara Laughlin
Jan 11-13 - Memphis - Retreat at Our Lady Queen of Peace Retreat Center, Dancyville, TN. Contact: Robert Hutton
Jan 14 - Lancaster - Sanctity of Life Mass at 7:00 PM; St. John Neumann Church in Lancaster. Please click here.