Lancaster Region Defense of the Faith Series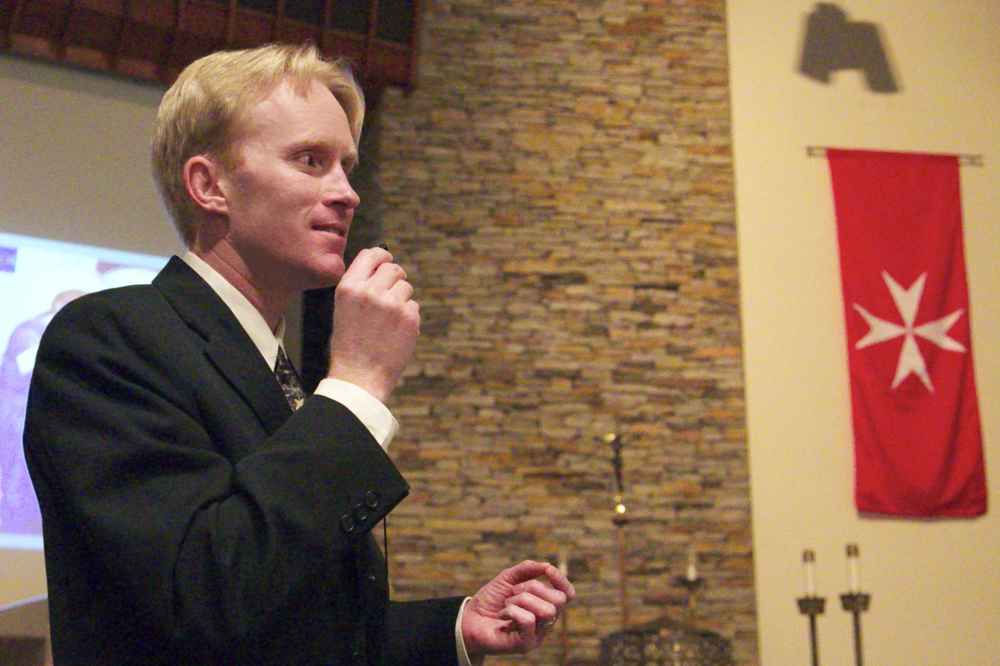 The Lancaster Region continued its semi-annual Defense of the Faith Series on November 14 with a presentation of Christianity's traditional reasoning on artificial contraception. "Love, Respect and Responsibility" was presented by Dr. Trevor Martenson, Family Care Physician at Lancaster General Health. Dr. Martenson is an exceptional teacher, outstanding researcher and local physician. He is the winner of the Exceptional Teacher Award from the Hershey Medical Center and Outstanding Research Award from the University Of New Mexico School Of Medicine.
Dr. Martensen spoke following Mass. He drew on natural law, Church teachings, Scripture and the work of other Christian faiths and secular leaders in a discussion of the harmful consequences of artificial contraception. Quoting Pope John Paul II, Gospel of Life, 1995," It is frequently asserted that contraception, if made safe and available to all, is the most effective remedy against abortion … But the negative values inherent in the 'contraceptive mentality' - which is very different from responsible parenthood, lived in respect for the full truth of the conjugal act—are such that they in fact strengthen this temptation when an unwanted life is conceived. Indeed, the pro- abortion culture is especially strong precisely where the Church's teaching on contraception is rejected."
Dr. Martensen offered a discussion of Natural Family Planning as an alternative emphasizing its respect for the human body. The benefits of Natural Family Planning, according to Dr. Martensen are that it "honors natural law, builds the virtue of chastity, requires mutual sacrifice, enhances communication between spouses, strengthens marriages, strengthens the couple's relationship with God, and does no harm to society."
The Lancaster Region's next Defense of the Faith Series will feature President John Garvey of The Catholic University of America in the Spring of 2013. – Peter Scudner, KM

Houston Area Auxiliary - A "Match Made in Heaven"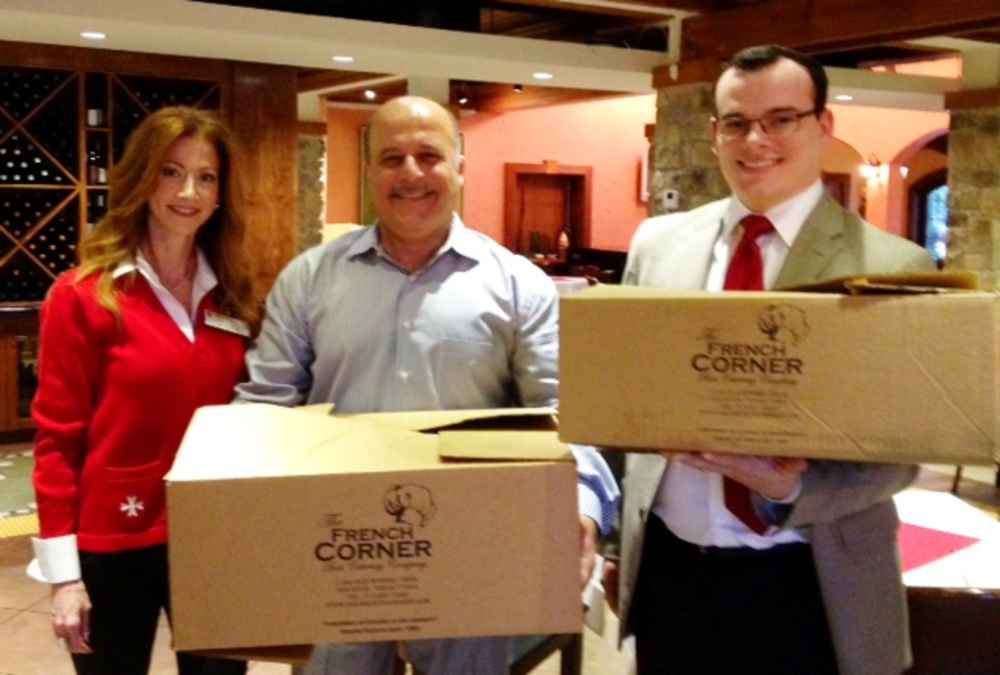 The members of the Auxiliary in the Houston Region have teamed up with the Halo House Foundation to make a difference in the lives of out of town cancer patients being treated at MD Anderson Cancer Center in the Texas Medical Center. Thousands of people with leukemia and lymphoma travel to the Texas Medical Center every year for life-saving treatments to cure their cancer. They come because care is unavailable locally, or their treatments have failed. Sadly, many of those people cannot stay in Houston to receive treatment because of the significant costs associated with short term housing.
The Halo House is a non-profit organization serving children and adults who are being treated for blood cancers, leukemia, lymphoma and myeloma, by providing the family or caregiver with fully furnished housing at a very low cost while they are undergoing active treatment for their cancer at the Texas Medical Center. Since welcoming the first Halo House apartment guests in January, 2011, over 2,700 days of housing have been provided to 53 families from 12 states across the nation. Currently the apartments are leased, but the long term goal by 2015 is to purchase a complex that will have 12 to 20 units dedicated to patients and caregivers, providing housing at a low, sustainable operating cost. The Houston Region Order of Malta Auxiliary delivers prepared meals donated by the French Corner to Halo House guests once a month. The response from the Halo House guests has been of gratitude and relief. It's one less worry and expense so their focus and resources can be spent on their treatment.
The Malta Auxiliary also volunteered at the 2nd annual Halo House "Houston Stars: Dancing for a Cause" gala, held on Saturday, October 20th. - Lisa LaPoint, DM

Second Vows for Fra' John Harvey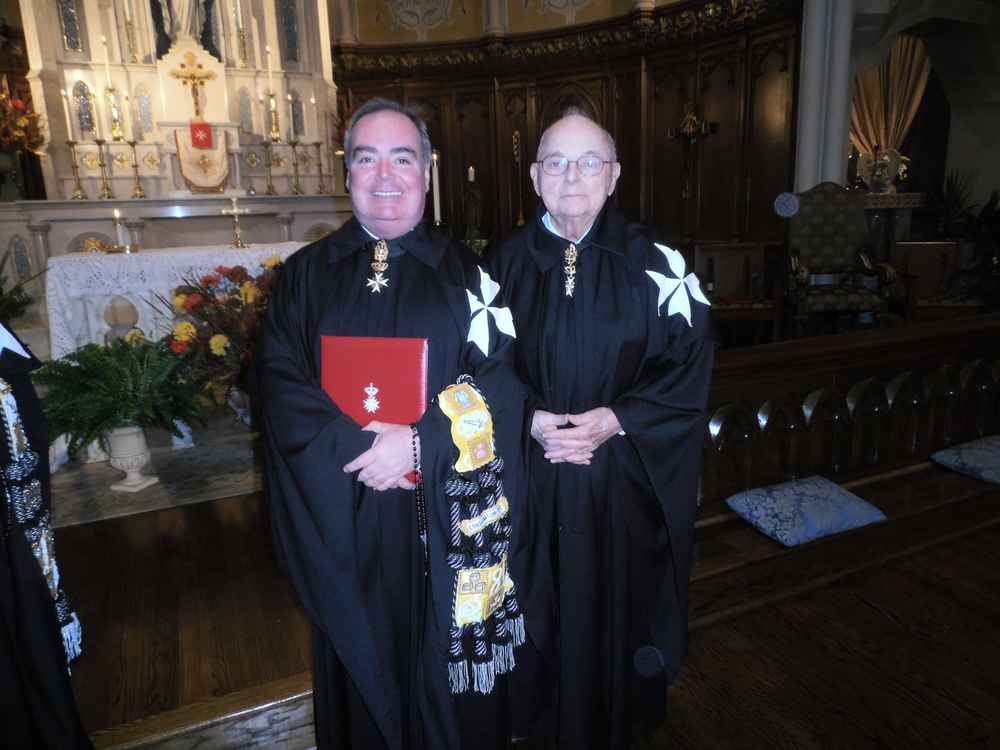 On Saturday, November 3, Fra' John Collins Harvey, MD, Ph.D. renewed his temporary vows as a Knight of Justice for the second year at Immaculate Conception Church in Washington. Fra' John Dunlap received his vows and Fra' James-Michael von Stroebel and Barbara Murphy, DMOb were the witnesses. Rev. Msgr. James Watkins, Assistant Subpriory Chaplain, officiated at the Mass. Also during the ceremony Fra' John Harvey and Barbara Murphy, took the Oath of Office for the next six year term as Councillors of the Subpriory of Our Lady of Lourdes. - Barbara Murphy, DMOb
March for Life
Once again in 2013 Federal Association members will be given the chance to participate in the National March for Life in Washington, DC on January 25. All Knights, Dames, candidates, Auxiliary, family and friends are invited to our program that includes Mass at Immaculate Conception Church in Washington followed by a light lunch. Transportation will be provided for those who wish to participate in the march. Please click here to access the registration form.
Annual Appeal Update
The 2013 Annual Appeal is now three weeks old and, as of November 29, we have received $180,000 from 170 of our members, chaplains, and friends. This week we are sending the appeal letter to our candidates, and next week to members of the Auxiliary to give them the chance to contribute to the appeal and to support the Federal association's Grants Program. To make it easier to support the Association's works, please click here to access our online contribution page.
Applications for Admission
The deadline for admission for the candidate class is December 15, and the application for admission is now available. Candidates must be Catholics in good standing, sponsored by two members of the Federal association, and able to attend the Association's Day of Formation on April 4-5 in Washington, DC. Please click here to learn more about the Association's admission and formation criteria. Members of the Federal Association can click here to access the Admissions Application for the Class of 2014.
Upcoming Events:
Dec 2 - Dallas - Mass and lunch for the residents at St. Joseph's Retirement home. Contact: Theresa Martter
Dec 2 - Wash DC - Decorate Malta House at 10am; contact: Valencia Camp
Dec 3 - Charlotte - Room at the Inn, serving area homeless men with a meal and overnight shelter. Contact: Barbara Laughlin
Dec 7- Houston - Houston Region Christmas Mass and Dinner celebrated by Cardinal DiNardo: 6:00 PM. St. Mary's Seminary. Dinner to follow at Lakeside Country Club. Please RSVP to Marcus Menough if you plan to attend.
Dec 7 - Syracuse - First Friday Mass with Celebrant Father Ahearn at 7 AM. Contact: Paul Drescher
Dec 11 - Syracuse - Order of Malta Christmas Mass at The Cathedral of the Immaculate Conception Chapel at 5:00 PM, with Bishop Robert Cunningham as celebrant. Dinner follows at The Century Club. Contact: Paul Drescher
Dec 15 - Wash DC - Volunteers are needed for the Auxiliary Christmas Party for St. Ann's Center for Children, Youth and Families (www.stanns.org). 4:00 – 6:00 PM. Contact Sheila Dougherty
Dec 15 - Wash DC - Celebrate Christmas with the Malta House family at 2pm; contact: Valencia Camp
Dec 22 - Syracuse - Pancake Breakfast at Assumption Parish Center. Volunteers arrive at 7:30AM. Contact: Pat Fallon
Jan 7 - Charlotte - Room at the Inn, service project for homeless men. Contact: Barbara Laughlin
Jan 11-13 - Memphis - Retreat at Our Lady Queen of Peace Retreat Center, Dancyville, TN. Contact: Robert Hutton
Jan 14 - Lancaster - Sanctity of Life Mass at 7:00 PM; St. John Neumann Church in Lancaster. Please click here.
Jan 20 - 25 - New Orleans - Order of Malta Home Repair Program - work week # 2. Please click here for details and sign-up sheet.
Jan 25 - Wash DC - National March for Life - 10:30 AM - Mass at Immaculate Conception Church, lunch, transportation to march. Please click here to access the registration form.
Jan 25-27 - Florida Retreat - Marywood Retreat Center in Jacksonville. Contact: Warren Powers
Feb 8 - 11 - Rome - Pilgrimage to Rome to commemorate 900 year anniversary of the signing of the Papal Bull that officially recognized the Order of Malta an order of the Catholic Church.
Feb 21 - Wash DC - Lenten Evening of Reflection - 6:30 PM - Mass at Church of the Annunciation followed by soup supper and reflection.