Regional Report - Atlanta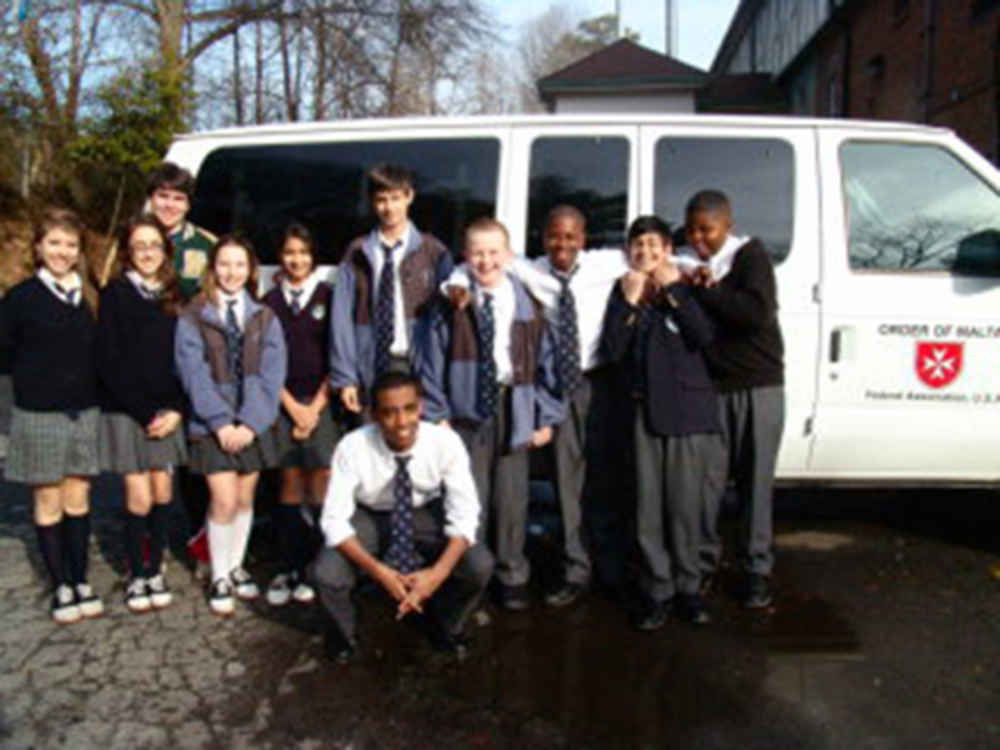 Our signature project for the past ten years has been Solidarity Mission Village and School which is a preschool program for ages 2 through 4. Members and auxiliary regularly assist with English language reading programs as well as sponsor and work at the school's Christmas and graduation celebrations for students and their families. We also have painted classrooms, refurbished the playground, setup their library and computer systems, and generally have "been there" for them in any way necessary. With the help of a grant from the Federal Association, we provided a van that has proven to be an invaluable transportation lifeline both for transporting these preschoolers wherever the programs take them and to bring teenaged tutors from Holy Spirit Preparatory School to Solidarity. Currently, we are using the region's annual funds from the Federal Association to remodel and expand the playground.
Three years ago, we "adopted" the Advice and Aid Pregnancy Problem Center located in South Atlanta, the only Catholic pregnancy center in Atlanta where they serve abortion-vulnerable women. The center began in 1984 and has limped along on an annual budget of about $125,000 per year, the bulk of which comes from donations averaging less than $100. The Center serves an average of forty new clients each month with about half returning for educational classes. Typically, their clients are 80% African-American, 10% Hispanic and 10% all others. Most of the women who see an ultra-sound picture of their baby elect not to have an abortion. So, over the years, the Center estimates that they are responsible for saving over 100 babies each year from abortion. Monsignor Dillon, our magistral chaplain, introduced the program to us and we realized we could make a substantial difference in the quality and breadth of their programs. We have now organized and sponsored two fund raising events that have resulted in our donating over $170,000 to the Center. In recognition of that support, the Atlanta region received the Celebration of Life Award from the Center.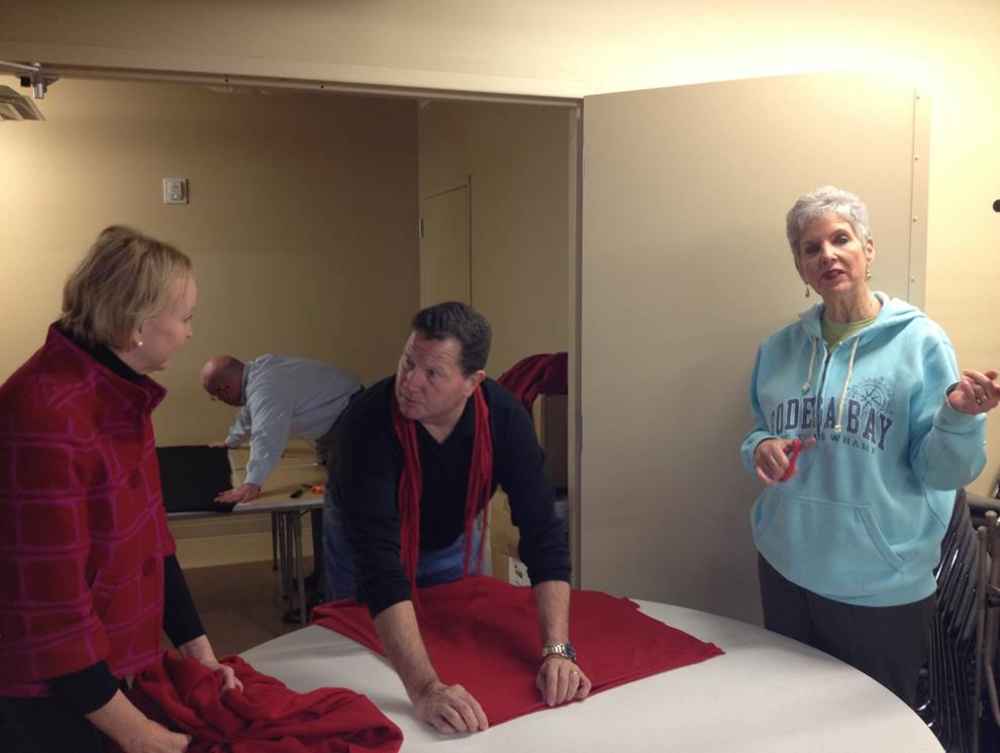 Our Auxiliary members continue their outstanding work alongside the members and through their own initiatives. They have, since 2007, made special blankets, which are given to all malades on the Lourdes pilgrimage. The stories we have heard over the years of how much these have meant to the recipients including, in some instances, asking to be buried with their blanket, speaks to the meaning ascribed to them as they accompany our malades on their spiritual journey to Lourdes. They have developed fund raising programs including annual Christmas wreaths and Lourdes pilgrimage pins that are so highly prized that one is in the official Order archives in Rome. These efforts raised over $15,000 for Holy Family Hospital, Bethlehem.
To recognize their efforts and thank the Auxiliary members, Geoff Gamble and Rob Lively traveled to Atlanta in March to give them the President's Award on behalf of the Federal Association, and the Star of Bethlehem on behalf of Holy Family Hospital. The Hospital also presented Monsignor Dillon with the Star of Bethlehem Award for his support and service on their board for over fifteen years. Diane Festa - Regional Hospitaller

Q & A: How are the Malades chosen for the Lourdes Pilgrimage?
The Lourdes Medical Committee meets each year during the last weekend in January; this meeting is pivotal to the Lourdes Pilgrimage. All malade and companion applications must be received by that time and all applications must be reviewed by the Medical Team. Each malade is interviewed in person by the Medical Team during the screening process on Saturday – or they have been interviewed by a team physician by phone before that weekend. Over twenty-five doctors and nurses participate in this process either on site or by phone from various parts of the country.
Appointments are scheduled at approximately fifteen minute intervals beginning at 9:00 AM and going through till 3:00 PM. Between twenty and forty malades are seen during this time period. The Medical Team attends Mass both Saturday and Sunday mornings before meeting the malades on Saturday and before making selections on Sunday. They pray for guidance as they make important choices during these two days of intense decision-making.
Volunteers greet the malades and their companions from the moment they enter the garage of the Mercy Medical Center in Baltimore. They are escorted to the Chapel area where other volunteers put them at ease with refreshments, pictures of previous pilgrimages to Lourdes, games and toys for the children, and kind words to comfort and reassure them. At least a dozen volunteers are involved during the weekend.
The Medical Team is split into two sections and each section has the opportunity to interview the malade and companion for about ten minutes each. Pertinent medical questions are asked, as well as the sharing of personal feelings and expectations. Malades are always forthright, sincere and hopeful. The Medical Team is compassionate and honest. A strong bond forms almost immediately through these brief intimate relationships with one another. After the malades have met with the Medical Team, the Lourdes Hospitaller speaks with them.
When the Team reconvenes on Sunday morning, each malade application is reviewed with attention paid to what took place during the interview the day before, or by reviewing the report from the doctor who conducted an interview by phone in a distant part of the country. Several of these doctors join the committee by phone that day. Criteria for selecting malades vary and the entire Medical Team must reach a consensus for each malade. Some may be deferred to the following year; others may be wait-listed for this year. Each year about forty malades are accepted from the sixty plus applications received. All malades are notified by phone within a week regarding their acceptance.
Decisions are made about bringing other family members along as companions. These are delicate situations many times and are discussed at length to try to arrive at the correct decision that will help the malade gain the most memorable spiritual experience.
Everyone on the Medical Team feels very privileged to be a part of this decision process which ultimately results in a meaningful pilgrimage to Lourdes for all pilgrims. The malades and their companions are the soul of every pilgrimage and the members of the Medical Team are the shepherds for that soul each year. Joan Cincotta, D.M.

Youth Retreat in Memphis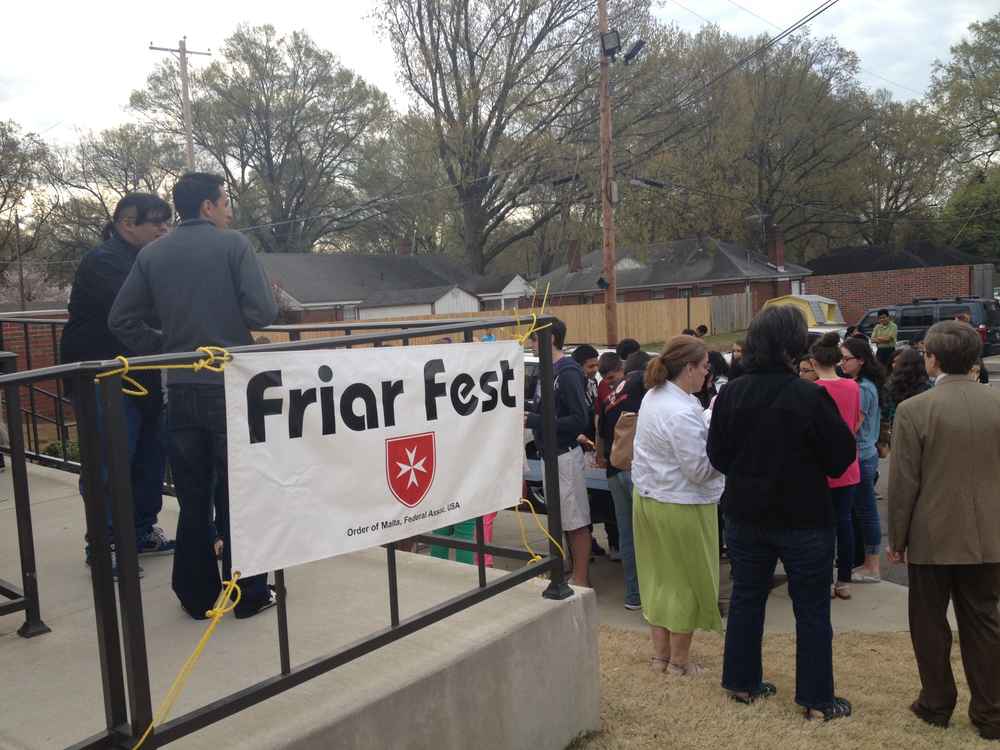 On April 5-7, Federal Association members in Memphis conducted its second annual "Friar Fest", a Eucharistic Centered weekend retreat for nearly 200 inner-city high school teenagers. The retreat began Friday evening and continued all day Saturday and Sunday morning. Six Franciscan friars from New York, all very experienced with youth ministry, led the retreat which was held at Holy Rosary parish. Plans are already in place for the third Friar Fest to be held April 25-27, 2014.
Day of Reflection
The Federal Association's annual Day of Reflection will be on Saturday, April 20 at Georgetown University in Washington. The theme for the day will be "I was in Prison" and the primary presenters will be Rev. Michael Bryant, the former chaplain for the DC Jail, and Dr. Janelle Goetcheus, the founder of the Christ House Ministry that provides medical and other services to the poor in Washington. The program will include presentations by Fr. Bryant and Dr. Goetcheus, small group discussions, Mass in Dahlgren Chapel, and lunch. Please click here for more information and registration.
Day of Formation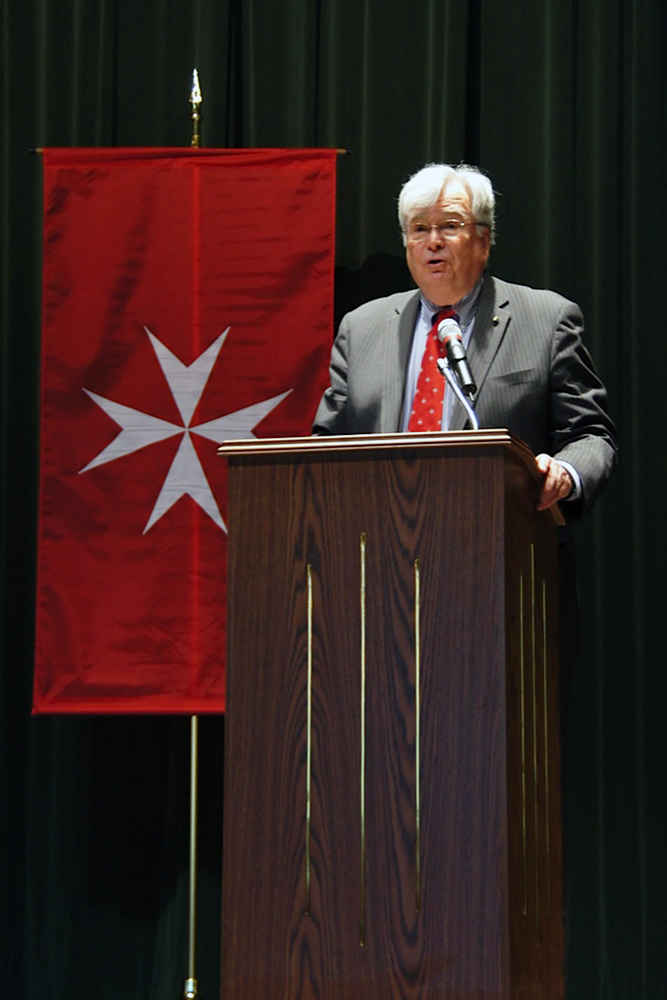 On April 4-5, 53 members of the candidate class of 2014 traveled to Washington to attend the Association's Day of Formation. On Thursday afternoon there were presentations made at the Mayflower Hotel by the Association's President (Geoff Gamble), Hospitaller (Bob Signorelli), Historian (Henry Lane Hull), and Treasurer (Thomas Weiford). The venue on Friday was Georgetown Visitation Preparatory School, and the day began with Mass in the Sisters' Chapel celebrated by Monsignor John Enzler, the Chaplain to the Board of Directors. On Friday candidates heard presentations on the spirituality of the Order, the Home Repair Program in New Orleans, the Lourdes Pilgrimage and other service projects nationwide. The Chairman of the Formation Committee, Thomas Hughes (pictured above) moderated the two day program.
Upcoming Events:
May 3 - Kansas City - Cathedral of the Immaculate Conception. Bishop Emeritus Raymond J. Boland, D.D. will celebrate the 25th Anniversary of his ordination. Contact Georgia Lynch
May 11 - Syracuse - Pancake Breakfast - Assumption Parish Center - Volunteers arrive at 7:30 AM. Contact John Clark
June 7 Syracuse - First Friday Mass - Breakfast and Speaker - 7:00 AM. Contact Pat Fallon
June 14- Houston - Summer Series Part I (Membership in the Order, Regulations and Commentary)- 6:00 PM - Sandvig home. Fr. Brendan Cahill will lead the discussion followed by dinner. For more information Contact Doug Sandvig
June 21 – Hartford – Federal Association's "primary observance" of the Feast of St. John the Baptist. Mass – Cathedral of St. Joseph with Archbishop Henry Mansell, followed by dinner.
June 21- Houston - Feast of St. John the Baptist - Mass celebrated by His Eminence Daniel Cardinal DiNardo - 6:00 PM at the Chapel of St. Mary Seminary on Memorial Drive. Dinner will follow at Lakeside Country Club. For more information Contact Doug Sandvig
June 21 - Syracuse - Annual Day of Retreat - Christ the King Retreat House - 9:30 AM - 5:00 PM, followed by June Dinner Meeting. Contact Jim Cirincione
July 12Houston - Summer Series Part III (Rules and Regulations of the Order)- 6:00 PM - Hewitt home. Fra James-Michael Von Stroebel will lead the discussion followed by dinner. For more information Contact Les Hewitt
July 19-20 – Emmitsburg, MD - Lourdes Reunion - ALL former pilgrims invited. Mt. St. Mary's University
August 9- Houston - Summer Series Part III (Second Class of the Order)- 6:00 PM - Belton home. Fra Tom Mulligan will lead the discussion followed by dinner. For more information Contact Elisabeth Belton
October 18 – 19 - Wash DC - Investiture Weekend
Prayers from Subpriory
One of the ways the professed knights and the knights and dames in obedience in the Subpriory of Our Lady of Lourdes serve the Federal Association is by a prayer ministry. Members of the First and Second Class pray every Friday "in community" and individually at other times for all those on the subpriory's prayer list.
This ministry sends specially designed Mass cards and a personal note to the families of deceased knights and dames. Masses are offered by Msgr. James Watkins, a Federal chaplain who is also chaplain of the subpriory. Cards for special prayers are also sent to members and their families who are ill and in need of improved health.
In cooperation with the Association's Lourdes Committee, the subpriory also sends cards and a personal note to Lourdes malades and their families in need.
Names stay on the prayer list for one year, unless a special request is made to keep someone on longer. The prayer list is updated monthly, and a special "Deo Gratias" list is maintained for those whose health improves.
Requests are accepted from knights and dames, malades, and family members who are having surgery, undergoing cancer treatments or suffering from long-term or other illnesses. Time-sensitive requests are emailed to pray-ers as needed.
Please submit requests or obtain further information by contacting Kathryn Abell, GCMCOb., at kathrynabell@verizon.net.