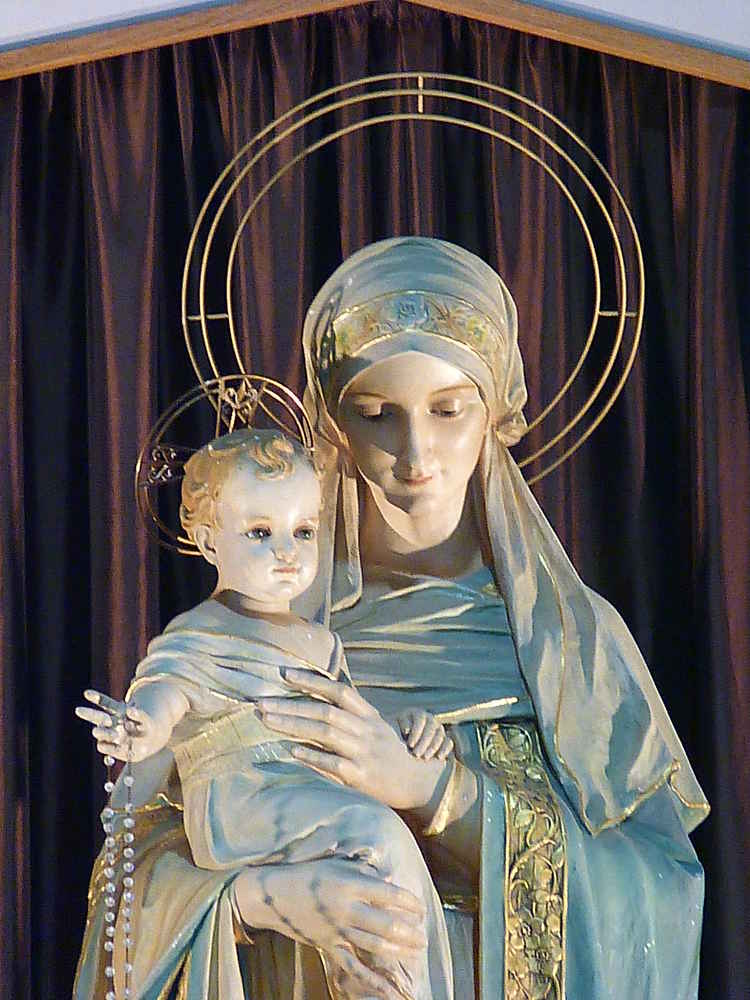 All Members of the Federal Association are invited to participate on a pilgrimage to The Shrine of Our Lady of Good Help in Champion, Wisconsin.
The Shrine of Our Lady of Good Help is the site of the only Marian apparition in the United States approved by the Catholic Church. Approval was received on December 8, 2010 by Bishop David Ricken of the Diocese of Green Bay. He also approved the Chapel at the site as a shrine.
History of the Apparition:

Adele Brise was born in Belgium in 1831. She moved to the Green Bay area with her parents in 1855. Adele was walking to the mill in early October, 1859, when she saw a woman clothed in white with a yellow sash around her waist and a crown of stars above her flowing blond hair. The woman was standing between two trees, a maple and a hemlock. Neither the woman nor Adele spoke.

On Sunday, October 9, Adele saw the woman again while she was walking to Mass. She asked the priest for advice, and he suggested she ask the woman, "In the name of God, who are you and what do you wish of me?'

After Mass on the same day, Adele saw the woman for the third time and Adele asked the woman the question suggested by the priest. The beautiful Lady replied, "I am the Queen of Heaven, who prays for the conversion of sinners, and I wish you to do the same." Adele was also told, "to gather the children in this wild country and teach them what they should know for salvation."

The Blessed Mother appeared to St. Bernadette in Lourdes in 1858 as the Immaculate Conception. Our Lady appeared to Adele Brise one year later as the Queen of Heaven. The apparition is considered by the Church as the completion of the Lourdes message. For more information on the Shrine of Our Lady of Good Help, click here.
Lourdes Reunion
July 18- 19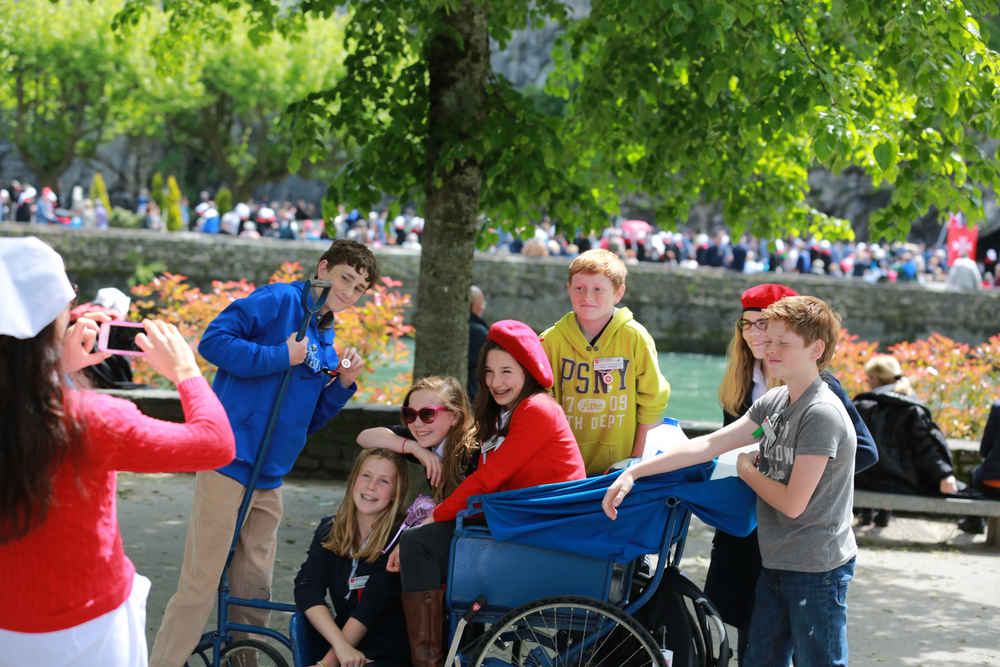 All former Lourdes pilgrims are invited to the 2014 Lourdes Reunion at Mt. St. Mary's University in Emmitsburg, Maryland.
There is a Mass and dinner on Friday night and a Mass and lunch on Saturday where there will be a video and slide show presentation.
Please click here to register.
"Take Me Down from the Cross"
Spiritual Reflection
- Rev. Msgr. James D. Watkins, Magistral Chaplain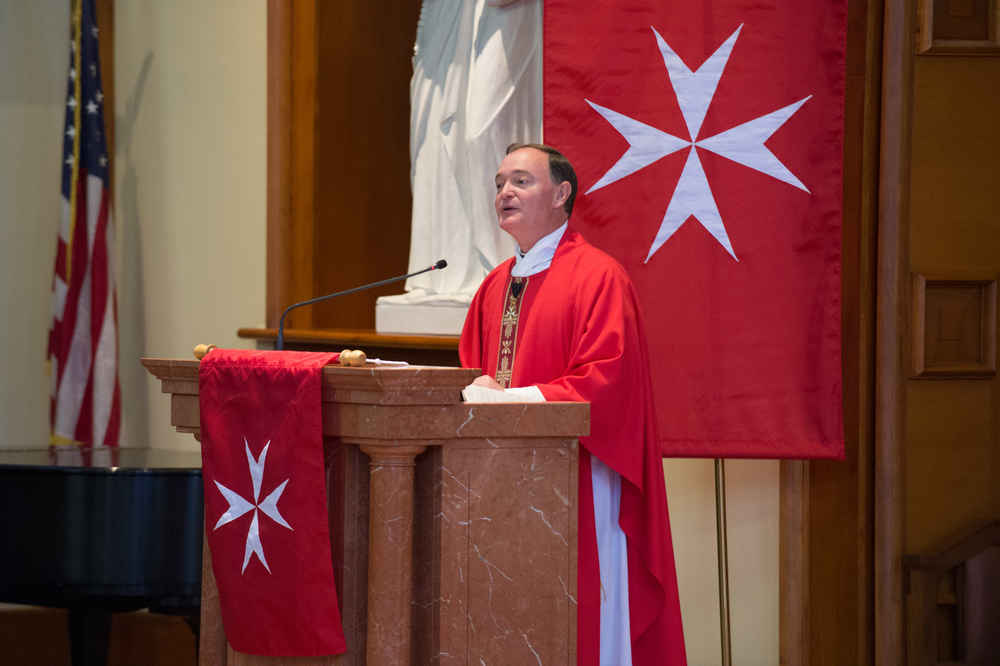 Every priest remembers his ordination to the priesthood and the origins of that vocation. For me, the Solemnity of the Birth of St. John the Baptist is of special importance, because it was 25 years ago on June 24, 1989 that almighty God formed me as a very unworthy vessel for his purposes to teach and preach and to sanctify and His people. The history of that vocation is something I wish to share with you, as I believe it may serve to deepen your own spirituality as a member of the Order of Malta, especially as you serve the needs of the sick and the poor.
As an altar boy at the tender age of 12, I remember kneeling at Mass and being mesmerized by Jesus on the Cross above the tabernacle, and then I remember those words that no 12 year-old would normally articulate: "Take me down from this cross and let me live in you." Overcome by confusion and yet filled with an inner peace and warmth, I remember kneeling frozen in gaze before Him and ready even then to do what He wanted. I wanted to take him down from that cross and hold him in my arms. The rest of the story is too long to tell here, but suffice to say that since then I have never forgotten His invitation to me and 40 years later still recall the rich peace and joy of His call.
I believe it is the same words He gently speaks to each of us in our own experience of prayer and works of charity. In the faces of the sick and poor and in every person we meet, our divine Lord says, "Take me down from this cross and let me live in you." God uses us as His vessels of grace, for healing and peace, for charity and hope, for witness and defense of the faith, for bringing about an increase of His kingdom of earth. Through us God continues to show His care, concern, and reverence for people, especially the poor and sick whom He has placed providentially along our path. So, don't be afraid to hear His words, "Take me down from the Cross," as He wants to "live in you" as his vessel of charity.

Hartford Hospitaller Recognized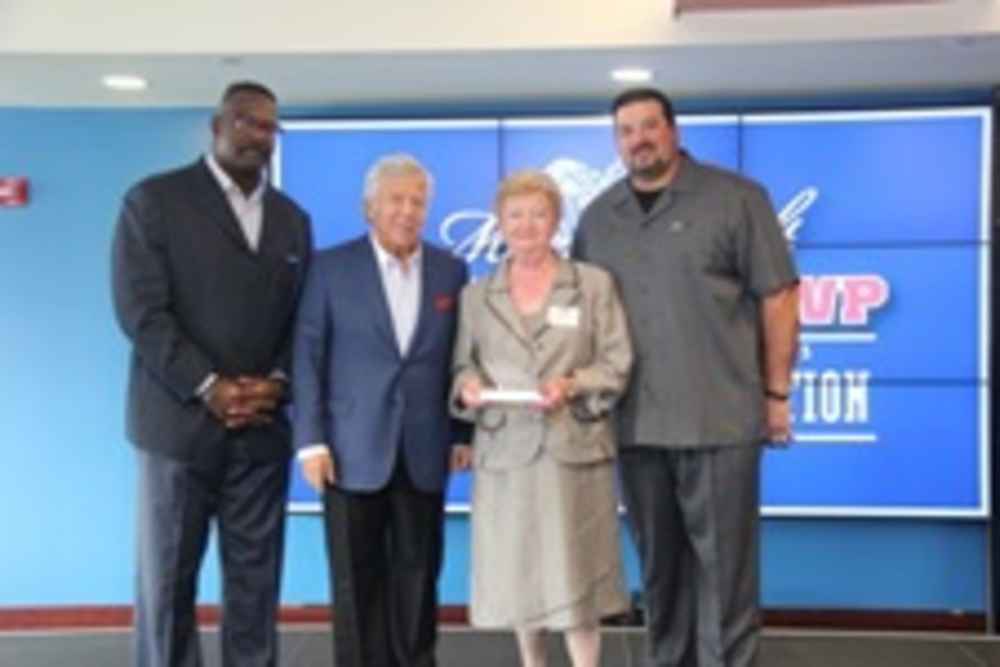 On June 9, 26 volunteers were recognized for their contributions at a luncheon and awards ceremony at Gillette Stadium in Foxboro, MA. Each Community MVP received grants for their respective nonprofit organizations. Dr. Pauline Nagle Olsen, Hartford Hospitaller, won an award of $5,000 for Malta House of Care.
The Kraft family and New England Patriots Charitable Foundation's Myra Kraft Community MVP Awards place a spotlight on those who give their time to help others and exemplify leadership, dedication and a commitment to improving their communities through volunteerism.
"I was flabbergasted when I received the phone call," said Dr. Olsen. "It was such a surprise. I accept this great honor on behalf of our patients – the poor of the greater Hartford area of Connecticut who look to the Malta House of Care for medical care. I am continually motivated by the benefits to this underprivileged population from this free clinic. I accept it also on behalf of my colleagues, the large number of physicians, APRNs, PAs and nurses who volunteer with me, all with a common bond – to give back to the community."
As a co-founder of Malta House of Care, Dr. Olsen has been traveling around the Hartford community providing healthcare to individuals who encounter financial barriers to proper treatments. In July 2006, she helped open a traveling clinic to serve families in need in the Hartford area. Since that time, the mobile clinic has provided more than 30,000 free patient visits to adults without healthcare. More than 2,200 adults rely upon Malta House of Care as their only medical treatment.
"At the heart of these organizations is Dr. Pauline Olsen," said Peter Kelly, chairman of the board for Malta House of Care. "She's been at every critical juncture. She has been there as a regular volunteer – an extraordinary model for a hundred other volunteers in both of these institutions. She has given her all and yet, I think she has more. It's unbelievable. I work all over the world and I certainly work all over the United States, and I say to you I think Dr. Pauline Olsen is the number one volunteer in America as far as I'm concerned."
Click here for the full press release.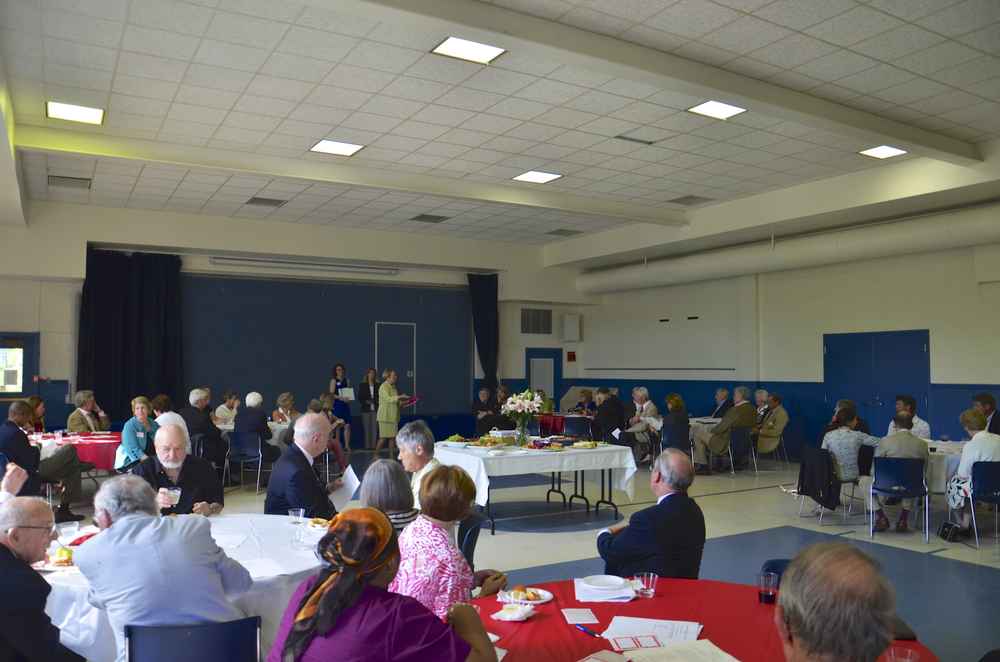 On June 1st the Washington, DC and Montgomery County, Maryland Regions of the Federal Association celebrated Mass together and followed with a reception and Town Hall Meeting in honor of the 40th Anniversary of the Federal Association. The Mass at Our Lady of Victory Parish in Washington was concelebrated by our chaplains, Rev. Msgr. John Enzler and Rev. Msgr. William English. There were 62 Members, candidates and auxiliary in attendance.
This event was planned by a core group of Members who worked for three months to make this day so successful. A survey was distributed to all the Members of the two Regions and at this meeting, follow-up discussion occurred. We celebrated our 40 years as the Federal Association and now will move forward for another 40 with renewed focus and energy.
Key points from our Members survey and points expressed during our discussion groups on spirituality, service, fellowship and membership will be narrowed down to three or four key initiatives we will start working on this fall. More information will follow in our Washington, DC and Montgomery County newsletters this summer. - Joan Glasgow, Regional Hospitaller - Montgomery County