Inaugural Blessed Fra' Gerard Distinguished Lecture held In Milwaukee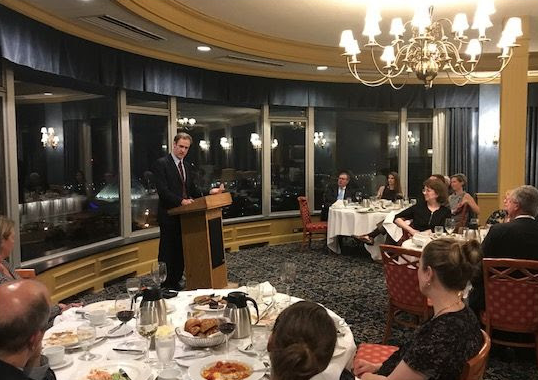 Last month, following a Mass celebrated by the Rev. Timothy Kitze at the historic Old St. Mary Church, members of the Federal and American associations, along with their spouses and guests, gathered at the University Club of Milwaukee. After dinner, Samuel Gregg, KM (Australian Association), director of Research at the Michigan-based Acton Institute, delivered an engaging lecture and led a lively discussion based on his recent book "Reason, Faith, and the Struggle for Western Civilization."
Dr. Gregg spoke about how the source of all that is good in the West is a synthesis of faith and reason coming directly from the Jewish and Christian faiths, stressing that where and when faith and reason work together, human freedom, a just society, and prosperity occur.
He also made a compelling case that the market economy and the U.S. Constitution are consistent with Catholic social teaching and the writings of Pope Benedict XVI. In conclusion, he posited reasons for hope and a way forward for Western Civilization that does not involve a retreat from modernity.
The Blessed Fra' Gerard Distinguished Lecture was established this year to honor the founder of our Order by featuring Catholic scholars whose work complements the mission of our Order as found in its dual charisms. It is intended to be a bi-association tradition held on or around Blessed Gerard's feast day of October 13th. Throughout the year, the Federal and American associations in Milwaukee have been joining forces to promote inter-association cooperation and unity through joint First Friday Masses and meetings, special events, and service projects.