Northern VA Lourdes Malade Luncheon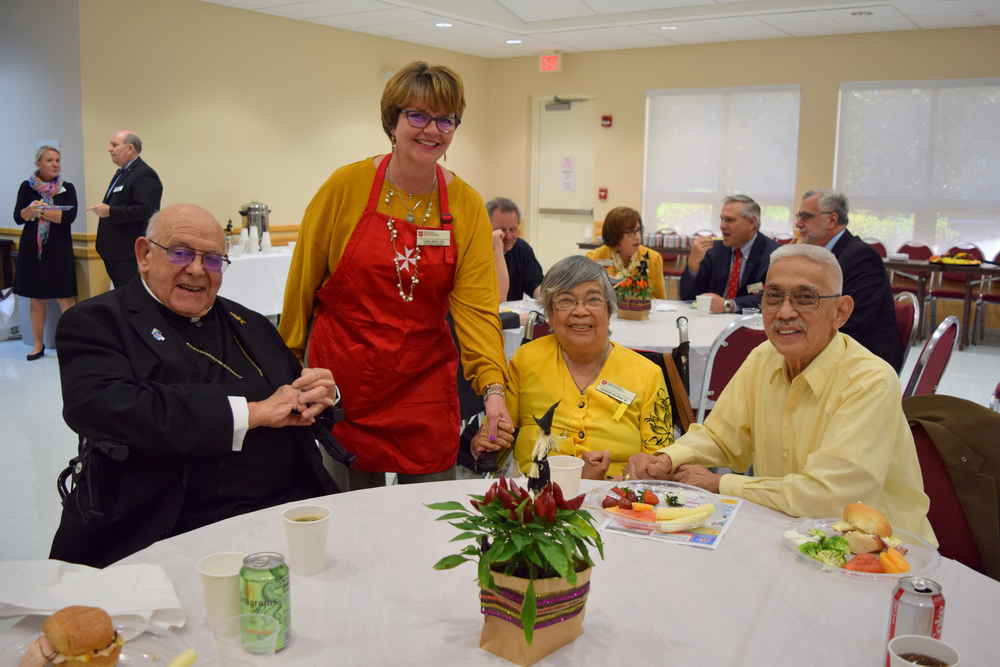 In October, the Northern Virginia Region members invited local malades and companions to a Lourdes Malade Reunion Mass and Luncheon at St. Ambrose Catholic Church in Annandale, Virginia. Nine of them joined the celebration of the noon Mass at the parish, offered by the Rev. Joseph Bergida, a parochial vicar.
At the conclusion of the Mass, the Rev. Andrew Fisher, pastor of the parish and a magisterial chaplain, welcomed the malades, companions, and members of the Order, who then gathered for luncheon and a presentation in the parish hall. At the luncheon, we were joined by Bishop Paul S. Loverde, bishop emeritus and conventual chaplain ad honorem of the Order, who himself was a Lourdes pilgrimage malade in 2018.
After the food and fellowship, there was time for a special presentation by the Rev. Stefan Starzynsky, who serves as the chaplain for Fairfax Hospital, the largest hospital in Virginia. Father Starzynsky presented his new ministry concept, the Saint Padre Pio Ministry to the Sick, reminding the gathering that those who suffer have much to offer through their suffering by joining the most powerful "Silent Army" in the Church. All the prayerful offerings of sufferings by who are ill are very powerful in making petition as well as reparation for the failings of our age.
Currently, the auxiliary of the Northern Virginia Region is helping to promote this ministry in the Diocese of Arlington, and will be going into the regional hospitals, praying with the poor and the sick whom we serve. Bishop Loverde spoke briefly about the great power of this work, setting the example of malades ministering to other malades, united in prayer.