Oklahoma City Invests Class of 2020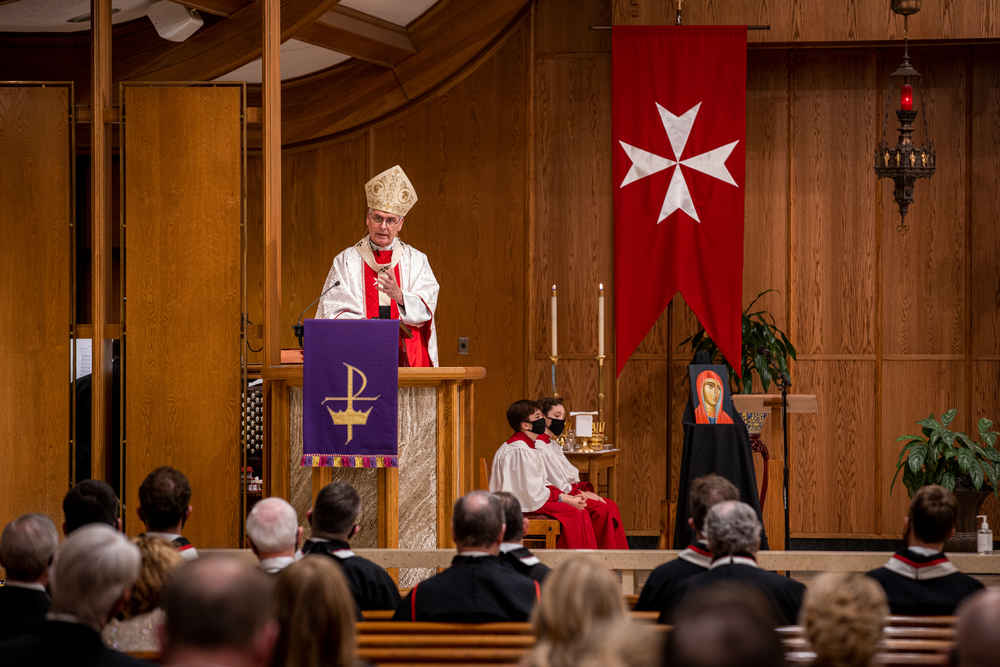 Last month the Oklahoma City Region, which is in formation, hosted a Solemn Mass of Investiture for the class of 2020, welcoming its first new members.
The five new members are: Benjamin Michael Barresi of Saint Eugene parish, David Truman Bernstein of Saint John the Baptist parish, Michael Power Rainbolt of Saint Eugene parish, Jason Allen Reese of Christ the King parish, and Daniel Ian Smith of Christ the King parish.
In recent times, there have only been two members of the Order in the Archdiocese of Oklahoma City: Frank Keating, KM '09, former governor of Oklahoma; and Peter de Keratry, KM '11, executive director of stewardship and development for the archdiocese. Now the Oklahoma City Region is growing, with five new members in the Class of 2020, eight more coming in 2021, and an additional six in the Class of 2022.
The annual Mass of Investiture is typically held at the Cathedral of Saint Matthew in the Archdiocese of Washington DC in the fall but was canceled as a result of the Coronavirus pandemic. Instead, on March 12, Archbishop Paul Coakley of Oklahoma City was the principal celebrant for a Mass of Investiture held at Christ the King parish for the Class of 2020.
Fra' Thomas Mulligan, president; Craig Jarchow, vice president; and Patrick Monaghan, hospitaller of the Federal Association of the Order of Malta traveled to Oklahoma City to oversee the investiture of the new members.
Following the Investiture Mass, 80 members, candidates and guests attended a gala dinner at the new Omni, Oklahoma City. The Order of Malta event was the first plated dinner hosted by the recently opened hotel.
For more information on the Oklahoma City Region, please visit Federal Association website, www.orderofmaltafederal.org, or email the local region at smomokc@gmail.com.