On #WorldFoodDay, A Silver-Lining in Haiti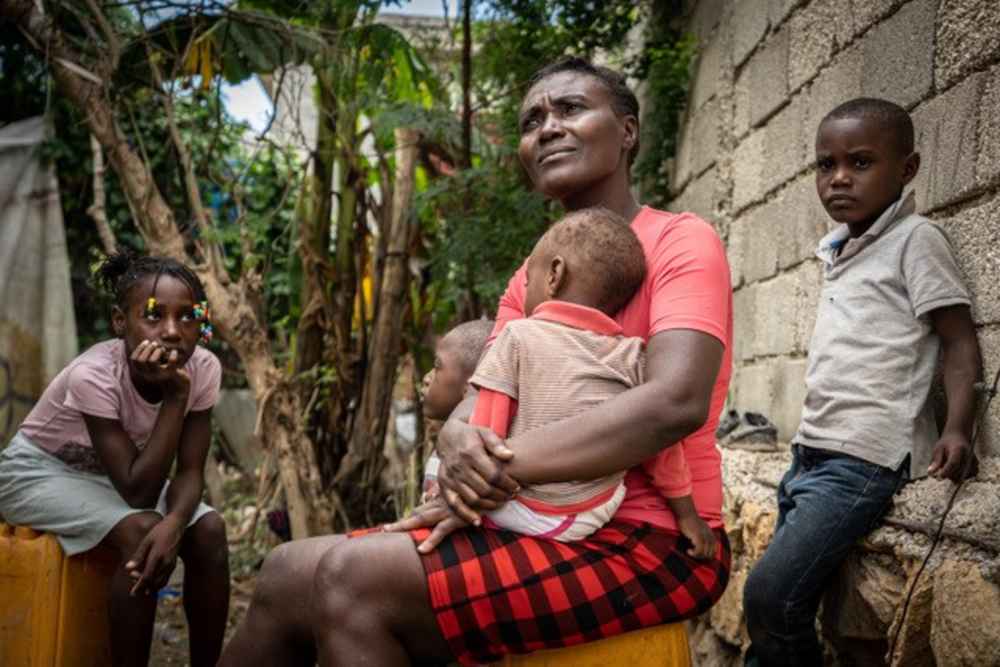 A year ago, we helped build community gardens in Haiti's largest slum. Today, community members reaped their first harvest.
October 16th marked #WorldFoodDay, it was an opportunity to shed light on the seriousness of the food security crisis in Haiti, as well as a chance to celebrate the food heroes involved in our projects in Cité Soleil, one of largest slums in the Northern Hemisphere.
Located in Port-au-Prince, Haiti's capital, Cité Soleil has swollen to more than 250,000 residents, 66% of whom are in a situation of food insecurity. Living on less than $2 per day, many have neither the income, nor the livestock or land necessary to access fresh, nutrient-rich food, with severe consequences for the population's health, particularly developing children. With rising political instability, gang violence, and an inflation rate currently at 22% (7.5% in 2015), Cité Soleil's residents are often the first to feel the effects of these evolving situations. This year, the Covid-19 pandemic has further strained the community.
In April of 2019, Malteser International Americas set out to identify six areas – Fontaine, Baryè Fè, Village des Repatrier, Tere Noire, Lorouss, Blanchard, and Martial – that were most in need. In an effort to increase individual community members' ability to sustain themselves, we distributed goats to 645 families, built 1000 household gardens, 20 larger community gardens, and distributed chickens to 150 families. Initially, we were aiming to reach 3,450 beneficiaries, but to date, we estimate that over 4,000 individuals directly benefited – and continue to benefit – from these efforts.
In July of this year, thanks to the support of Germany's Ministry for Economic Cooperation and Development (BMZ), we were able to renew our commitment to this project, building on the progress, maintenance and sustainability of the community gardens, as well as expand it in the municipality of Nippes with local partners. Our objective, as always, is to build local capacities, in the hopes that residents and partners will become self-sufficient.
Working closely with community leaders, we coordinated trainings on planting, harvesting, and developing seedlings. Recently, the same community members who planted their seeds last year, were able to reap their first harvest (cassava, spinach, among others) – the fruits of their labors.
This harvest is undoubtedly a silver-lining, but we must not forget the precarity of Haiti's food systems. The #Covid-19 pandemic caused a lot of panic in its early months, and as residents of Cité Soleil have limited access to healthcare and hygiene, these worries were exacerbated. While our food security program has continued operating throughout the pandemic, part of the program – sensitizing the community to the benefits of nutrition and balanced diets – was quickly adapted to focus on the sensitization of hygiene promotion and COVID-19 awareness.
Historically vulnerable to natural disasters and the effects of climate change, this year has been no exception: in August, Hurricane Laura killed over 20 people and left thousands without electricity. Due to ravaging floods throughout the country, some of the community gardens in our projects were damaged, some beyond repair.
Events like these are out of our control, but what we can control is the ability to build resilience in the communities' food systems to sustainably prepare for, and withstand, future disasters. Paired with MIA's unique trust within Haiti's communities – forged over a decade of collaborative work on the ground – we continue our steadfast commitment to these projects working towards a Haiti that is food secure.