Reliquary of Saint Bernadette Coming to Baltimore in May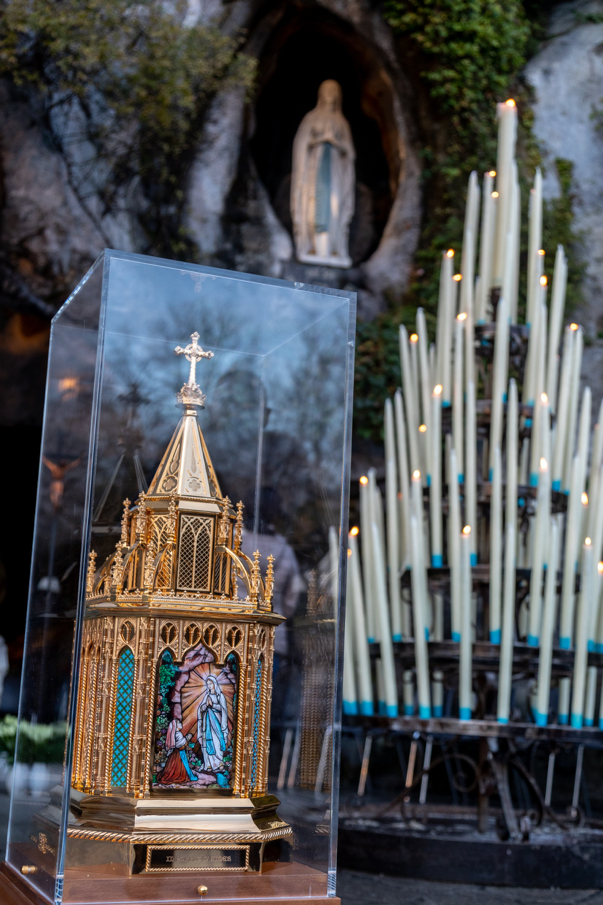 The Covid pandemic having cancelled our May pilgrimage to Lourdes yet again, this year we are bringing the Lourdes pilgrimage to the Cathedral of Mary Our Queen in Baltimore with the visitation of the reliquary of St. Bernadette over the weekend of May 13-15. Everyone is welcome to participate in venerating the relics, and in the Masses, Confession, procession, and Anointing of the Sick. This is an opportunity to obtain a plenary indulgence.
Here is the schedule of events:
Reliquary of Saint Bernadette
US Tour 2022
Cathedral of Mary Our Queen

Friday, May 13th
2:00 - 2:30 pm Students of the Cathedral School visit and venerate the relics
2:30 - 4:40 pm Veneration is open to the public
4:30 pm Confessions available
5:30 pm Mass
6::00 - 7:00 pm Veneration
Saturday, May 14th
7:30 - 3:00 pm Veneration with Malta Honor Guard in attendance
8:15 am Mass
3:00 - 5:00 pm Confession available
Anointing of the Sick
Rosary
5:00 pm Mass (televised) with Baltimore Archbishop William E. Lori, including the sprinkling of Lourdes water
6:15 pm Procession following Mass with statue of the Blessed Mother
6:45 - 8:00 pm Veneration
Sunday, May 15th
7:00 - 8:00 am Veneration
8:00, 9:30,11:00 am Masses
Noon - 2:00 pm Veneration of relics
2:15 pm Closing Benediction and recessional of relics
For more information, please contact Julia Stamerro, DMOb at jcstamerro@gmail.com or by phone at 410-949-6940.