Tribute to Rocco Leonard Martino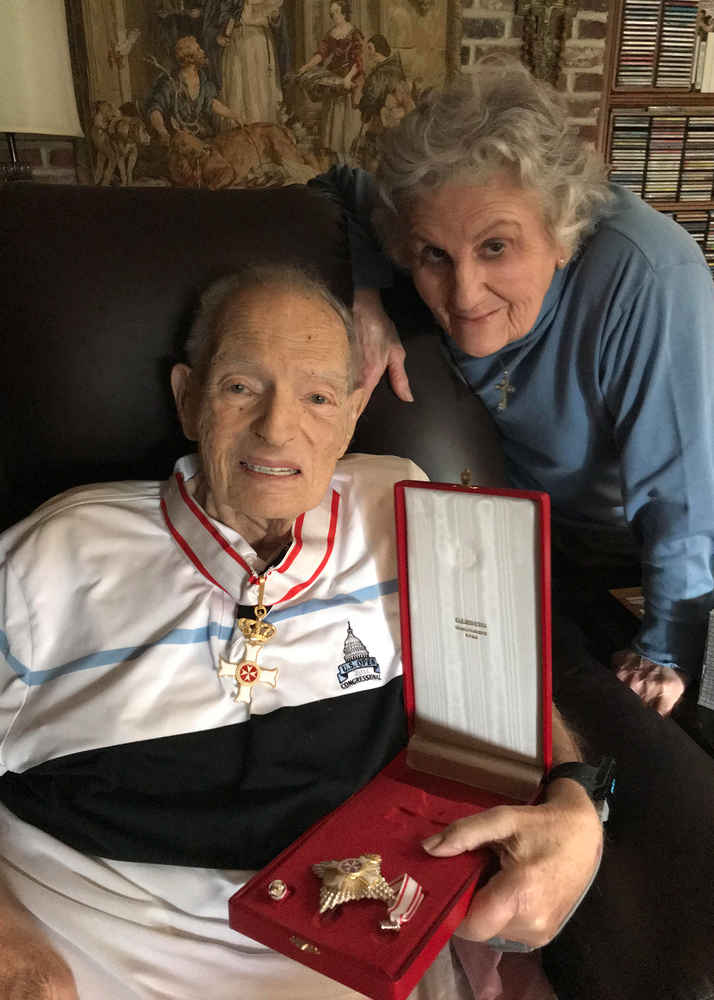 I.
Thank you all for joining us today to celebrate the life of a beloved man, my father, Doctor Rocco Leonard Martino, known affectionately to his family and friends as Rocky, Rock, Doctor, Doc, UR (for Uncle Rocky), Pop-Pop and to my brothers and myself, simply "Dad."
Before we begin today's Mass of the Resurrection, I first want to take a moment to publicly thank the many doctors and health care professionals for their loving care of my father over the last decade, and especially during the last year.
I also want to thank my mother, Barbara Martino, for so many things, but especially for her love and tireless support for my father for nearly 59 years of marriage.
There's a humorous sign that hangs in their bedroom at their home on the Jersey shore that says, "An old sailor lives here with his life preserver." Barbara was not just Rocco's life preserver, but also his life sustainer, and lifeblood. Since their marriage in 1961, there wasn't a day that went by where my father didn't give thanks to my mother, whom he called his "love" and his "best friend" in his many speeches and books.
In his speeches, such as the one he gave to a crowded room for his 80th birthday party, he talked of their life together and what Barbara's mother called a "marriage made in heaven." Their deep and abiding love for one another — a love that surely continues for eternity — is an example for all of us to follow. Thank you, Mom, for everything you did for Dad his entire life, and in turn, you did together, for us.
II.
We felt a profound sense of loss on Monday morning, June 29, 2020, the feast day of Saints Peter and Paul, and the morning we said our final farewell to my father by his bedside in my parents' home, just before the dawn of a beautiful day.
The significance of the date was not lost on our family, and we saw it as perhaps something my father arranged with God as his parting message to us, when words failed him, that he would be with God this day and all would be fine.
You see, in addition to that date being the feast day of the saints for which my brother Peter and myself were named, it was also the date – in many years – that Barbara and Rocco were in Rome attending ceremonies surrounding the Roman Catholic Church's consistories, when the Pope elevated bishops from around the world to become Cardinals. It was a date my parents cherished being and praying together, in faith, until my father became too ill to travel. On this date, Rocco chose to say farewell to Barbara and his family, until we meet him again.
III.
When the time came last week to put together the program for this Mass, the one you may be holding in your hand right now, my mother asked that only one image appear on its cover — the crest from Rocco's Grant of Arms — because the arms, crest and motto (the three words at the bottom) are symbolic representations of who Rocco is and who he tried to be each day of his life.
The motto — Fides, Integritas, Sapientia — is a Latin phrase that means, "Faith, Integrity, and Wisdom" — three words that held great meaning for my father and became virtuous features of his character. Because of time constraints, I will take a brief moment before Mass begins to share a few more thoughts – not mine, but Rocco's own views – on just the first word of his motto: faith.
Rocco's faith in God the father, His son Jesus Christ, and The Holy Spirit were evident in the many books he wrote over the last decade of his life, in particular his historical trilogy on The Resurrection, Christianity and the Cross of Victory, and his most recently completed work, The Real Presence, which he finished last November while battling cancer.
Faith has always been first for my father. First in the motto of his crest and, fittingly, the title of the very first chapter in one of his last books — Motivational Reflections At Sunset — which reads like you are sitting next to him in an easy chair, watching the sunset, and just quietly talking as he offers his views on a range of topics important to his life and on which he thought deeply.
In Reflections, Rocco explains what faith means to him. Faith was more than a religious belief to my father; rather, he believed that faith could be "connected to anything, religious or not."
Rocco often used extended metaphors to get across his point. On faith, he asks us to consider the tremendous faith we have when we board an airplane — faith that it will take off and fly safely to its destination. He described that faith as a belief, and also as acceptance of the concept of aeronautics, even if we cannot understand how it works. While he, just as other aeronautical engineers, could understand why a plane can fly, we, as the general public, do not have that knowledge. But, he explained, we have faith in the engineers that designed the plane to fly and land safely. In that sense, Rocco said, "faith is not only a belief but acceptance that the belief is true and worthy of belief."
Bringing this back to faith in God, he said "I have the belief, I have the understanding that there must be a God that created this universe in which the planet Earth is an insignificant part, but I don't know how, and I don't know why. That doesn't change things. My mind says that there must be a God. My spirit accepts it. That is faith." "And so, faith gives me the ability and strength to accept what I cannot understand."
While I could not improve on his own words, I would translate the word "Faith" in Rocco's motto as: "I believe, and I accept." There's another plaque in my parents' home nearby in Villanova, which was by their bedside for years, and is now in the guest room for others to read and appreciate. The engraved words, beneath a "Chi-Rho" symbol (☧) formed from the first two Greek letters for the word "Christ", say:
"I believe in the sun, even when it is not shining; I believe in love, even when I feel it not; I believe in God, even when He is silent."
My father demonstrated his faith in how he lived every day of his life. I have been told by many others over this past week — some who follow different religions than Rocco — that they were inspired by the strength of Rocco's faith in God, and it helped them deepen their own faith. All of them shared with me that knowing Rocco improved their lives, and it's my belief that his faith, and his many books on Christianity that are imbued with it, will continue to do that for humankind.
IV.
People who knew Rocco also knew him to be a man of integrity — honest, kind, principled, selfless, concerned for others, and in service to them, which are many of the virtuous human attributes that the word integrity is often used to capture. And those who had conversations with him certainly would have recognized the wisdom he acquired over his 91 years of experience, and that he dispensed prudently only after considerable thought devoted to a topic. Most of that wisdom he imparted in his books that can be read forever, both a legacy and a gift he surely left for his family, and for anyone who wished to join his search for truth and learn what Rocco had come to know, believe and accept. "Faith, Integrity, Wisdom," with the greatest of these being faith.
I will close out these opening remarks by acknowledging that keeping faith is never easy, and by recognizing the unique constitution of my father whose faith never wavered, even when challenged. As a lifelong aerospace engineer and (quite literally) a rocket scientist, Rocco was often tested. His peers wanted to know how he reconciled his scientific search for truth with his Roman Catholic faith and belief in God, Christ and the Holy Spirit. To meet this challenge head on, he had the intellect, courage and moxie to write a book entitled Rocket Ships and God: A Scientist Puts Faith to the Test.
While I have no time to reveal here what he writes in an entire book, take my word on this that it will make you consider and then appreciate, as Rocco put it, how "ridiculous and small-minded" it is for scientists to suggest that it is "unreasonable to believe in something that cannot be seen or understood." When my father bid farewell to us last Monday, I envision that at the moment he passed, he boarded a rocket ship that was invisible to us and shot up straight to God.
I welcome you to this celebration of the life of this great man of faith, a friend to all, a cherished cousin, uncle, father, grandfather and great-grandfather, and a beloved husband, Rocco Leonard Martino.