An American Hakim in Lebanon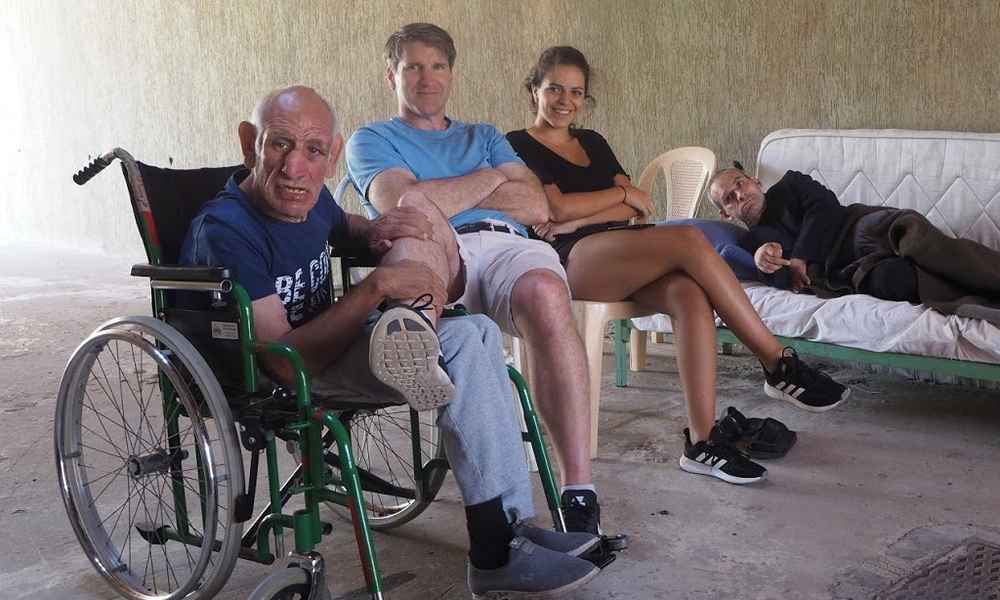 Author's note: The Order of Malta Chabrouh Camps are located in the hills above Beirut, Lebanon. The program began over 20 years ago when a 19-year-old German volunteer with the Order saw that mentally and physically disabled residents of group homes in Lebanon were living in bleak conditions. Since then, his idea to provide week-long holiday camp sessions for the disabled has been embraced enthusiastically by international and local Lebanese volunteers. A typical volunteer is between the ages of 18 and 22. During the week, each volunteer provides one-on-one care, support and love for one particular disabled guest. This year there will be a record 36 week-long camp sessions staffed by volunteers affiliated with 12 Order of Malta delegations, coming from 20 different countries. I first learned about the camps a few years ago when a German member of the Order was lamenting the fact that he couldn't get his young daughters to join him on the Lourdes pilgrimage anymore. His daughters and their friends only wanted to volunteer in Lebanon. This year during the Lourdes pilgrimage, I met with members of the Lebanese Association who arranged for me to be one of the first American volunteers at the Chabrouh Camps.
The following is an attempt to describe a phenomenal week.
The week begins with a visit to my daughter in Beirut, who has absolutely no need of my presence. She is very busy trying to learn Arabic at the American University of Beirut. I feel fine leaving her on her beautiful campus overlooking the Mediterranean, and take an Uber up the coast to a beach bar where I meet my fellow camp volunteers while the sun sets over the sea. This particular week of camp is run by a group of young Swiss and Polish volunteers, who got their start a few years ago when a few of them tagged along with some Germans to one of their camps. More Swiss and Polish volunteers began to come each year and eventually started their own camp. This week, there are twenty Swiss volunteers, five Polish, five Lebanese, and one Czech. The average age is 21. The camp leader, Matteo, is a veteran at age 25. There is a Swiss priest, or "abouna" in Arabic, and each camp session has a doctor, or "hakim" in Arabic. I am welcomed by the group as "Hakim John." Thankfully, the official language of all of the camps is English, and all of the volunteers are fluent. After a few hours of getting to know one another over drinks and dinner, we are driven in our bus high into the hills to the camp facility, a former orphanage surrounded by an apple orchard, overlooking the sea.
The next day we go sightseeing in Lebanon, visiting cedar forests, gliding on a boat through a cave complex, and riding a gondola up a mountain to a massive statue of Our Lady of Lebanon. At the base of the statue is a chapel where we attend a Maronite Catholic Mass said in Arabic with Arabic music.
In the morning, three volunteers and I go down to a group home for the disabled in Beirut. The home is run by a group of nuns who are doing a heroic job of taking care of their many residents with limited staff and resources. The sisters have chosen 17 guests for us this week. Guests are chosen without regard for their religion. Roughly half of our guests are Christian, and half are Muslim. Some weeks, there are a few Druze. This week our guests are all men. Some weeks have all women, some just children, and some dedicated to cancer patients. The diagnoses of our guests this week include mental retardation, cerebral palsy, Down syndrome, autism, and epilepsy. A local doctor gives me their medical summaries and medications, and we all load up for the short ride back to camp.
The welcome for our guests is unforgettably joyful. There are balloons, banners and plenty of camp songs. Each guest is then introduced to their volunteer for the week.
Over the next few days, I become immersed in a beautiful way of life. Each volunteer has a particular guest for the duration of the camp. One-on-one complete care for each guest, something that they don't get in the group home, is the intent. I begin to realize how blessed I am to be among such inspirational young volunteers. The love and care that they provide for each guest is beautiful. Small acts of kindness are continually done with great love. There is daily morning prayer, Mass, and evening prayer. For me, time slows down, and-- there's no other way for me to describe it--the Holy Spirit takes over. During the week we all sing camp songs, dance, go on a trip to the beach, dine at a nearby tavern, process to the town church, and go for walks in the surrounding countryside. There is a talent show, a bonfire, a splash day, and a final dress-up fancy dinner.
When the week ends we all go with our guests back to the group home. There are smiles and tears as we wave goodbye. We all head out for falafel (food makes everything better) and walk around central Beirut for a tour led by one of our volunteers. That evening we go up to the tallest mountain in the region and have an outdoor Mass at sunset, then go to a pool party at the home of one of the Lebanese volunteers. We all scatter the next day, thankful for our new friendships, and for our WhatsApp group. We all resolve to return again next year.
It was beautiful to see so many young, enthusiastic Malta volunteers coming from many different countries and working together. There were discussions as to why so few Americans have participated. I mentioned that Lebanon is a long way from the U.S., and that there are closer options, like Central America, when it comes to mission trips. Matteo, our wise-beyond-his-years camp leader, told me that there are closer trips for European volunteers also, like Eastern Europe and parts of Africa, but that those projects are not as closely aligned with the Order of Malta. One of the great things, he pointed out, is that this camp encompasses the main charisms of the Order, which are care for the sick and the poor, and defense of the faith. He's absolutely right. Our daily Mass and prayer services were an integral component of the care we provided, and our Christian witness in the Middle East is of great importance these days. The camps play a part in Lebanon's role as a representative of peace and cooperation between Christians and Muslims in the Middle East. To me, the camp is an example Christianity at its best.
I also mentioned to Matteo that there might be safety concerns among potential American volunteers in Lebanon. His response was that initially many Europeans had the same concerns, but that the Lebanese Civil War (the last nationwide conflict) ended 30 years ago, and that Beirut has mostly been rebuilt (the central shopping area is haute couture, with Tiffany's, Chanel, Armani, etc.) Also, the camps have a safety committee made up of Lebanese members of the Order and their associates who continuously monitor the state of affairs.
Another important aspect of the camps is that they are located in the Holy Land, where our Order began. Lebanon is mentioned throughout the Old Testament, and the Gospels of Matthew and Mark tell us that Jesus taught and healed in the region of Tyre and Sidon, which is just outside of Beirut.
The members and volunteers from the Lebanese Association provide a strong support structure for the program, which is the key to its success. The Lebanese that I spoke to are pleased that the project brings together young volunteers from all over Europe and from the Middle East. The resulting friendships ensure a vibrant future for the Order of Malta.
The Swiss and Polish group has been kind enough to offer some spots in their one- or two-week camp next July to a few young American volunteers. Our hope is to have a few Americans participate, learn the process, and then return with more volunteers to start a dedicated American camp. If all goes well, they'll let me join them again. Interested young volunteers should feel free to contact me at quinnerd@yahoo.com.