Encountering Christ: The Gospels and Christian Morality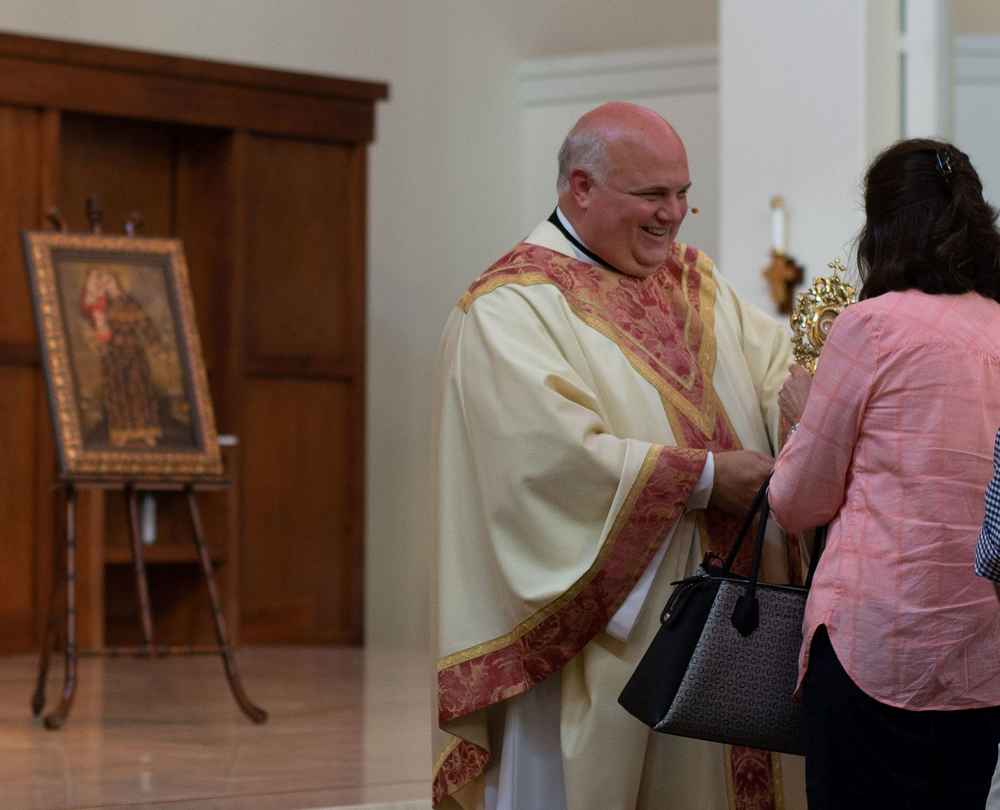 On June 13, the Feast Day of St. Anthony, the Central North Carolina Region sponsored a Defense of the Faith presentation by Alessadro Rovati, chair of the Theology Department at Belmont Abbey College, titled "Encountering Christ: The Gospels and Christian Morality." The evening began with Mass and then an Italian dinner in honor of St. Anthony, prepared by Sal (KM) and Frances Giaimo (DM) and served by a team of knights, dames, candidates and volunteers.
The sold-out event produced more than $2,400 in donations to the St. Anthony's Bread Fund, an endowment established by the Marcaccio family in the Charlotte Diocese to feed the poor in the Greensboro and Asheville areas.
Professor Rovati began his talk with Pope Francis's proposals for how to understand, study, and teach Christian morality.
"First, Francis emphasizes that the foundation of Christian morality is the relationship with the Lord and not one's own capacity for coherence and perfection," he said. "Second, Francis shows us that Christian morality is the response to God's gratuitous initiative and not faithfulness to some abstract principles; for it is the encounter with God's love that liberates people from narrowness and self-absorption, transfiguring their lives and leading them onto a path that has distinctive moral implications. Third, Pope Francis indicates that Christian morality is not a matter for isolated individuals but rather a response to Christ's initiative that always implies embarking on a communal journey."
As a college professor, Professor Rovati believes that one of the greatest challenges is that young people today "suffer a terrible passivity," not asking questions or even knowing what questions to ask. They lack a burning desire for life, meaning and joy, he said.
"The desire for joy, the desire for happiness is part of the fabric of our very being, which means we cannot take it apart, we cannot take it outside of us," he said. If this hole is not filled with Christ, the true source of joy, then it will be filled with fleeting things, he said. "And so our hope is that the newness and the surprising life that Christ makes possible will burst through us. Our hope is that the mystery of the Holy Spirit will never abandon us."
In concluding remarks, Msgr. Anthony Marcaccio, a magisterial chaplain of the Order, spoke of Christian joy. He quoted a line he learned from the Missionaries of Charity that "joy is the net with which we catch souls." Holiness and joy are alluring, he said, and while some may not know how to ask the question of their heart's desire, they will notice when someone has the answer.