Assumption Feast Takes River Route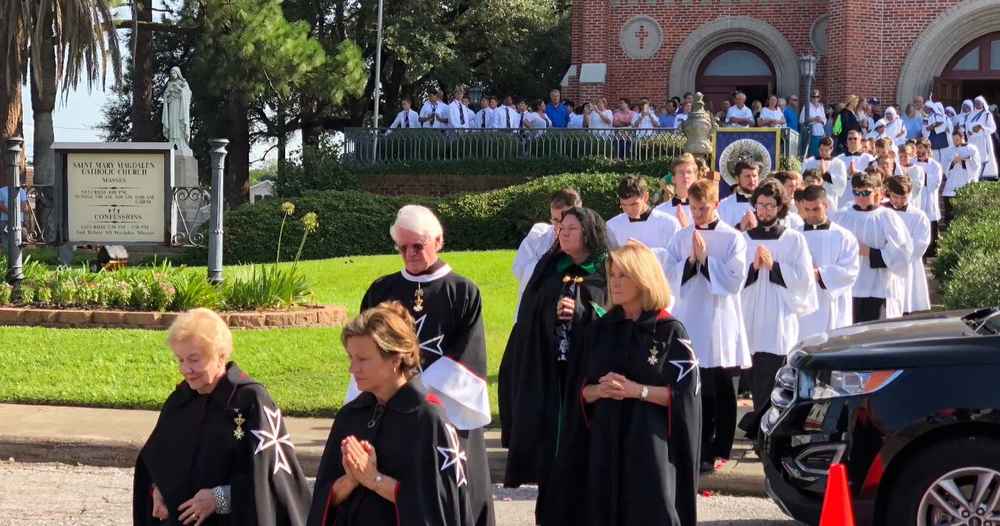 Lafayette Region members processed in the Fête-Dieu du Vermilion (Feast of God on the Bayou Vermilion) in honor of the Feast of the Assumption in August. This has been an annual event of the Lafayette Region since 2015. This year, Pope Francis offered a papal blessing and plenary indulgence for all who took part.
The day began with a French Mass at St. Mary Magdalen Catholic Church in Abbeville, celebrated by Bishop Glen Provost of the Lake Charles Diocese, followed by a Eucharistic boat procession with the Blessed Sacrament up Bayou Vermilion (Vermilion River) to Lafayette. Residents living all along the Bayou Vermilion erected crosses and makeshift grottos, and knelt in adoration as the boat procession carrying Our Lord in the Blessed Sacrament passed by. After a couple of stops along the way for recitation of the Rosary and Benediction of the Blessed Sacrament, the procession of 80-plus boats arrived in Lafayette at 3:30 in the afternoon. From the boat landing there, the procession continued under police escort for two miles through the busy streets of Lafayette, arriving at the Cathedral of St. John the Evangelist for Solemn Vespers and Mass, with Bishop Douglas Deshotel of the Diocese of Lafayette as main celebrant and homilist.
Despite the very hot weather, the entire event was very well attended from start to finish. The Lafayette Region of the Order of Malta is honored to have been asked to help organize the event, as well as process in both of the Masses.
Follow this link for a short video of this event: