Atlanta Region Chaplain Celebrates 50th Jubilee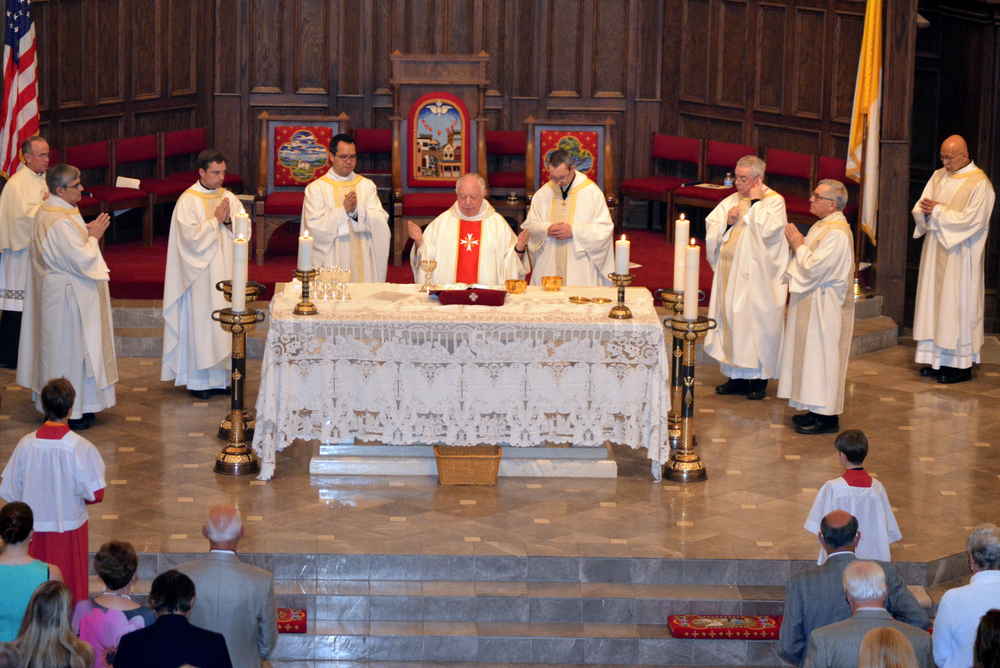 Holy Spirit Catholic Church in Atlanta was decked for a celebration June 11, complete with glorious music provided by the choirs of Holy Spirit Preparatory School and Holy Spirit Church. The occasion was the 50th anniversary of Msgr. Edward Dillon's ordination as a priest. Joining him as concelebrants were Rev. Brian Baker, Rev. Brian Lixey, Rev. John Fallon, and Rev. Paul Burke, assisted by the deacons of Holy Spirit. Invited guests included family members Mary and Jane Mulrooney, Mark Dillon and Adele Johns, members of the Order of Malta, the Order of Holy Sepulchre, and the Order of St. Gregory the Great. The 4th degree members of the Knights of Columbus provided an honor guard.
Monsignor's homily on this Feast of the Holy Trinity related to the Church's understanding that ordination to the diocesan priesthood is primarily for the sanctification of others, and that this defines the role of the priest in a parish setting. The occasion was a personal trinity of coinciding anniversaries - June 10th being the 50th anniversary of his ordination, June 11th the 30th anniversary of his appointment as pastor of Holy Spirit, and June 12th the 25th anniversary of his appointment as a Prelate of Honor.
Members of the Order turned out in large numbers to honor their chaplain. In addition to his leadership in the Atlanta Region, Monsignor has participated in the annual pilgrimage to Lourdes for 22 consecutive years (interrupted this year by surgery), and has served as chaplain of the pilgrimage for 14 of those trips.
At a reception after Mass, a packed crowd greeted Monsignor with thunderous applause as he was led by bagpipers and an honor guard from the Metro Atlanta Police Emerald Society, where he also serves as chaplain. Tributes and music performed by the Children's Choir of Centro Catolico filled the hall. Members of the choir included graduates of the Solidarity School, a signature project of the Order's Atlanta region. The day reflected a heartfelt gratitude for all that Monsignor has done to better the lives of those he has served for 50 years.