Baltimore Region Prepares Eucharistic Miracles Program for Catholic Schools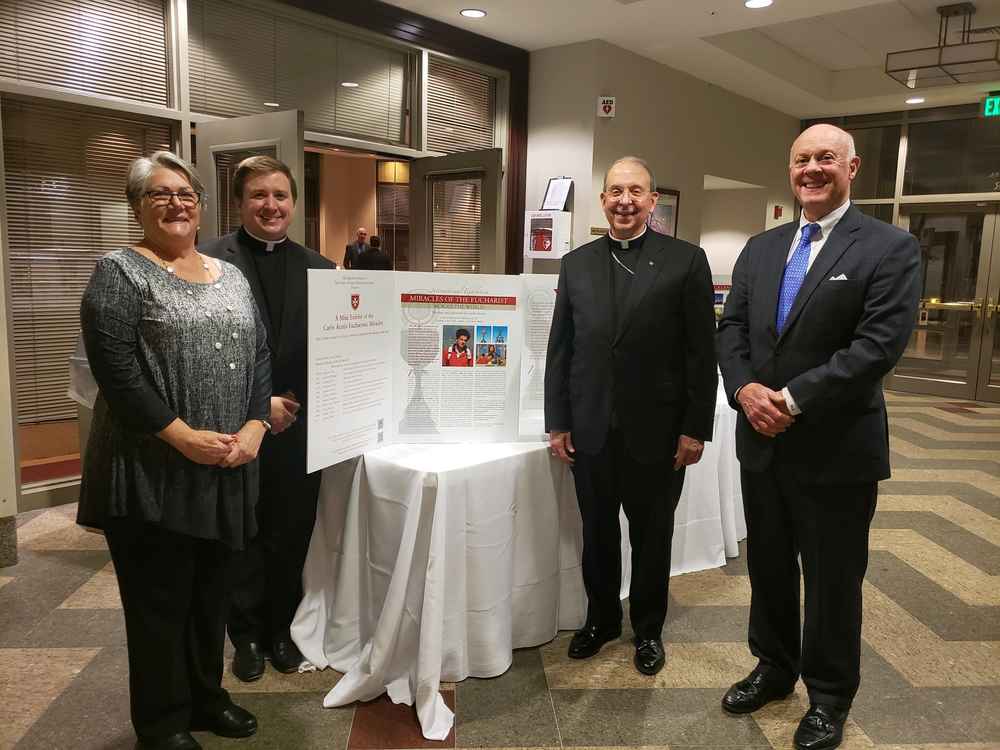 This month members of our Order will meet with the leadership of Catholic schools in the Archdiocese of Baltimore to provide each school with a display panel of miracles of the Real Presence of Jesus in the Eucharist.
The presentation is drawn from the Carlo Acutis Eucharistic Miracles of the World Exhibit that has toured the world and can be seen on a related website. The entire exhibit of 156 miracles is available for download at no charge in many languages.
Who is Carlo Acutis? Carlo was born May 3, 1991. He liked to play soccer, video games and the saxophone, and he loved the Eucharist. This young "computer geek" created a website cataloguing every reported Eucharistic miracle in the world before being diagnosed with leukemia at the age of 15. He died on October 12, 2006, just four days after his diagnosis. Carlo was often heard saying, "The Eucharist is my highway to heaven." Carlo was beatified in October 2020 after a healing miracle was attributed to his intercession. He will be the first Millennial Generation saint.
I selected 11 miracles for the mini-exhibit to offer to the schoolchildren of the Archdiocese of Baltimore. Here are the selected panels:
Who is Carlo?
What is a Eucharistic Miracle? Here is a brief description of each miracle and the year in which it occurred:
750, Lanciano, Italy - Flesh and blood are just as fresh as if taken today from a living person;
1247, Santarem, Portugal - Host changed into bleeding flesh, and blood flowed;
1640, Calanda, Spain - Miracle of all miracles;
1657, Montserrat, Spain - Every Mass has infinite value;
1848, Lourdes, France - Sister Maria cured of incurable kidney disease during Eucharistic procession;
1906, Tumaco, Columbia - Blessed Sacrament stopped a tsunami from destroying the island;
1991, Betania, Venezuela - Blood flowed from the host; in 1998, host was a pulsating heart;
1992, Buenos Aires, Argentina – Site of 3 Eucharistic miracles in 1992, 1994, 1996;
2006, Tixtla, Mexico - Bleeding host confirmed the Real Presence;
2008, Sokolka, Poland - Host transformed into flesh, living tissue of the myocardial muscle; and
2013, Legnica, Poland - Host found to be human heart muscle that had been in agony.
To see the complete Carlo Acutis Eucharistic Miracles exhibit, go to the web address http://www.miracolieucaristici.org/en/liste/list.html and click on Virtual Museum.
If your region is interested in providing an exhibit you may contact me, Julia Stamerro DMOb, at jcstamerro@gmail.com or (410) 949-6940. Or you may contact our printer, Ann Dominiski, president of DodgeChrome, Inc., at annd@dodgechrome.com or (240) 247-1820.