Holy Family Hospital Event Goes Virtual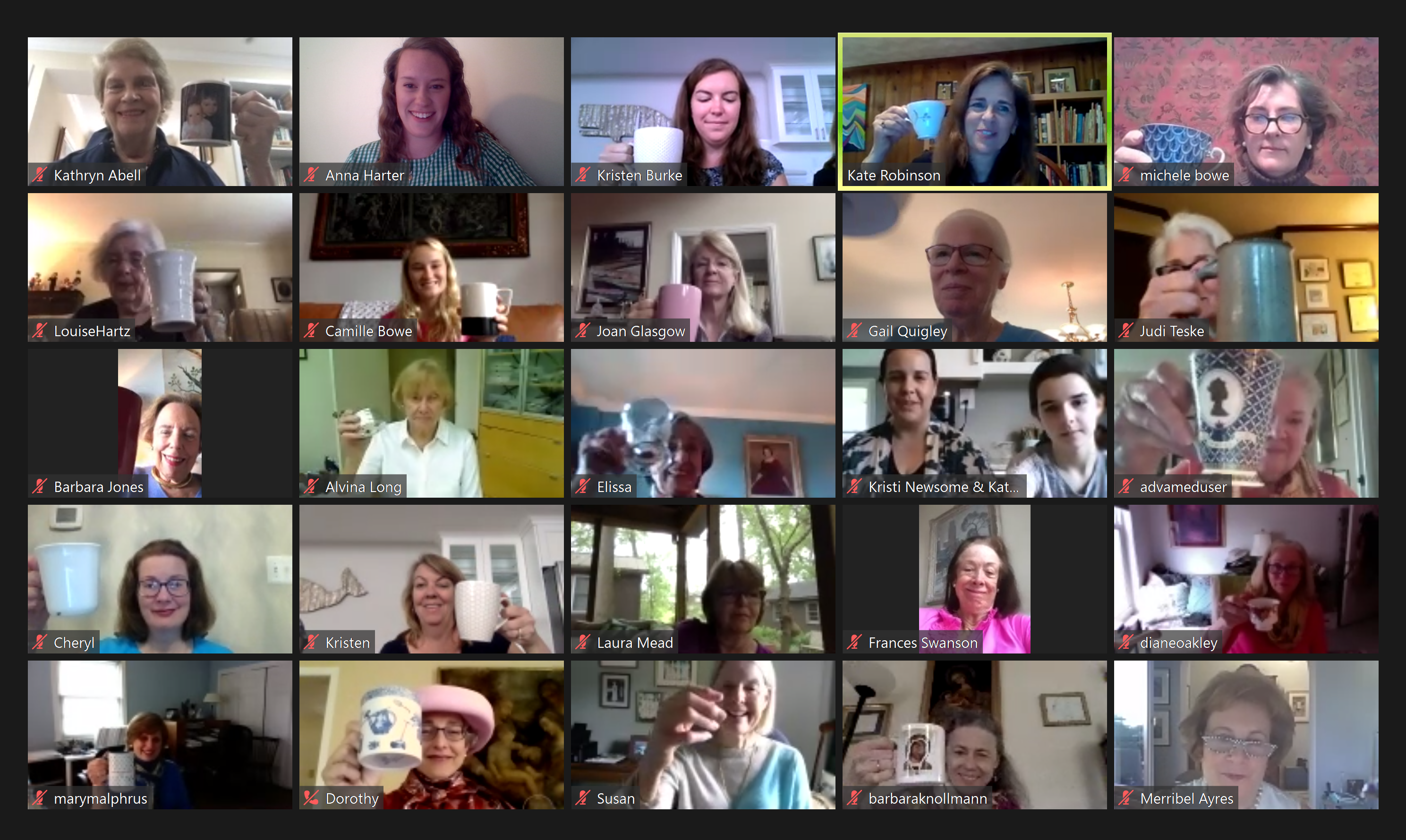 Federal Association Dames, their daughters, and friends gathered from greater Washington, DC and from as far as Milano and Florida to join the Holy Family Hospital Foundation in honoring the mothers and babies of Bethlehem on May 17. The annual Mother-Daughter Friendship Tea connects local women in the Washington, DC area with the mothers and babies who receive medical care at Holy Family Hospital. Due to the COVID-19 pandemic, this year the tea went virtual on Zoom.
The afternoon was filled with laughter and good cheer as mothers, daughters, and granddaughters came together in solidarity with our sisters in the Holy Land. Colorful hats were donned and favorite teacups were pulled from the cabinets, dusted off, and lifted in a toast to the mothers in Bethlehem.
Kathryn Abell, GCMG/Ob, began the afternoon by reminding us that, "May is the time when we honor all mothers, especially our relationship with the Blessed Virgin Mary. Today we also honor some other brave women, the women of Bethlehem, who like Our Mother Mary, are experiencing severe hardship but still give birth. As we know, babies will not wait for pandemics."
Ambassador Michele Bowe, President of Holy Family Hospital Foundation, provided a sobering glimpse into the suffering and hardship that many families are enduring in Bethlehem during the pandemic. She emphasized the tremendous economic challenges that the hospital is facing in response to this crisis. But she also shared a message of great hope and peace. Despite the dire situation throughout Palestine, our Order of Malta Hospital continues to provide abundant hope and joy with the delivery of new life.
Dr. Barbara Knollman-Ritschel, a tea-attendee and longtime friend of Holy Family Hospital Foundation, stated, "It was a blessing to be together, even if for a virtual tea instead of in person, in support of the mothers of Bethlehem and the incredible work, hope, and peace that Holy Family Hospital brings to the Holy Land. I am always amazed when I hear the statistics of the successes of Holy Family Hospital each year, and it is heart-wrenching to hear of the suffering of all the people there during this time."
Next May, we are looking forward to gathering for our annual tea in person and to honor Joan Glasgow, DM, with the Star of Bethlehem award for her love of the hospital and her work in the Montgomery County Region.
Holy Family Hospital is the only hospital in the region that is capable of caring for the most vulnerable premature infants born before 34 weeks. The hospital also ensures that women receive the highest quality healthcare throughout all stages of life, from prenatal care to postmenopausal gynecology. The generosity of the virtual tea attendees and all donors to Holy Family Hospital Foundation has kept the doors of the hospital open to all in need during the current COVID-19 crisis.