Knights, Dames, and Chaplains Bring Hope to the Mothers and Babies of Bethlehem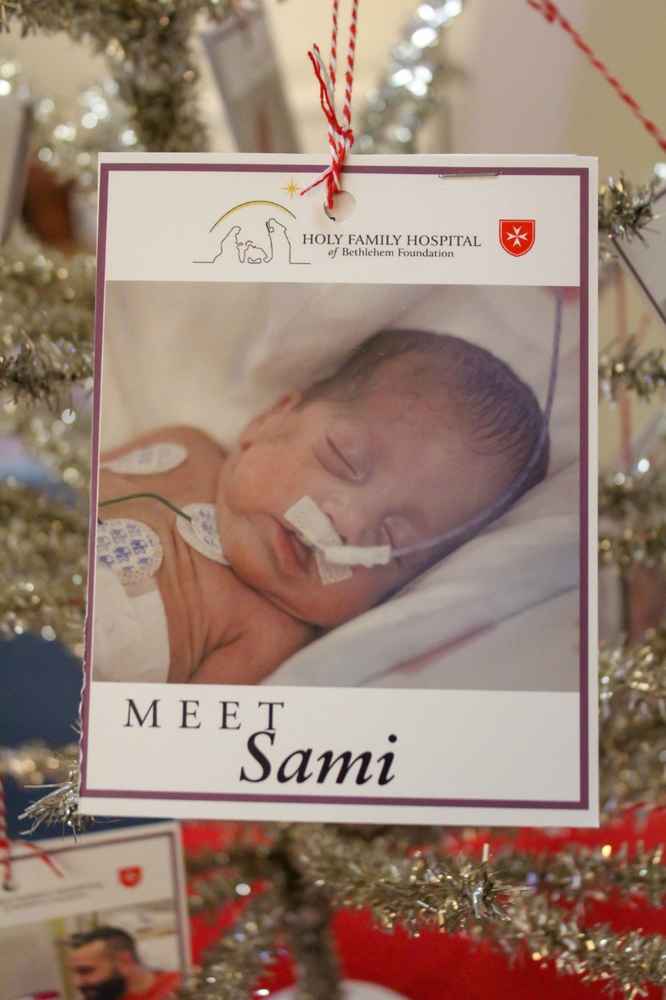 The Holy Family Hospital of Bethlehem Foundation has redoubled its efforts to deliver life, peace, and hope in a Bethlehem besieged by the pandemic which has brought about a crippling economic crisis. Since March 2020, ninety percent of Bethlehem's workforce has been without salaries because the economy is based on pilgrimages coming from abroad. The most recent closure has dashed the hopes of Bethlehem celebrating this Christmas in the customary manner with thousands of visitors from around the globe. Instead, due to a shutdown Bethlehem is having a quiet Christmas with little traffic and no crowds. Families easily reach Manger Square to attend Masses and to celebrate the three Christmases of the town – taking family photos in Manger Square in front of the Christmas tree and life size Nativity, albeit against a backdrop of shuttered stores.
There are plenty of seats at the Church of the Nativity this quiet Christmas though carolers still perform via live cast. Few families are celebrating gifts and roasted lamb. Instead, they prepare lentils and rice and make their tables longer to invite friends, neighbors, and the elderly who are suffering without regular work.
Just 1,500 steps down the road, the Holy Family Hospital of Bethlehem is busy preparing for the Christmas babies, some which arrived on the Roman Catholic Christmas (December 25), and some which will arrive on the Orthodox Christmas (January 6) and the Armenian Christmas (January 18). A dozen babies are expected for each Christmas and as many as twenty could be born on any given day. The Hospital carries on with its work of delivering babies and providing lifesaving care for babies born as small as one pound. Every Christmas baby receives a layette and a warm blanket to honor their birth on Christmas in the town where Jesus was born.
Thanks to members of the Order, who are volunteering this Christmas across the country, dozens of Parishes from Hawaii to Maryland and California to North Carolina were greening the churches, hosting carolers, and setting up Angel Trees decorated with special tags designating gift opportunities at Holy Family Hospital of Bethlehem. The tags, sent from the Holy Family Hospital of Bethlehem Foundation, designate gifts of Hospital services which parishioners can chose to sponsor. The tags are ready to hang with a return envelope fastened behind a photo complete with a story presenting the need. A parish can simply place the ready to hang tags on parish trees, with no additional accounting tasks. The Foundation sends each donor a personal tax acknowledgment letter.
One of the ways that Federal Association Knights, Dames, and Auxiliary can help is to reach out to their local parish and invite them to join the Holy Family Hospital of Bethlehem Foundation Angel Tree program. And Chaplains of the Order can consider hosting an Angle Tree in their own parish or community. Recently, Peter-Anthony Pappas, KM, asked his pastor, Father Hathaway, from the Basilica of Saint Mary in Alexandria, Virginia, to feature Holy Family Hospital of Bethlehem during Advent. In addition to displaying the Angel Tags on the parish giving tree, a parish podcast was recorded (click to listen to it online) to highlight the updated situation in Bethlehem and to underscore the importance of supporting this great work of the Order of Malta. Please consider reaching out to your local pastor to see how you can involve them in the Angel Tree program supporting the Holy Family Hospital of Bethlehem in 2022 and beyond.