Lancaster Installs New Hospitaller, Confers Awards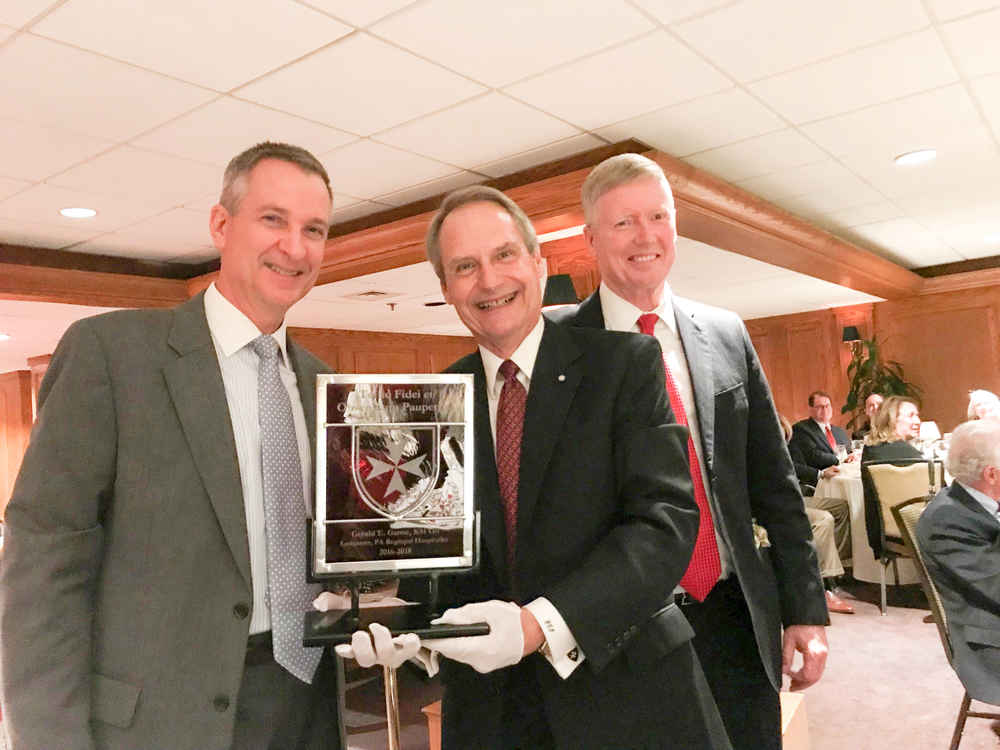 On November 29, the Lancaster Region welcomed the fourth hospitaller in its history as Christopher Gibbons, KM, was installed at a regional Mass by the Rev. Allan Wolfe, our associate chaplain.
The Lancaster Region uses the Thursday after Thanksgiving as a time of celebration for the past year with a holiday gathering, dinner and program for members and spouses.
The outgoing hospitaller, Gerry Ganse KMOb, reviewed the 2018 activities of the region, provided the results for the Region Malta Trivia competition, and presented the traditional hospitaller awards to members for their service to the region.
The Our Lady of Philermos Stewardship Award, to the member who emulates our Blessed Virgin in a willingness to say yes when asked to share their treasure, was awarded to F. Nicholas Grasberger, KM.
The Bishop Kevin C. Rhoades Humble Servant Award, to the member who displays humbleness, faithfulness and complete dedication—the qualities of the award's namesake, our former bishop—was awarded to Thomas Kingston, KM.
The Monsignor Thomas Smith Dedicated Service Award, to the member who displays abundant time and commitment toward faithful service to mankind—the qualities of the award's namesake, our chaplain—was awarded to RoseAnn Lawrence, DM.
Father Wolfe, our associate chaplain, was acknowledged for his continued spiritual involvement with our region.
Gerry Ganse thanked his wife, Suzanne Ganse, DM, for her support and unconditional love during his three years as hospitaller to the Lancaster Region.
Chris Gibbons, the new hospitaller, shared a few remarks and closed the evening with prayer led by our chaplain.