Milwaukee Rocks Socks Party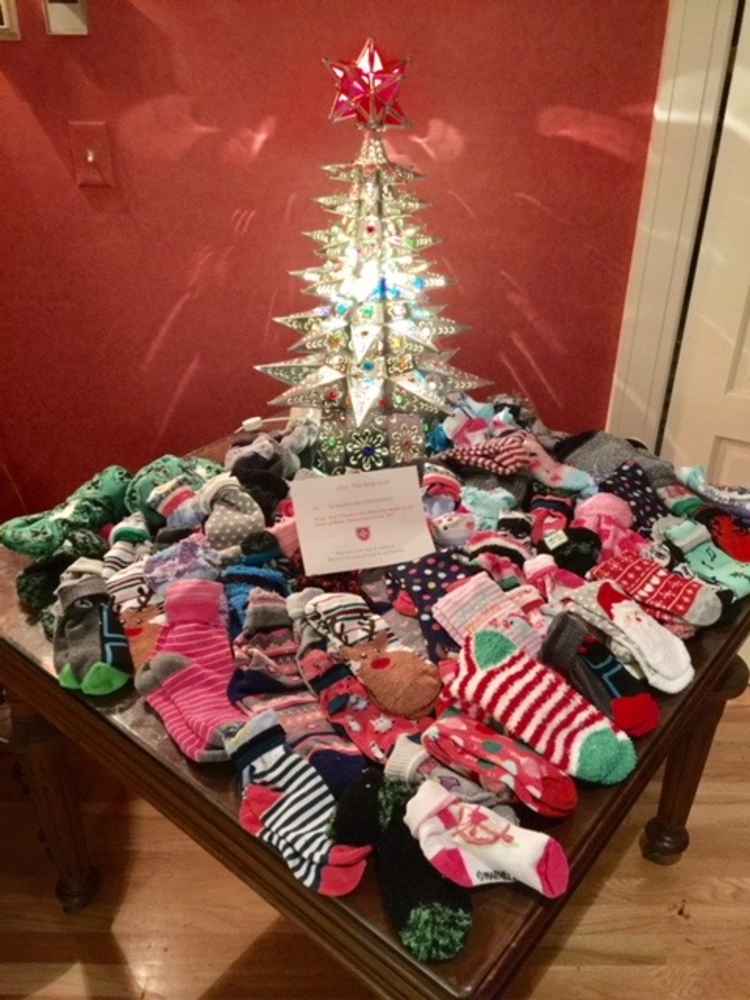 Service projects sometimes pop up out of nowhere, in places you would least expect them. The Milwaukee Region found such a project when one of its members received an invitation to a holiday party called "This Party Socks," truly a party with a purpose.
In the few years the party tradition has been in existence, thousands of socks have been collected, sorted, and distributed to at least eight inner-city social service agencies. A list was attached to the invitation so guests, if they wished, could indicate a preferred destination for their donations. Those who could not attend were encouraged to drop off their socks prior to the event. All contributed generously as the need has no conditions or time of year attached to it. The evening was full of laughter, fellowship, lots of great food and drink, and, well…socks!
By the end of evening several large packing boxes were overflowing. According to our hosts, if prior years are any indication, 2018 could be the best year ever. The Milwaukee Region contributed nearly 200 pairs of socks to the growing pile.
One of the recipient organizations listed was the Cathedral Center, our region's signature service project. The center, which is non-denominational, is housed in the old, unused convent of the Cathedral of St. John the Evangelist, located downtown, three blocks off the lakefront. It serves displaced, homeless unaccompanied women, women with children, and families 24/7/365.
As a region, we serve nutritious hot meals to the guests year-round as hunger knows no season. But winters in Milwaukee can get brutally cold, and more aid is always needed this time of year. Guests arrive at all times of the day or night, often by bus or dropped off by family or friends. Either alone or with children, many ring the doorbell with only the clothes on their backs, a small suitcase, or items hastily thrown into a black garbage bag after an eviction. Due to the Cathedral Center's reputation for providing compassionate care, job training, and educational opportunities, there are times when no space is available and potential guests must be referred elsewhere. As stays are not long-term (by design), personal care items and warm, winter items are especially welcome now. The need is always great, but it increases as the temperature of the city drops.
Milwaukee Region members went into high gear when the word went out that socks were needed. Men's socks, women's socks, children's socks, baby booties—all could be found in our large collection. As the bags were packed to take to the party, prayers were said for the well-being and safety of their eventual recipients. The Magi brought gold, frankincense, and myrrh to honor the Christ Child; we brought him (as we see him in the eyes of our poor and homeless) warm socks, heart-felt prayers, and a renewed commitment to serve the poor in our city. Our gift tag read, "To our friends at the Cathedral Center…may your feet stay as warm as the love we carry for you in our hearts."
Matthew 10:42 reads, "I tell all of you with certainty, whoever gives even a cup of cold water to one of these little ones because he is a disciple will never lose his reward." We may not have given that cup of cold water in this winter weather, but we did give gifts to not only warm the body, but to provide hope to those who needed it more than ever this past Advent.