Members Serve Thanksgiving at Fisher House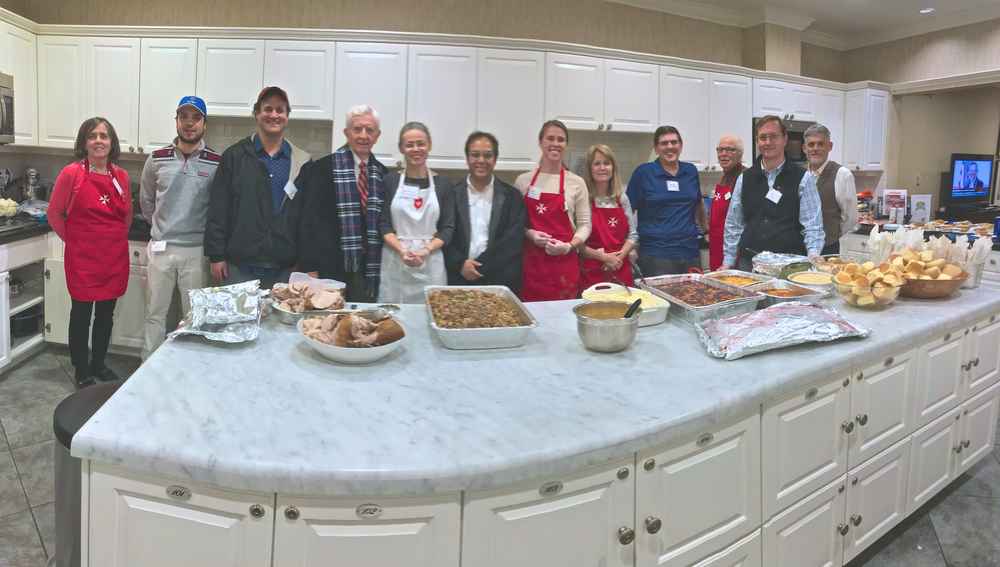 Traditional Thanksgiving dinner was served to over 80 residents and guests of the five Fisher Houses on the campus of Walter Reed on November 15th. Three turkeys with complete dinner accompaniments were donated by Ed Reilly, supplemented by another baked turkey courtesy of Joan Glasgow. In addition, Peggy Sullivan sent her popular cranberry-orange relish. Selma DeLeon delivered stuffing and home baked corn bread. Sue Dufour brought eight pumpkin pies, Rick and Bailey Addie bread, and Martina Caputy brought dinner rolls. There was ample food for everyone.
Extra food was shared with the Men's Shelter in Rockville run by Catholic Charities. Four turkeys were expertly carved by our skillful pathologist, Barbara Knollmann and her medical student, Taylor O'Neil, who demonstrated a good future as a surgeon.
After saying grace, the residents of the Fisher Houses were cheerfully served by our regulars Rick Addie and Bailey Addie, Joan Glasgow, Barbara Knollmann, Taylor O'Neil, Ed Reilly, and Carlton Hoskins and candidates for the Class of 2019-- Gail Quigley, Martina Caputy, and Bennett Solberg. In addition we welcomed Stephen Harrington, a visiting volunteer from Los Angeles in the Western Association. Stephen is here on a temporary work assignment for a few months and his wife Ellen, a Class of 2018 candidate, connected Stephen to our service project.
Our monthly dinners at Fisher House were recognized by the Federal Association with a President's Award that I received on behalf of all of our volunteers during the Investiture luncheon last month. The Federal Association recognizes this as a collective effort and thanks each one of you for the exemplary work for the past years, and from me, thank you all from the bottom of my heart.