Milwaukee Continues to Serve in the Wake of COVID-19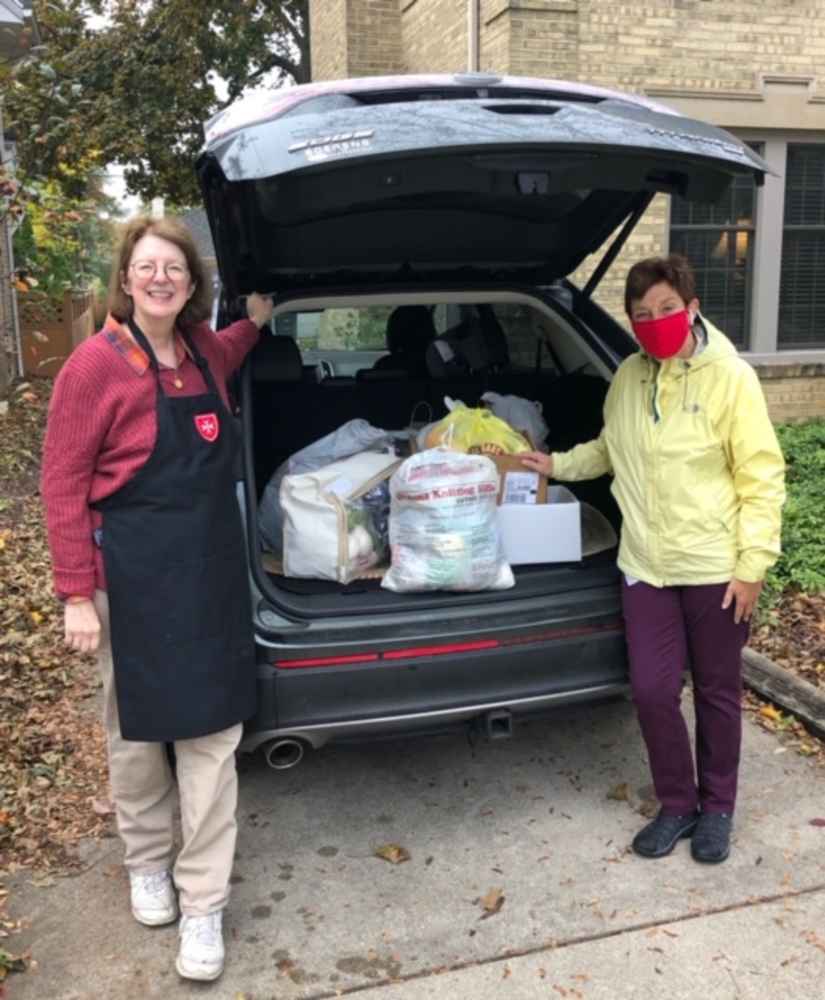 Due to COVID-19 and the mandatory ongoing statewide restrictions, we have been unable to participate in any hands-on service projects since March. Staying faithful to our charisms, we haven't let the pandemic cramp our style. Alternate ways of serving have been realized thanks to the ingenuity and generosity of the dames, knights, auxiliary, and family and friends of the Order from both the Federal and American associations in Milwaukee. Not only have we done our part in keeping the economy humming by patronizing local and on-line retailers, but nation-wide delivery services were kept busy as well.
Not permitted to provide and serve meals as we normally do at the Cathedral Center, which is our signature service project, we've kept our commitment to provide guests with healthy, nutritious hot meals. Funds have been given to the center to purchase food directly, and we've contracted with local restaurants to prepare and deliver food to be served by the center staff.
Beth Hanan, DM, is spearheading the collection of yarn for about 70 women living in transitional housing and acquiring skills to prepare them to live on their own outside of prison. As they are avid knitters, they frequently run out of yarn. These women have a need to "give back," and often the fruits of their knitting don't just go to family members but are donated. It is likely that the caps, scarves and mittens they will knit from yarn provided by the Order of Malta will be given later this winter to guests at our other service sites, the Cathedral Center shelter for women and families and the Friendship House. Our prayer is that by gathering new and partially used skeins of yarn, we're helping these women as they rebuild their lives and families. One large load of yarn has already been delivered, and we will continue to provide the women with more supplies as needed.
Our third annual sock collection, once again coordinated by Cindi Salazar, DMOb, is in full swing. The Cathedral Center and its sister site, Friendship House, have already received several hundred pairs of socks for men, women, and children. The weather turned quite cold here a few weeks ago, and those socks have already been put to good use. As we continue our effort throughout the winter months, our goal is to surpass our 2019 total. Baby booties and children's socks are also being collected for delivery to the Women's Care Centers here in the city. As pro-life centers, they provide prenatal care for mothers-to-be, educational opportunities for mothers and fathers, and layettes for newborns.
The Riverwest Food Panty, founded in 1979 and located at St. Casimir parish in urban Milwaukee, initiated an on-line food donation process as direct food donations were halted due to the pandemic. Members of the Order have taken advantage of this opportunity to select food items, remit funds online, and have their items sent directly to the pantry. This no-contact way of contributing food has proved to be effective in helping to stock the shelves and combat hunger.
As we anxiously await the "all clear" to return to in-person serving, we're doing what we can to make a life a little easier for those in need in our community. As St. Francis de Sales taught, "There is nothing small in the service of God."