Milwaukee Socks Initiative Surpasses Goal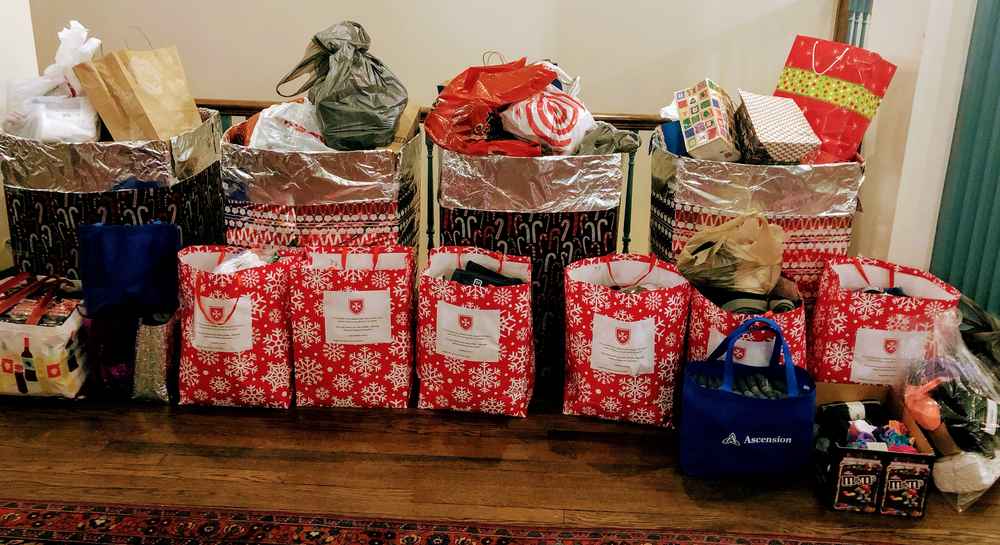 "And do not forget to do good and to share with others, for with such sacrifices God is pleased." Hebrews 13:16
What do 575 pairs of men's, women's, children's and baby socks have in common? Besides keeping 1,150 feet warm and toasty, they were all donated by the Federal and American associations in Milwaukee to help our less fortunate brothers and sisters as well as those women who choose life for their preborn babies. As our part of the country is experiencing record-breaking low temperatures and snowfalls for this time of year, the socks will help the homeless of our city cope with the daily challenge of staying warm and dry. And as more mothers-to-be are choosing life over abortion, the number of newborns who need socks/booties is happily increasing.
Cindi Salazar, DM, a guest to the "This Party Socks" event, once again oversaw the collection, purchase, sorting, packaging, and delivery of the socks on behalf of the Order. Our 2019 total was up considerably from 200 pairs donated in 2018. Members either donated socks or provided funds to purchase them. This annual party-with-a-purpose provides socks directly to shelters and other charitable organizations in the city. Additionally, as the number of street people and tent-city dwellers continues to increase, the Milwaukee Police Department also receives a large supply of socks to give to those persons who decline to go to a shelter but are in need of assistance.
Two recipients of the socks are the Cathedral Center, which is a Federal Association signature service project. and the Women's Care Centers, supported by the American Association. Within a landscape of high-rise condominiums and office buildings housing our community's most affluent, the Cathedral Center provides a safe environment for our community's most insecure to heal and receive the services they require to set and achieve goals. It serves up to 28 unaccompanied women and eight families with children for up to 90 days, and four unaccompanied women and eight families with children in flexible housing for up to two years. Families include single mothers, single fathers, two-parent households, and multigenerational families. The Cathedral Center provides not only emergency shelter services but also community case management and workforce development programs. We have been privileged to serve the center the past several years by providing and serving nutritious meals to their guests.
The Women's Care Centers provide free, confidential counseling, support, and education to women facing unplanned pregnancies. In Milwaukee, 1,334 babies were saved from abortion in 2018 alone. As pro-life centers, they offer no-cost pregnancy testing, ultrasounds, clothing and other items to mothers-to-be and their babies. Parenting classes, literacy training, self-sufficiency education, and incentive programs where parents are encouraged to set goals and complete their educations are also provided. The centers, with their signature bright pink awnings, are always located close to abortion providers and serve over 26,000 women annually in 32 facilities in 11 states. More centers are planned as funds and locations become available. Their motto is, "Saving babies and moms, hundreds and hundreds of them…one at a time!"
Before the socks were taken to the party, prayers were said over them for the health and safety of their eventual recipients. As this has been such a successful endeavor for the past two years, our region plans to continue this project going forward.