Our Lady of Good Help Pilgrimage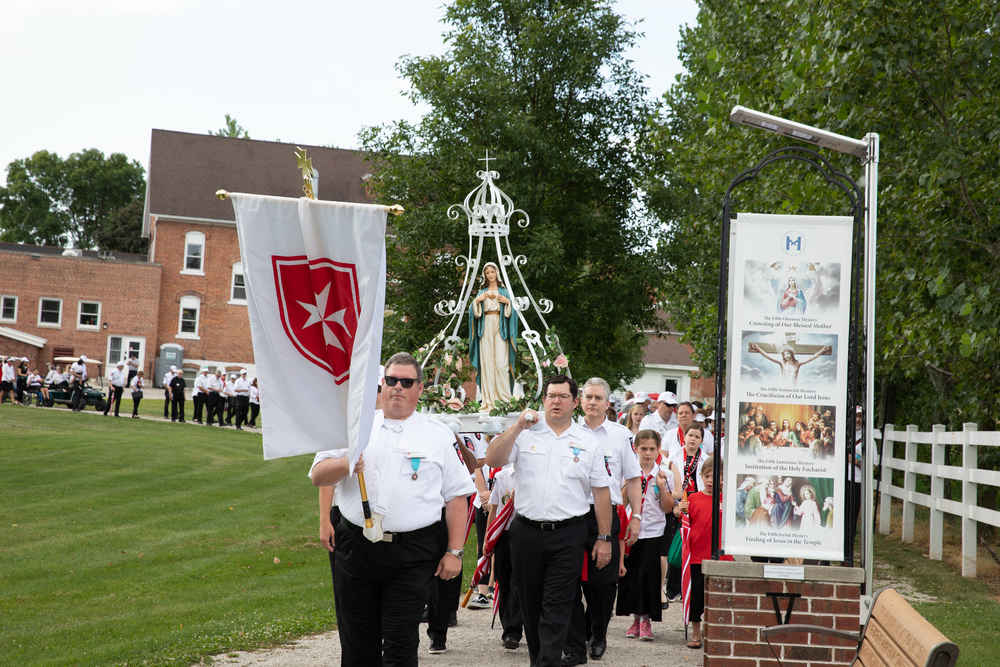 The next annual pilgrimage of the Order of Malta to the National Shrine of Our Lady of Good Help in the Diocese of Green Bay, Wisconsin is scheduled for August 6-9. Registration opens this month.
Members of the Order from all three associations in the U.S. bring their families, friends, and the sick to Our Lady of Good Help to share the experience of grace and healing. After six years of leading the pilgrimage, the Federal Association will hand over leadership this year to the American Association. Their three-year term will end with the 2022 pilgrimage, and the Western Association will take over for the next three years.
Last year's pilgrimage began on a Thursday afternoon with the opening Mass celebrated by Bishop David L. Ricken, ordinary of the Green Bay Diocese and a chaplain of the Order, at St. Francis Xavier Cathedral, which is a short walk from the Hyatt Hotel where pilgrims stay.
Over Friday and Saturday the group of more than 250 pilgrims attended Masses at the Shrine of Our Lady of Good Help and participated in a Rosary procession, Stations of the Cross and a healing service with Adoration. There was a blessing of all married couples at Mass on Saturday morning, with 46 Special Pilgrims (the sick) receiving the sacrament of the Anointing of the Sick at the Shrine of St. Joseph.
Devotions at the shrine arise from a series of apparitions to a young woman, Adele Briese, in 1859. The Blessed Mother told her: "Go and teach the children of this wild country what they need to know for salvation. Teach them the Sign of the Cross, and how to approach the Sacraments." When Adele said yes, it was with trepidation as to her worthiness to carry out such a great task. The Blessed Mother assured her, saying, "Go, fear nothing. I will help you."
In further response to this message, our pilgrimage instituted a program for the children. Last year, all those ages 8 to 18 were invited to catechetical training.
Please consider attending the August 6-9 pilgrimage to Our Lady of Good Help this year. REGISTRATION WILL OPEN FEBRUARY 17. Plan on bringing your family, friends and special pilgrims with you. The three USA associations project over 300 will attend in August. Prompt registration is encouraged to ensure that you get the $99 rate for your hotel room.