Summary of Charlotte Region Efforts in 2022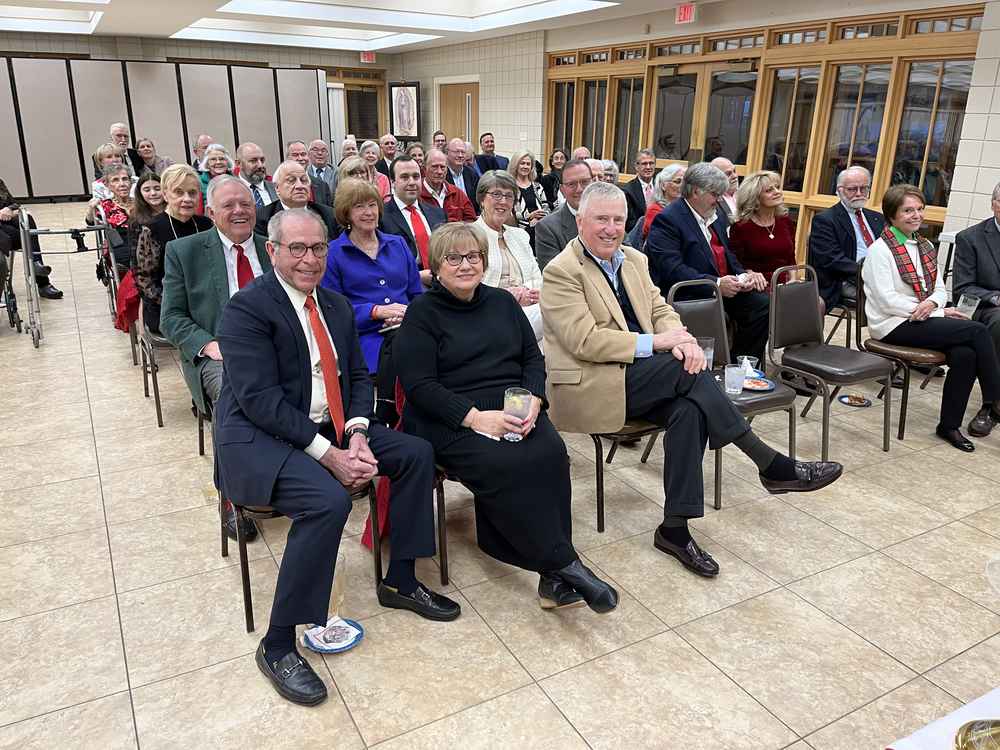 Long before Covid, and resuming this year, the Charlotte Region has supported lunch service at A Roof Above homeless shelter in Charlotte by providing soft drinks and bottled water every third Thursday of the month. Between 250 and 300 homeless men, women, and children are served.
In November, Malta members participated in "True Blessings," the 16th annual fundraiser for A Roof Above, held at the Charlotte Convention Center. The theme was "Rise to the Challenge of a New Day.'' More than 1,200 guests and 24 corporate sponsors attended, and in excess of $1,600,000 was raised. These funds support A Roof Above, providing permanent housing at Hillrock Estates, 341 apartments; The Rise, 75 apartments; and Moore House, 84 apartments.
In 2022, the Charlotte Region raised $14,400 to purchase 576 winter coats, which were actually designed by homeless individuals supported by the Order of Malta in Oklahoma City. These coats were distributed by A Roof Above and other outreach organizations to the homeless in the greater Charlotte area.
Malta members have been volunteering for more than 20 years at Holy Angels, which aids people with developmental disabilities. We have served on its board of directors, fed and provided medical care to residents, and participated in facilities improvement projects. A recent grant from the Order of Malta provided 10 specialized wheelchairs, substantially improving the quality of life of residents who are medically fragile.
The Pen Pal Correspondence Program through the Prison Ministry provides an opportunity for Malta members to establish a two-way, secure, correspondent relationship with inmates nationwide.
We have served the Missionaries of the Poor, Guardian Angels Monastery in Monroe, North Carolina for more than 10 years by sorting donated food items and packing 25 to 30 bags with groceries that are distributed to client families in need. Over the course of the year, 300 to 360 families are served. In addition, the Charlotte Region takes up a collection for the missionaries on a quarterly basis for the purchase of additional food items.
On the first Friday of each month, members of the Charlotte Region gather at Saint Gabriel Catholic Church for the rosary, Mass, fellowship, and a monthly meeting where we keep the chapter up to date on existing projects and new service initiatives.
For more than 20 years, Malta dames and knights have been blessed to sponsor Room In The Inn at St. Peter's Catholic Church in downtown Charlotte, once a month from December through March. A hearty dinner, lodging for the night, toiletries, essential clothing items, breakfast, and a lunch to go are provided to our homeless neighbors. During Covid, meals and essentials were delivered to alternative housing locations. The year 2022 brought a welcome return to St. Peter's and sharing the evening with our neighbors.
Our yearly retreat is scheduled for February 24-26 at The Catholic Conference Center in Hickory, North Carolina. This is always a well-attended and fulfilling event.
During our monthly spirituality meetings in 2022, we explored the spiritual foundation of our Order—the Beatitudes. We unpacked each Beatitude by looking at what Sacred Scripture, the Catechism, Doctors of the Church, the Holy Father, the Rule of Blessed Raymond Du Puy and the saints of our Order could teach us.
During 2022, the Chaplet of the Order was introduced by the Charlotte Region Spirituality Committee and is growing as a devotion by Federal Association members.
For 2023, the Spirituality Committee has invited members to a 33-day, self-guided retreat for consecration to Jesus through Mary.