Volunteers Needed: Lafayette Flood Home Rebuilding Efforts Continue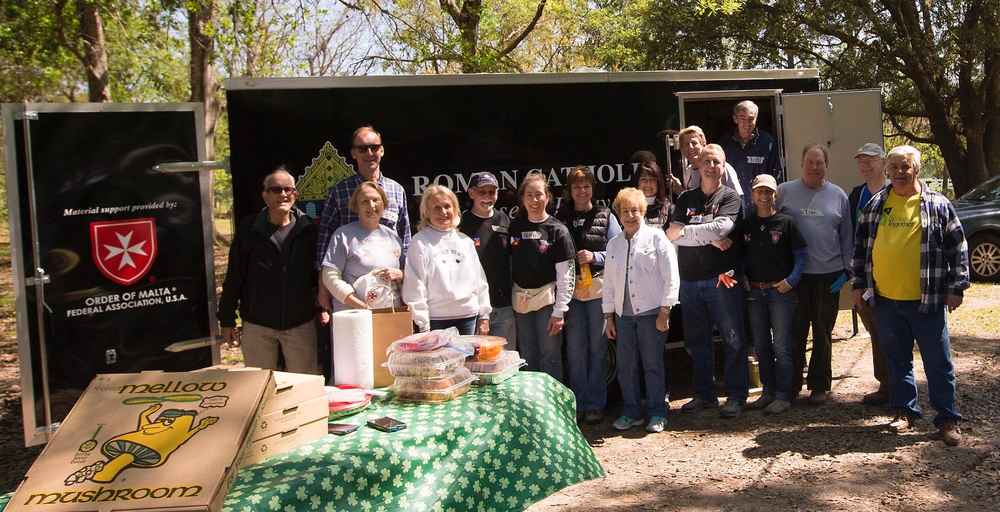 The next home rebuilding workweek for the victims of the historic 2016 flooding in Acadiana (Lafayette Region) will be March 4-8. John Reilly, KM, will again lead the rebuilding week. Registration is now open and volunteers are needed. You may register online here.
The Order of Malta is known for is its willingness to continue humanitarian work in storm-ravaged areas long after the news crews and first responders have moved on. This was true of the more than 10 years of home rebuilding in New Orleans after Hurricane Katrina, and it remains true of efforts to rebuild the homes of the poor that were damaged by the flooding in southern Louisiana in August of 2016. Some 146,000 homes were damaged, 87 percent of which were outside of flood zones and did not have flood insurance. Of the structures that are salvageable, 2000 homes of the poorest remain to be rebuilt, 500 of them within the Lafayette Region.
In the months following the flood, a grant from the Order of Malta's Global Fund for Forgotten People--combined with donations from regions in Kansas City, Montgomery County, Washington DC, Northern Virginia, Syracuse and Lafayette, and from Malteser International—were used to purchase remediation chemicals and equipment to serve victims in all areas of southern Louisiana. Last fall, the Federal Association decided to focus rebuilding efforts on that part of southern Louisiana known as Acadiana. This area was settled by Catholic refugees expelled from Nova Scotia in 1755 during the ethnic cleansing known as Le Grand Dérangement or the Great Disturbance. These refugees, the Acadians, eventually came to be called Cajuns, known for their unwavering Catholic faith, strong work ethic, unique cuisine, and joie de vivre (love of life).
Home rebuilding efforts in Acadiana began in early 2017. The Lafayette Region used donations to outfit two new worksite trailers owned by the Diocese of Lafayette, stocking them with power tools and supplies needed to support onsite rebuilding efforts. These trailers were placed into service for the first time in February of 2017 when members of the Federal Association, joined by volunteers from as far away as California, began work on the first home in Abbeville. Work on this home was substantially completed by the end of the week, and the homeowner, a single mother, was able to move back into her home for the first time in 6 months.
In March, Federal Association President Margaret Melady and Executive Director Michael Stankewicz joined with the Lafayette Region and volunteers from Los Angeles, San Francisco, Chicago, Dallas, Philadelphia, Washington, DC, and Northern Virginia to work on three homes in a single rebuilding week. Partnering with Lafayette Catholic Charities and Rebuilding Together Acadiana, volunteers worked on the home of an elderly disabled couple, another home housing three generations of a family living in an adjacent camper trailer, and a third home of 14 extended family members. All of these homes were in remote rural areas.
On the last night of the work week, Lafayette Bishop Douglas Deshotel joined the Lafayette Region for a dinner of appreciation of the volunteers. Bishop Deshotel personally thanked each volunteer and noted that the worksite trailers outfitted by the Order of Malta continue to be used at home rebuilding worksites almost every week throughout the year.
Additional rebuilding weeks scheduled for the fall of 2017 were postponed so that members of the Federal Association could redirect their efforts to aid the victims of Hurricane Harvey in Texas and Hurricane Irma in Florida and Georgia. Yet, the Federal Association's commitment to southern Louisiana has not wavered. Rebuilding efforts will continue the week of March 4-8.
It is a blessing and a privilege to be part of this process that brings hope and relief to our Lord's poor and sick. What makes these rebuilding weeks truly exceptional is the fun experienced by all volunteers as they labor together. They are eager to begin each day's tasks and work continuously until sunlight fades. They stop only when enticed by the promise of Cajun delicacies such as jambalaya, boiled crawfish and gumbo. Our volunteers embrace the work on each home with zeal and express disappointment when the rebuilding week seems to go by too quickly. Without exception, each promises to return for another week of helping the people of Acadiana. This truly is the joy of the Gospel in action. Please join us.