2019 Walter Reed Barbeque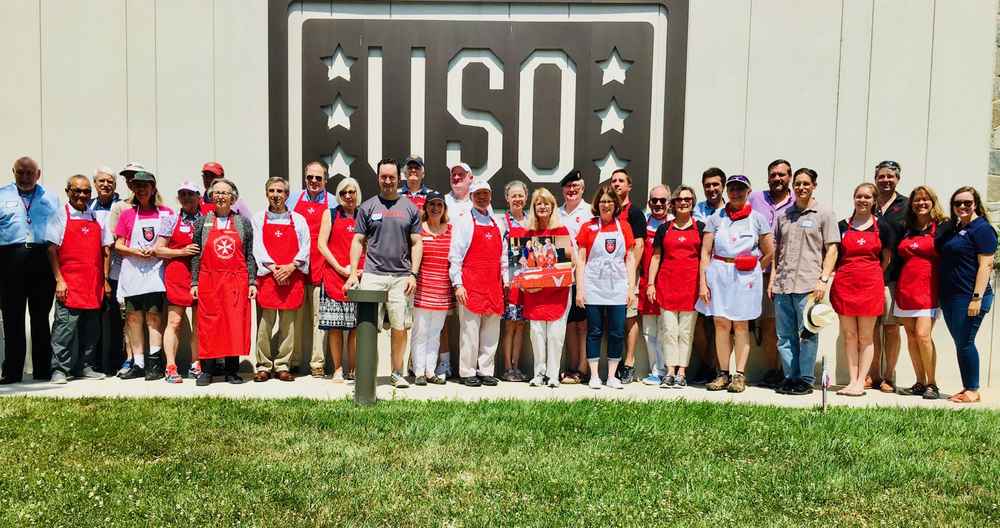 In June, the Montgomery County and DC regions held the Annual Walter Reed BBQ., this year in memory of Peter Guen, KJ, of the Johanniter Order, a Protestant relative of our Order of Malta. Peter and his mother, Dr. Inge Guen, were our initial contacts with the Walter Reed community. The Guen family had been helping the veterans for many years prior to our collaboration. We were graced with Peter's friendship and insights for over ten years. He died last year, while still advising and offering those fabulous suggestions from his hospital bed.
This year, our event took place in the USO Warrior & Family Center, which was a new spot for us. It is a beautiful big building with a large kitchen and the ability to seat many people inside, given the hot weather, plus a lovely patio outside. The USO contacts and volunteers could not have been nicer.
We served more than 210 people, including many families with young children. The menu featured grilled steak, grilled chicken, potato salad, macaroni salad, Caesar salad, rolls, along with cake and cupcakes for dessert. This year many more children enjoyed the arts and craft tables. Kathie Russo, wife of Paul Russo, KM, generously donated crafts for the kids, including, face painting, playdoh, sunglasses, duct tape, and many more creative activities.
This event is always popular with volunteers, including more than 50 from the Order of Malta and 10 from the Johanniter Order. Many talented musicians played for three hours: the New Brass Quintet and two members of Musicians On Call. We also had a local favorite, Georgetown Cupcake, which donated 240 cupcakes. All the vendors that help supply the BBQ in ways big and small were supportive and generous. We are so blessed to be able to thank, in some small way, our military service members and their families.