37th Order of Malta International Summer Camp for Young People with Disabilities, Rome 2022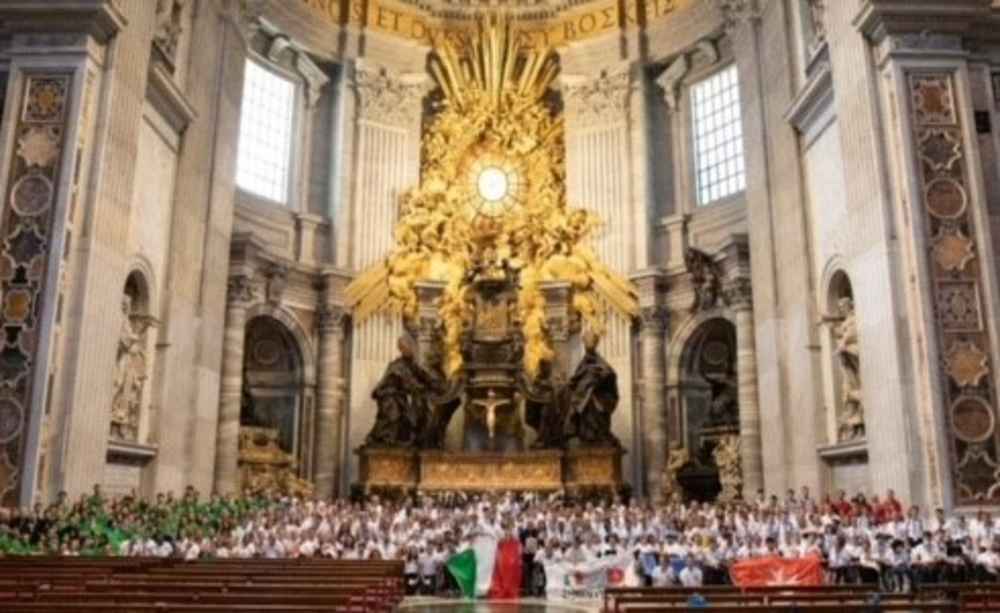 "Tutte le strada portano a Roma- All roads lead to Rome".
After 3 years of waiting due to the Covid 19 pandemic, over 400 youth Volunteer Staff, Volunteer Helpers, and guests with disabilities from around the world came together with joy in their hearts for a week of fun and community at the Order of Malta's 37th International Summer Camp for young people with disabilities held near Rome, Italy. The camp, which takes place each summer in a different European country, is, as Past Grand Master and Servant of God Fra' Andrew Bertie called it, "the primary work of the Order's young people," and it remains an important part of the lives of our volunteers and guests today.
From July 31- August 8, 2022, teams from over 20 countries joined together at the Monastery of St. Vincent Martyr in Bassano Romano, Italy. Participants came from many European countries, the United States (Federal Association), Bulgaria, Lebanon, as well as guests from Ukraine who received a thunderous standing ovation of love and support in this difficult time for their country.
Team USA was led by Chris Murphy, KM, and Houston Auxiliary Volunteer, Rachael Poujol, who assisted our guest Michael from New Orleans, LA. This year, we were blessed to also be joined by Federal Association President and Professed Knight, Fra' Tom Mulligan, and Federal Association Executive Director Deacon Michael Stankewicz, who both jumped into the spirit of camp and provided numerous laughs, hugs, guidance, and support. There were several other Americans helping at the camp including Federal Association Class of 2022 Investee Richard Mena, who joined with the Austrian team where he volunteers while studying in Vienna, and several friends from the American Association: Luisa Majnoni d'Intignano, Christopher Lee, KM and Camp Staff Volunteer, and the Regent of the Subpriory of Our Lady of Lourdes, Fra' Nicola Tegoni.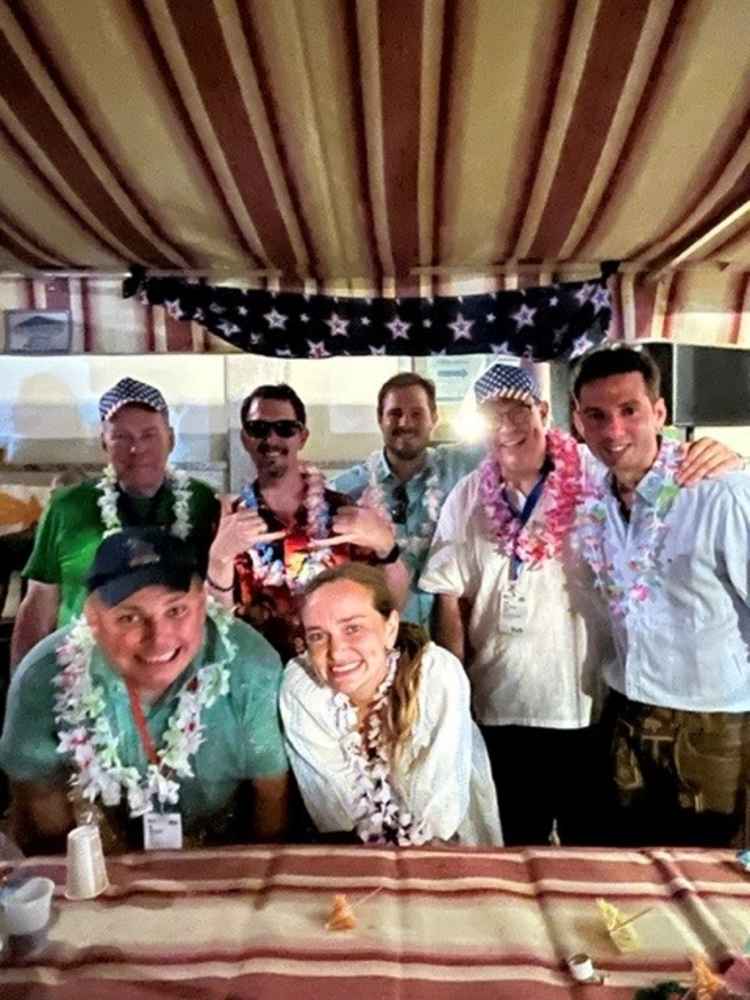 The week began with Holy Mass celebrated in the presence of the Lieutenant of the Grand Master Fra' John Dunlap, Grand Chancellor Albrecht Freiherr Von Boeselager, Grand Hospitaller Dominique Prince de La Rouchefoucald-Montbel, and several members of the Sovereign Council, who all joined camp activities throughout the week. Following Mass, an opening ceremony was held where each Country was announced and cheered on in welcome to start the camp.
During the week, volunteers and guests lived in community, ate delicious Italian food (prepared by the Volunteer Staff) in community, and participated in fun activities including onsite and offsite games and adventures. We visited the town of Nepi where our guest explored the ruins of a palace belonging to the famous Borgia family and ate delicious gelato. We visited Cinecitta World, a movie themed amusement park where our guests enjoyed rollercoasters, a western village, and a fabulous pool where we all cooled off from the hot Italian summer. A day was spent at the shore for fun in the sand, the water, and some even took to the trees at the nearby adventure park. The entire camp enjoyed splashing, taking boat rides, and feeling the lovely sea breeze. Back at the Monastery, guests enjoyed crafts, games, music, and water fights. On two evenings, "International Nights" were celebrated where guests of each Country provided a delicious taste of something special from their homeland. As a fun twist, the Federal Association decided to celebrate Hawaii and threw a Luau at our table providing campers with flowery leis, some "Mai Tais", and greeted each camper with a festive "Aloha". Our guests traveled the world visiting each table and enjoying their cheeses, meats, drinks, and various treats from each Country.
At night, after a long day of fun activities, guests were treated to a fun themed Disco where the camp danced the night away. Whether dressed in Roman togas, fluorescent paints, or various other costumes and themes, the constant wardrobe was a smile from ear to ear on every face. On one special night, a talent show was held and our guest, Michael, had the whole camp singing along to the popular YMCA song.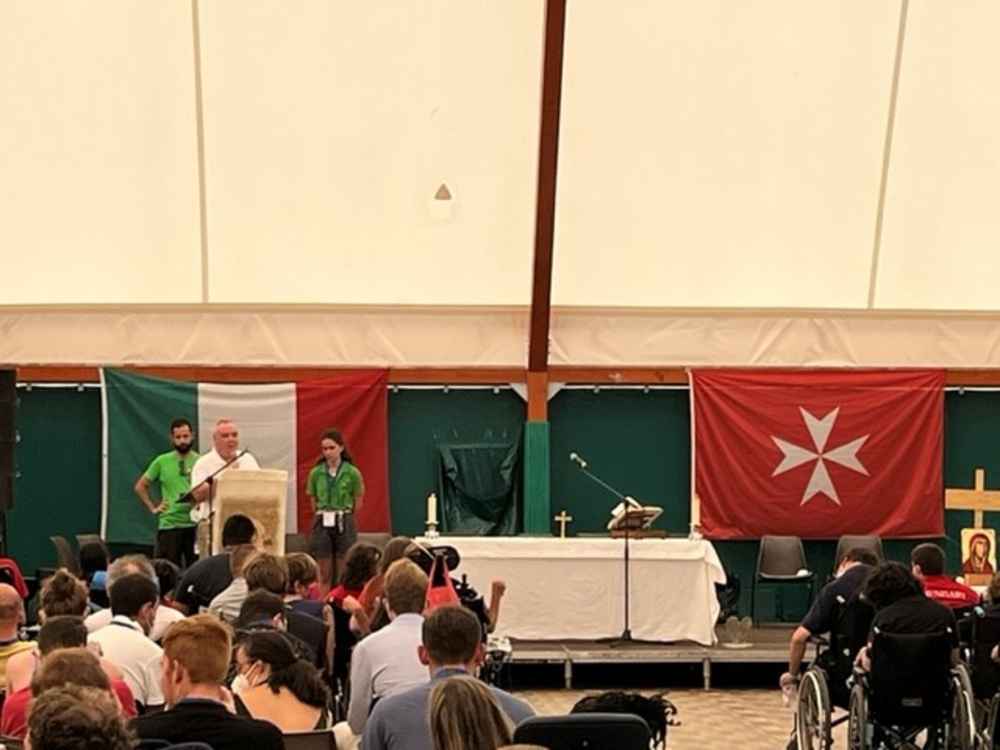 While there was a lot of fun and activity, there was also beautiful time of prayer and reflection. The camp visited St. Peter's Basilica and had the blessing to attend Mass at the Chapel of the Chair of St. Peter. The Holy Father's Special Delegate to the Order of Malta, His Excellency Silvano Cardinal Tomasi, offered the Mass and encouraged the campers to trust in God during turbulent times. He was assisted by Federal Association Executive Director Deacon Michael Stankewicz, who proclaimed the Gospel. Our own guest, Michael, was selected to provide a Prayer of the Faithful and asked the Lord to help those still suffering from Covid 19 and their loved ones.
During the middle of the week, a silent night was held including a Eucharistic procession, Adoration, Confession, and a special treat was provided with several members of the professed talking about their journey of discernment to the vocation of a professed member of the Order of Malta. In total, 10 members of the professed participated in this year's camp helping, serving, leading, and providing a visible witness (and hopefully inspiration) to the vocation of religious life in the Order of Malta.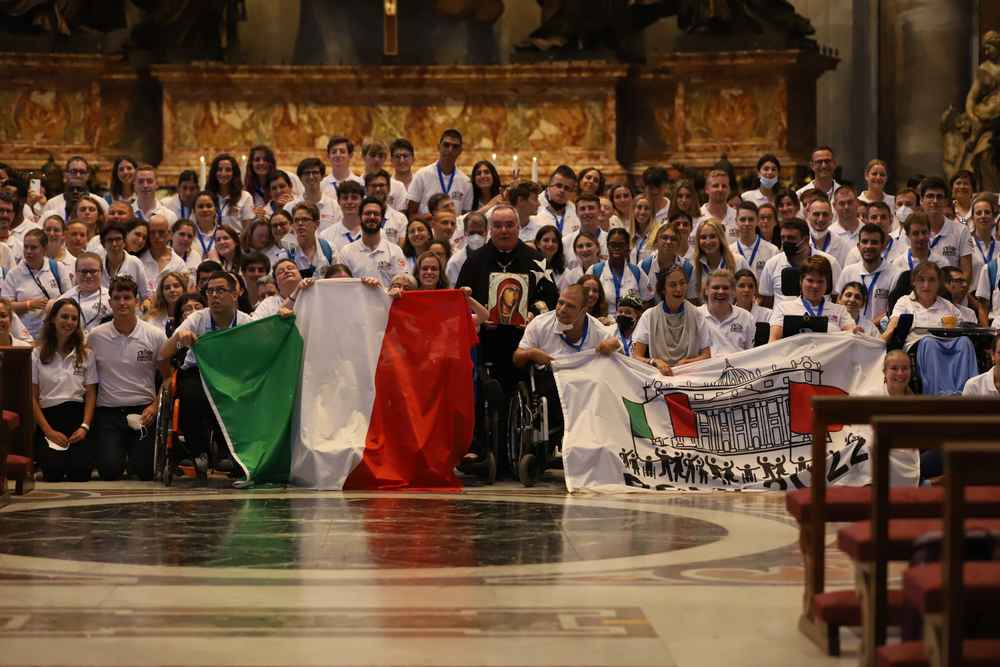 After a fun filled week, it was time for the closing ceremony and Mass. Lieutenant of the Grand Master, Fra' John Dunlap, led the camp in giving thanks to God for this unforgettable week. He led the participants in expressing a heartfelt thanks to the Italian camp staff and camp leaders (Sofia Pinto Folicaldi, Gianluca Coco, and their team) who overcame numerous delays and hardships to provide this week of joy for our guests. In his remarks, Fra' Dunlap made note of how happy he was to see teams traveling from outside of Europe to join such as Lebanon and the U.S.
It was then announced that next year's camp will be hosted by Belgium near the city of Waterloo from August 12- 18, 2023. With smiles and tears, the guests and volunteers shared hundreds of hugs and goodbyes until we come back together in Belgium.
Team USA would like to thank President Mulligan, the Federal Association Board of Directors, Deacon Michael and the Executive Office Staff, the Auxiliary committee, and the Federal Association Members who continue to support this invaluable work of the Order. We look forward to next year's camp in Belgium. If you know of a young person (age 18-35) who is interested in participating as an Auxiliary Volunteer Helper, or as a guest, please reach out to Chris Murphy, KM at Murph2354@gmail.com to discuss being a part of this program.