Federal Association Sends Medical Teams to Rome for Close of Jubilee Year of Mercy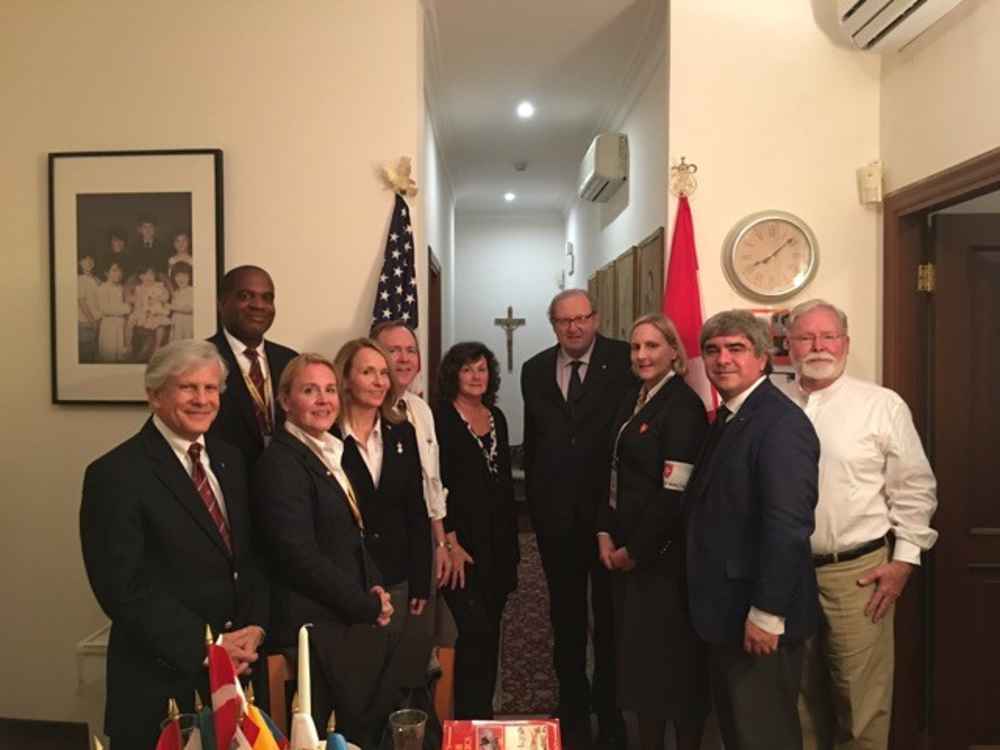 During the last two weeks of the Jubilee Year of Mercy, the Federal Association sent four medical teams to Rome, led by Doctors Daniel Young KM, Monica Skarulis Young DM, Anacieto Ordinario KM, and Barbara Knollmann-Ritschel DM. The Order of Malta was called upon by the Holy See to augment the usual volunteer staff of the first aid station at St. Peter's and to provide additional medical staffing at the Archbasilica of St. John Lateran, and the Papal basilicas of St. Maria Maggiore and St. Paul Outside-the-Walls. The additional help was needed for the anticipated increase in pilgrims coming to Rome, and especially during a period of heightened threat of terrorism.
Teams from around the world volunteered for a week at a time, or in some cases more, throughout the year. The Federal Association deployed 11 teams over the Jubilee Year of Mercy from the regions of Atlanta, Lafayette, Houston, and Washington DC/Bethesda. We had the honor of serving with others from many places, including South Africa, Germany, France, Canada, the Cuban Association and Italy.
The Grand Magistry bestowed the Order's Commemorative Medal for the Jubilee Year of Mercy at a ceremony in the Ambulatorio, a free medical clinic the Order staffs year round at the Magistral Palace.
The Saturday Papal Audience on November 12th 2016 demanded double staffing of the first aid station at St. Peter's Square, where Pope Francis delivered a message of inclusiveness of all as the foundation of Mercy, and thanked the volunteers who served throughout the Jubilee Year.
Nurse volunteers for the last two weeks of service included Megan Fitzgerald DM, nurse practitioner of Syracuse, NY; Rebecca Metro, of Arlington, VA; Evangeline Ordinaro DM, of Southlake, Texas; and Selma DeLeon, of Bethesda, MD. Non-medical volunteers canvassed the basilica grounds to identify those in need of medical assistance. Among these volunteers were Gaby DeLeon KM, of Bethesda MD, H.E. Geoffrey Gamble KHD-Ob and Dorcas Gamble DHD-Ob of Pennsylvania and Rome, J. Robert Simmons KM, of Washington DC, Bill Williams KM, of Front Royal, VA, and Dorothy Zolandz, DM of Washington DC.
Our service duty included serving either a morning or an afternoon shift each day in the first aid stations at one of the pilgrimage basilicas or in St Peter's Square. The first aid station operated by the Order in St. Peter's Square is a permanent fixture that is staffed year round, mostly by our European associations. For this Jubilee Year of Mercy, a temporary station was set up at the other three pilgrimage basilicas with Holy Doors.
The first aid stations were well equipped, and looked more like mini-emergency rooms as shown below. We had all the equipment needed to handle quite a few medical issues, though any patient requiring advanced care would need to be transported to a local hospital. There was an ambulance stationed outside of the first aid station in St. Peter's making evacuation from St Peter's easier.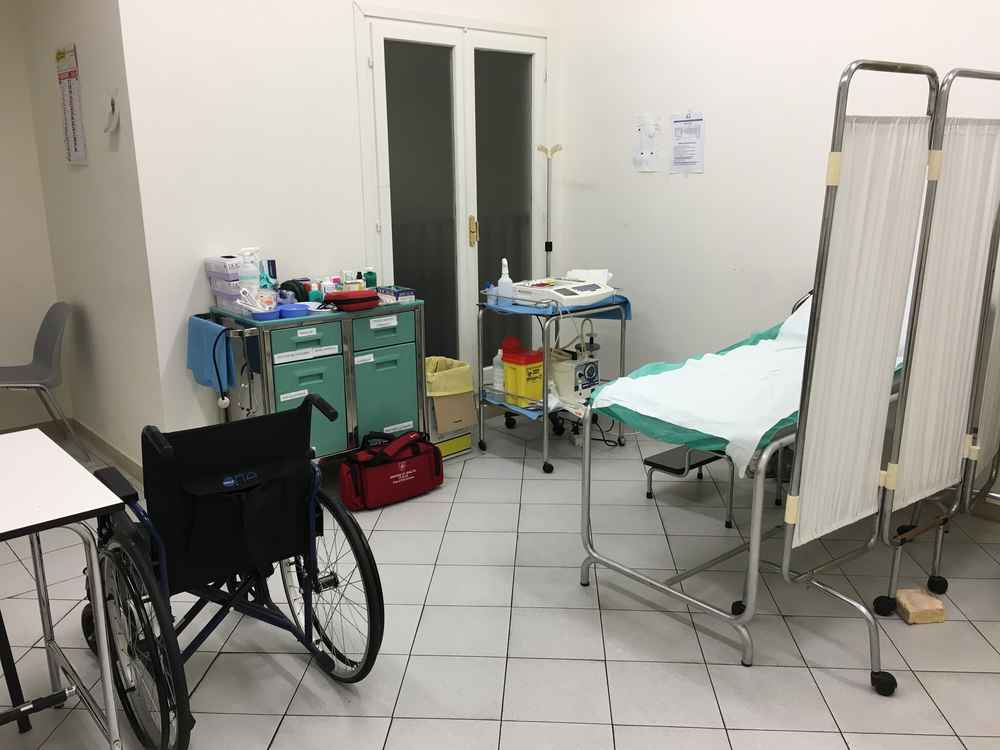 It was an honor to serve the Order of Malta in Rome for this Jubilee Year of Mercy, to make the time to reflect on how much mercy we need in this world, and how much mercy we are given each day. In addition, it was an honor to serve with so many Members from around the world. As teams we all embraced one another as part of a much larger community working together for the common good.
This was perhaps most vivid in the last Wednesday Papal Audience when Federal Association team members brought in a woman from England with two children and two grandparents, and who had been separated from other family members at the checkpoint entries. Team members from Italy, France, Canada and the Federal Association all took part in warming the children, calming the grandparents, reconnecting the family via cell phone, and then reuniting them back out in the square. Although we all spoke different languages, we worked together seamlessly as one team, each taking a different task and providing comfort, warmth, and reassurance, as if we had worked together for many years. This is the joy of being part of our Order of Malta, realizing that together we are one international community, working together, to care for the poor and the sick. It is an honor to live out Pope Francis's call to the works of Mercy.