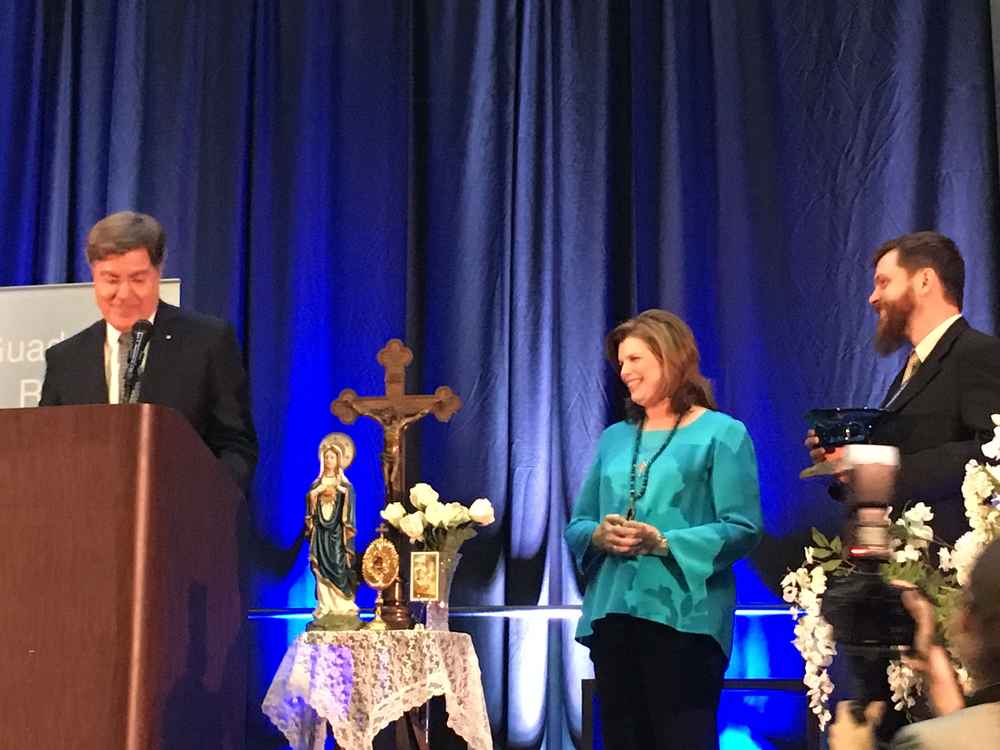 The Houston region, together with Bob and Kate Signorelli, was honored with the 2016 "Fishers of Men" award at the third annual gala fundraising dinner for Houston Catholic Radio, KSHJ AM 1430, a Guadalupe Radio Network station.
Nearly 400 people were on hand to applaud Kate and Bob and the works of the entire Order of Malta. Members of the region stood and took a bow with the Signorellis to receive an ovation.
Kate and Bob fell in love with the charism of the Order on a Lourdes Pilgrimage years ago. Bob became a Knight in 2004 and Kate a Dame in 2006. They are both in Obedience.
Bob serves the Federal Association as its Hospitaller, member of the Board of Directors and member of the Lourdes Committee. Kate serves on the Awards Committee of the Federal Association and as regional hospitaller for Houston. Together they are co-chairs of the Order's annual pilgrimage to the National Shrine of Our Lady of Good Help, which they started and have led for three years. They look forward to their 15th Lourdes pilgrimage in 2017.
The Houston region has grow from five Members to more than 60. Many programs have been initiated. Among these projects are feeding more than 350 hungry families monthly with Catholic Charities and providing more than 400 hot meals to the homeless daily at Martha's Kitchen, bringing Communion to the sick at the Veteran's Hospital, visiting the imprisoned, praying for the dead and unborn with special Masses, anointing the sick, taking sick to Lourdes with the Order, taking sick to Our lady of Good Help and to educational seminars and retreats for the Order, and defending our faith by helping Catholic Radio, especially KSHJ-AM 1430 in Houston.
The dinner speaker, Raymond Arroyo of EWTN (Eternal World Television Network), enlightened the audience about EWTN founder Mother Angelica, of whom he wrote a biography. He described her as, "A crippled cloistered nun who stood on principal and listened to the Holy Spirit, which resulted in an empire for The Word."