Syracuse Region Keeps Full Schedule of Service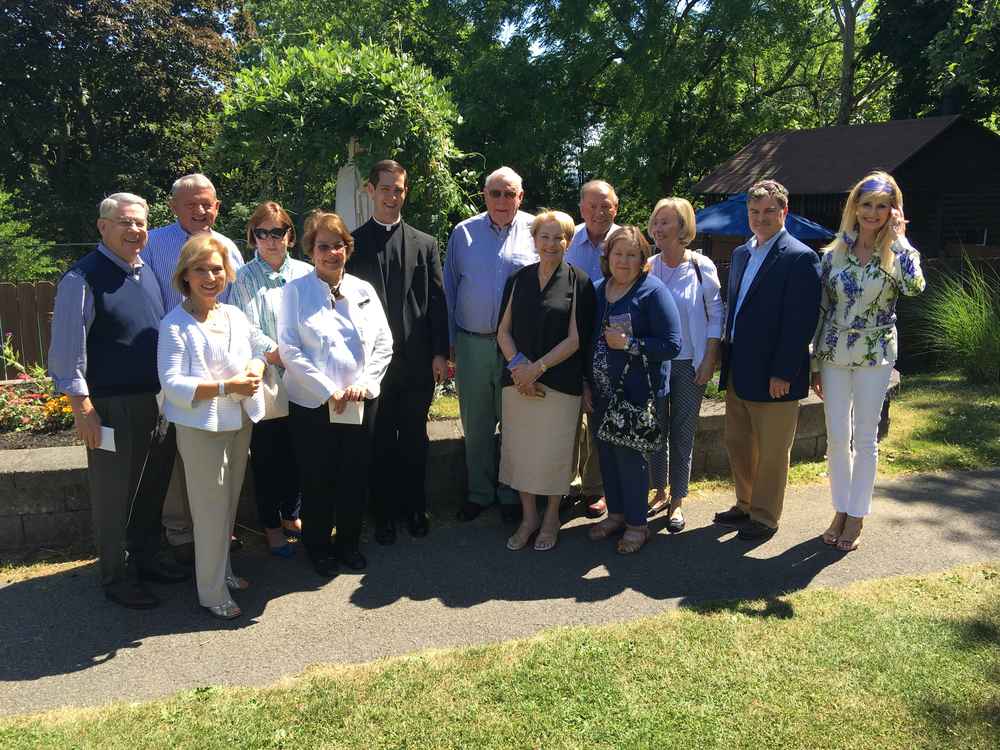 While we are a small region of 21 active Members, the Syracuse region of the Federal Association has a very full year of activities, both spiritual and corporal.
Our Day of Recollection on the Feast of St. John the Baptist, led by Rev. Christopher Seibt, was well-attended as we reflected on Pope Francis's call for the Year of Mercy and our role in it.
In July we had our annual Anointing Mass and Reunion for all the malades from our region. Several from many years ago were present as well as two malades and companions from the 2016 Lourdes pilgrimage. We also remembered in our prayers our deceased malades, including our 2016 malade, David Robinson, who passed away in late June.
We sponsored two Defense of the Faith Forums this year. Our first, in June was a presentation by Dr. James Towey, president of Ave Maria University in Naples, Fl. He shared his knowledge of Mother Teresa from his perspective as her lawyer and close friend. All who attended left feeling they had been brought closer to her by his talk. Our second presentation was in September when we sponsored Dr. Marie Gilliard at LeMoyne College, who addressed a group of nearly 100 people in attendance on "Infringement of the Exercise of Conscience in the Public Square".
Our annual Respect for Life Mass was celebrated in October at Joseph's House, a home for women who need shelter and assistance as each brings her child into the world and also for up two years following the birth. Many of our Members support this home financially and with other forms of assistance. A recent grant from the Order enabled the home to purchase a much-needed furnace last January. Following the Mass we had dinner there and met with these young women who chose life for their children.
We are very involved with Assumption Parish on the north side of Syracuse, which is an area of extreme poverty, needy refugees, and homeless individuals. We hold 10 pancake breakfasts there each year, serving more than 200 meals each time. In the tradition of the Order, we serve our guests at set tables, not cafeteria-style. We have come to know many of the guests and in some instances have been able to help them find assistance. Our involvement in this Franciscan order parish includes several Members working weekly at their soup kitchen, their food pantry, their clinic, and also participating on their advisory board.
Our "Friends Through Pens" inmate pen pal program is moving along steadily with approximately a dozen of us corresponding with men and women who have joined our program. Several of us also participate in the annual Christmas gift packaging and carol singing on the pods. A couple of our Knights are personally interacting with prisoners in a one-to-one relationship.
A tradition that was started many years ago by early Syracuse Knights and Dames is monthly birthday parties at Malta House, which the Syracuse region was a primary force in building, for low-income senior citizens. Each party includes a light meal and birthday dessert. The residents look forward to this as well as the Thanksgiving dinner we serve them on the Sunday before Thanksgiving. Many of our Members, as well as their children and grandchildren, enjoy this sharing of thanks.
Our year concludes with Christmas Season Mass celebrated by our chaplain, Bishop Robert Cunningham. This is followed by a festive dinner at which we look back with appreciation for our year and enjoy the close bonds that tie our small group together.