Margaret Melady Receives Star of Bethlehem Award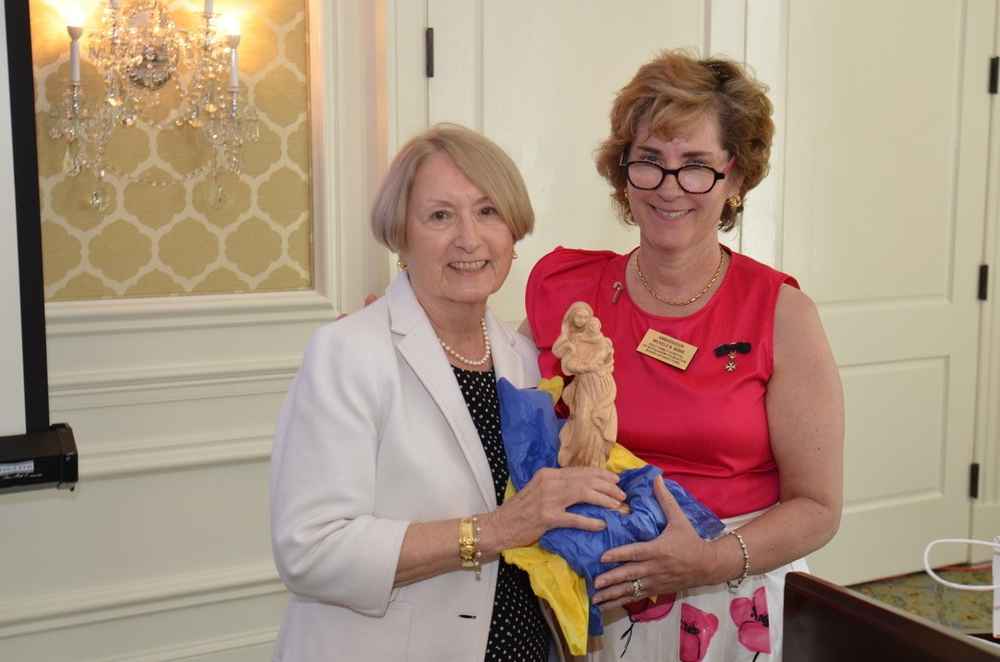 The Holy Family Hospital of Bethlehem Foundation honored Margaret Melady, GCM, with the Star of Bethlehem Award at its third annual Mother-Daughter Friendship Tea in May. Dr. Melady, who recently completed her term as president of the Federal Association, selflessly has served the Order of Malta and has been committed to supporting the work of the Order's Holy Family Hospital.
At the tea, Dr. Melady shared her impressions of the life-changing work with the poor she saw when she visited the hospital.
"I had the privilege," she explained, "of accompanying doctors who go out in vans to desert communities of the Bedouin people. Soon after doctors started seeing patients, they decided immediately to take a pregnant woman in need back to the hospital. They treated her and all those they saw with such care and concern.
"The hospital continues the mission of our Order in the Holy Land. It is a shining example of our commitment to build peace among all present there. Its Christian and Muslim staff work seamlessly together, serving all who come to its doors. And their work is helped by maintaining solid relationships with our Jewish confreres."
The tea, graciously hosted annually by Mary Noel and Bill Page, connects local women in the Washington DC metro area with the mothers and babies who receive medical care at the hospital. Local mothers, their daughters, and granddaughters celebrate the hospital and learn how they can join in its mission. More than 80 people, a record number, attended this year's tea.
The event supports the hospital's Neediest Baby Fund, which makes possible life-saving care to the most vulnerable newborns. Michele Bowe, president of the Holy Family Hospital Foundation and the Order's ambassador to Palestine, told attendees that 12 percent of newborns cared for in the hospital's NICU are "micro-preemies," weighing as little as one pound at birth
Holy Family Hospital is the only hospital in the region that can deliver and care for infants born before 34 weeks gestation. Sami, a "micro-preemie" weighing one pound, was born to a refugee family at a government hospital but was rushed to Holy Family Hospital, the only medical facility equipped to save his life. He was immediately stabilized, but he is still too immature even to cry tears. After a few months of highly specialized neo-natal care, Sami will grow strong enough to go home to his grateful parents. The hospital's Child Development Center follows newborns like Sami until age 5.
The generosity of attendees at the tea and other donors to the Foundation make it possible for babies like Sami to receive the care they need to live and to thrive. The foundation is grateful to generous donors who ensure that the doors of Holy Family Hospital remain open to all needy mothers and babies, regardless of religion, ethnicity, or ability to pay.