Sharing Easter Blessings With Our Catholic Family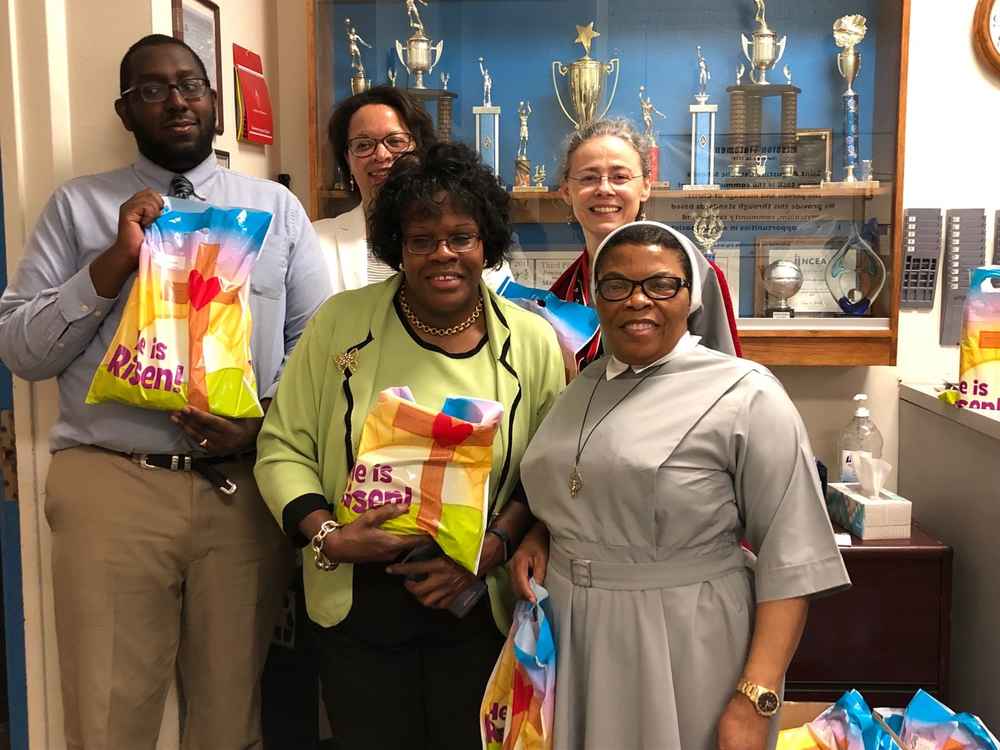 The Easter Season is a beautiful time of year to renew ourselves, and to fully live out the Holy Gospel and the charism of the Order of Malta.
Members of the Montgomery County and DC regions accomplished this by sharing our faith with our local Catholic family in the form of Easter baskets filled with gifts for students of St. Augustine's Catholic School in Washington, DC. All students from pre-kindergarten to the eighth grade received baskets containing assorted candies, religious bracelets, rosaries, and books highlighting the school's academic year theme of "friendship and cooperation," based on Romans 15:6 ("Let all of us come together"). The baskets were delivered to the classrooms just before the Easter break by Sister Gloria Agamagu, HHCJ, principal; Helene Cropper, vice-principal; Nathaniel Bullock, executive assistant; along with student council members.
In addition, we created a special basket for the campus ministry at Archbishop Carroll High School. Elana Gilmore, the principal, and Maeve Gallagher of campus ministry accepted the basket on behalf of the school. The basket was filled with carefully selected catechisms, bibles, and Catholic novels for teenagers. One of the books, specifically picked for this generation, "Tweeting with God," provides a witty way for teenagers and tweeters to relate to God and receive answers that are relevant to today's students.