Syracuse Region Investiture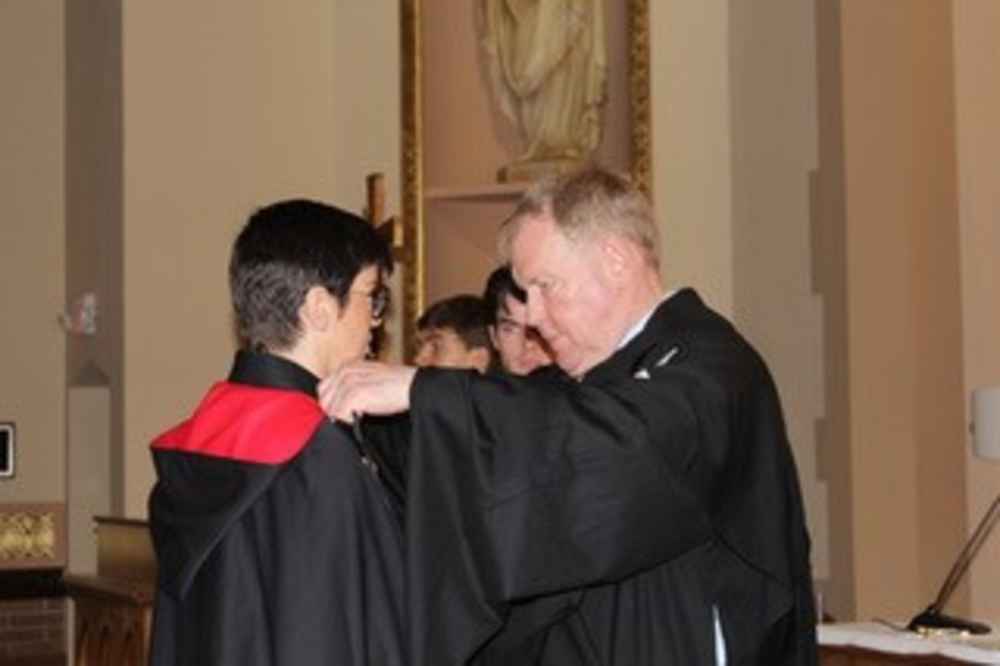 On July 15 an Investiture ceremony took place in Skaneateles, New York at St. Mary's of the Lake Church to invest the newest member in the Syracuse Region, Lisa Scuderi Bruno. Her investiture would have taken place at St. Matthew's Cathedral in Washington during the fall of 2020 but, as we know, that ceremony was canceled for the first time due to the Corona virus. Lisa is the daughter of Elaine Scuderi, DM, and Joe Scuderi, and she is the mother of four college-age children—two sets of twins. Her candidacy was sponsored by Kathy Mezzalingua, DM and Joan Cincotta, DM.
About 50 friends, family and knights and dames gathered to celebrate Lisa's accomplishment. The Mass was celebrated by Bishop Emeritus Robert Cunningham, a conventual chaplain and Bishop Douglas Lucia of the Diocese of Syracuse. The beautiful accompanying music was supplied by the grandchildren of Pat Fallon, DMOb and Dr. Paul Fallon, KM. The children of Dr. Tim Fallon, KM, took part in the ceremony and service. Fra' Tom Mulligan, president of the Federal Association, journeyed from Chicago by overnight train to personally invest Lisa. Deacon Michael Stankewicz also attended and assisted with the Mass. Both Tom and Michael were guests of Kathy Mezzalingua, DM, and husband Dan during their stay in Skaneateles. Fra' Tom toured some of the works of the Syracuse Region the following day before returning to Chicago.
Following Lisa's Investiture, a dinner was held at the Skaneateles Country Club overlooking the lake. Nearly all of the region's members attended. Guests included members of the North American Volunteers who are based in this area and who bring malades to Lourdes several times a year. They, of course, have not been able to go to Lourdes since March 2020.
Lisa has been a great asset to the Syracuse Region and even journeyed to Lourdes for the 2019 Pilgrimage during her year of Formation.